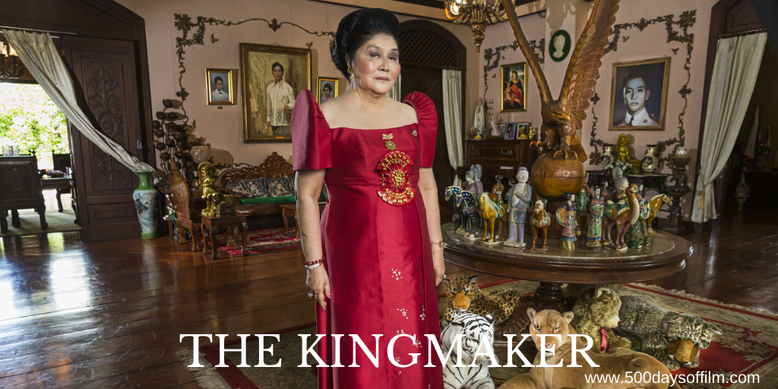 In The Kingmaker, Lauren Greenfield's stunning documentary about Imelda Marcos, the former first lady of the Philippines insists that there were never any skeletons in her closet… "only beautiful shoes". 
Shoes have, of course, long symbolised Imelda Marcos's legacy. She is famous for excess. Over 3,000 pairs of Imelda's shoes were discovered after she and her husband, President Ferdinand Marcos, were forced from power in 1986. 
However, as Greenfield's gripping and astonishing film reveals, shoes are merely a distraction from something far more disturbing.
Featuring incredible access to Imelda, to many of the key figures in her life and to the players involved in contemporary Philippine politics, The Kingmaker is a dark fairytale. A fairytale told by the embodiment of an unreliable narrator. 
There's fake news and there's Imelda Marcos. At one point in the film, Imelda states that "perception is real and the truth is not". Her aim (and presumably why she consented to be interviewed for this documentary) is both to reframe the past and manipulate the future. 
Greenfield encourages Imelda to tell her own story - from her birth in Manilla in 1929, to her marriage, after an 11 day whirlwind courtship, to Ferdinand Marcos. Imelda is all too happy to recount her husband's rise to the presidency and, thereafter, her own meetings with powerful political figures around the world.
Imelda's global reach is undoubtedly impressive. She met the likes of Mao Zedong, Saddam Hussein, Muammar Gaddafi, Fidel Castro and a succession of US presidents. She believes that she was instrumental in ending the Cold War and that she could still bring about world peace.
However, at every turn, Greenfield is there to lift the curtain on Imelda's desire to rewrite Marcos history. The Kingmaker reveals that nothing is as Imelda describes - the opulence that she enjoyed then and still enjoys now was built on something rotten, something that is, to this day, incredibly toxic.
Few things symbolise Imelda's profligacy and lasting toxicity than her decision to create an African safari park in the Philippines. The Kingmaker reveals that, after a holiday in Kenya in 1976, the Marcos's evicted the entire population of Calauit Island (approximately 254 families) and replaced them with 104 African animals.
The project was a disaster. Its effects are still being felt by the families who returned to Calauit Island after the Marcos's left power and fled to Hawaii. "The story of the neglected animals' struggle today serves as a symbol of the plight of the Filipino people, forced to navigate the legacy of decades of corruption," says Greenfield.
When questioned about Calauit Island or any of her spending, Imelda absolves herself of any responsibility. Her steadfast ambition to frame herself as a benevolent leader is a sight to behold. "I was always criticised for being excessive, but that is mothering," she says. "That is the spirit of mothering. You cannot quantify love."
It would all feel like the stuff of black comedy - the delusional ramblings of a deeply problematic historical figure - if the truth of the past wasn't so horrific and the future so unsettling. 
The Kingmaker includes interviews from those who spoke out against the Marcos's during their reign. We hear from people arrested during the time of martial law - which began in 1972 and saw the abolishment of all democratic institutions and the silencing of all political opposition. 
Thousands of people were tortured and murdered during this dark period. Activist, Mary Rodreguez, tells her upsetting and hugely disturbing story and questions "why we allow Imelda to even open her mouth?" Why indeed.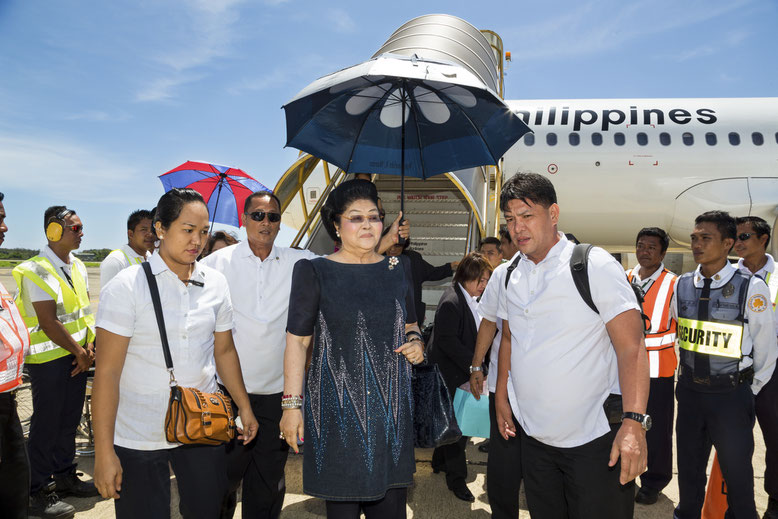 One of the first political opponents jailed after martial law was introduced, Benigno Aquino Jr, remained behind bars for seven years before being allowed to travel to the US in 1980 for heart surgery. In 1983, Aquino decided to return to the Philippines to resume his political campaign. 
After being led off the plane at Manila International Airport, he was gunned down on the tarmac by an unknown assassin. At the time, President Marcos was undergoing medical treatment for failing kidneys and Imelda was said to be running the country. Suspicion immediately fell on the first lady. 
In The Kingmaker,Greenfield uses newsreel footage to reconstruct Aquino's fateful journey (right up to the fatal shot) and asks Imelda outright whether she ordered the killing. "Why would I do that? I had nothing against him," Imelda states. "Except that he talked too much." 
Aquino's death marked the beginning of the end of the Marcos's time in power. However, as Greenfield's film reveals, this might have been only the end of the first phase of the Marcos dynasty. 
Incredibly, Imelda's goal to re-establish the Marcos family at the heart of politics and power in the Philippines looks increasingly likely. Her hope is for her son, Bongbong, to become president. Meanwhile, other members of the Marcos family are gradually assuming ever more influential positions of power.
We have a front row seat as Bongbong ventures into the political spotlight and first tries to win the vice presidency. It becomes clear that he possesses neither his father's public speaking gravitas nor his mother's dark talent for manipulation. His heart is clearly not in this race - he often looks panicked and overwhelmed - but his desperate need to please his mother prevails. 
Imelda's desire to portray herself as a nurturing mother figure withers in the glare of her obsessive ambition. Despite her advancing years, we see Imelda playing kingmaker once again - enlisting the assistance of a powerful ally – the Philippines' current president, Rodrigo Duterte.
It is stunning to watch Imelda as she mounts this most shocking of comebacks and even more disturbing when we consider that hers is far from an unusual story. Corruption can, of course, be found everywhere around the globe and fake news is as prevalent as ever. 
Thank goodness, therefore, for superb documentaries such as The Kingmaker that lift the veil and remind us of the dangers of fake news and the abuse of power. As John Dalberg-Acton famously said, that "power tends to corrupt, and absolute power corrupts absolutely".