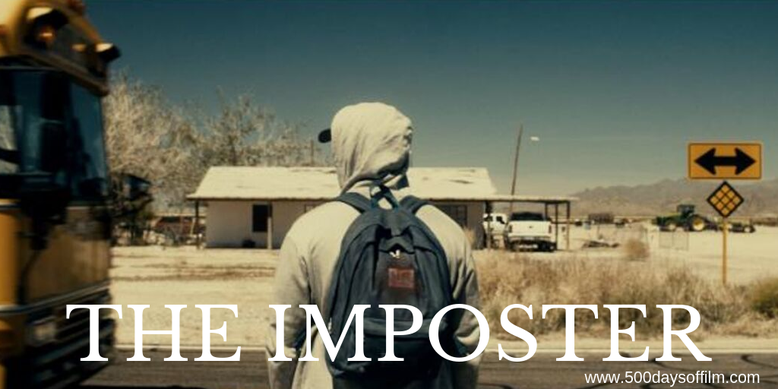 On 13 June 1994 in San Antonio, Texas, 13 year old Nicholas Barclay was out playing basketball with friends. He called home and asked his older brother Jason to wake his mother to ask her to collect him. Jason refused and told Nicholas to walk back. 
Nicholas never returned home... or did he?
Three years later, the Barclay family received some truly unexpected news. Nicholas had been found at a youth shelter in Linares, Spain. He was physically well but traumatised following years of sexual and emotional abuse.
Nicholas's sister, Carey, flew over to collect him. And so began one of the most bizarre true crime stories ever recorded. 
Director, Bart Layton first came upon this story by accident. He happened to pick up a Spanish magazine that was lying on a friend's coffee table. The magazine contained the incredible story of a man called Frederic Bourdin. 
"As a documentary maker, you can wait a lifetime to happen upon a story as unusual and extraordinary as this one," the director recalls. "All is not as it seems."
That, of course, is an understatement. For Bourdin was the person awaiting the arrival of Carey Barclay. Bourdin, a brown haired, brown eyed French Algerian in his twenties, was passing himself off as 16 year old, blond haired, blue eyed Nicholas Barclay. 
To the surprise of everyone - including Bourdin himself - Carey welcomed him with open arms. She fully accepted him as her lost brother and, with the support of both the Spanish and US authorities, took him back to Texas where he was similarly accepted by most of the Barclay family.
"I started wondering what kind of a human being would perpetrate a crime like that," Layton remembers. "And then, of course, what kind of a family would be capable of falling victim to a crime such as that."
As a result, Layton's documentary, The Imposter, is not an investigation into what happened to Nicholas Barclay but a fascinating and disturbing examination of deception and self deception. 
Layton is not interested in presenting his audience with what actually happened. He is fascinated by the layers of subjective truth at the centre of this gripping story. "Visually and structurally it feels like a work of cinema rather than a traditional documentary," he says.
This inspired the director to look at different ways to present the "truth" of each person involved. This story demanded more than a series of talking heads and archive footage (and not just because much of that footage had been destroyed in a fire). 
However, the story also needed to be told via a documentary. "You need to see those people," Layton explains. "You need to look them in the eye. You need to try to understand what happened."
When truth is stranger than fiction, documentary is surely the best and, indeed, only way forward. A fictionalised retelling would lack power and authenticity. I have watched The Imposter several times and, each time, I look deep into the eyes of Bourdin, Carey and Nicholas's mother Beverly and try to understand what happened.
There are no easy answers, of course. But don't tell that to Charlie Parker, the private detective who decided to investigate Nicholas's disappearance and who couldn't fathom why the Barclay family would welcome a stranger into their home. Parker thinks he knows what happened to Nicholas… if only he could find the evidence.
"Some of the characters felt like they inhabited a space that was somewhere between the real world and a Coen brothers movie," Layton recalls. Indeed, you would be hard pressed to find a character more complex and unsettling, more engaging and (I hate to write it) sympathetic than Frederic Bourdin.
Bourdin was the first person that Layton and his team contacted when they first decided to make The Imposter. "He's a compelling and confusing and extraordinary character. At times you find him childlike and sympathetic and someone who needs looking after," says Layton. "I felt like I was falling under the spell of the story that he wanted me to hear."
While careful not to give him a platform to indulge his ego and always mindful of his appalling crimes, Layton felt an obligation to film Bourdin, to let his audience experience Bourdin's masterful manipulation. "Until you understand how persuasive he can be, you cannot even give any credence to the fact that Nicholas Barclay's mother and sister thought he was Nicholas," the director explains.
Bourdin is filmed looking directly into the camera and his head is significantly bigger in the frame when compared to the documentary's other characters. We are sucked into his presence, on the receiving end of his storytelling. It is far from a comfortable position and, as a result, was the perfect filmmaking choice.   
Like Errol Morris's film, The Thin Blue Line, Layton chose to depict certain events in his documentary via reenactments. I sometimes find such dramatisations troubling but, here, they fit and add real value.
For Layton does not intend his audience to view these reenactments as "truth" or "fact". He is far more interested in ambiguity. The reenactments are fictionalised versions of subjective truths brought to life to make us question the stories that we hear.
The Imposter is a powerful exploration of the nature of truth, of deception and self deception. No matter how many times I watch this superb documentary, I am always on the edge of my seat from start to finish.