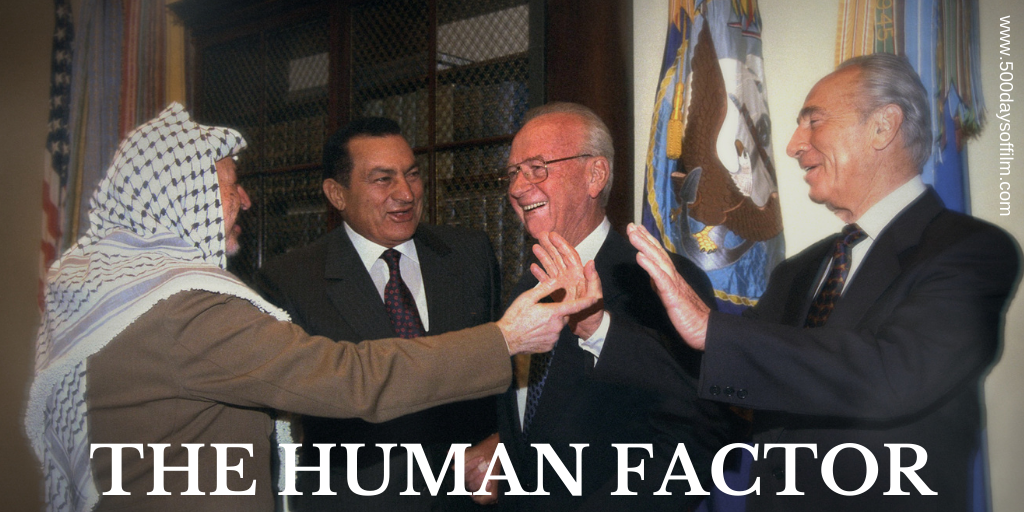 Some moments in history are so significant, so iconic and so, well, historic that it is easy to forget that they were negotiated by humans. Humans with strengths and weaknesses. Humans with agendas to pursue and legacies to protect. This is just what director, Dror Moreh, set out to explore in his timely and fascinating documentary, The Human Factor.
In his film, Moreh examines three decades of negotiations in the Israeli-Arab peace process from the perspective of the key American mediators involved. This is a conflict, Moreh reminds us, over "the same narrow strip of land in the Middle East" and is "the most enduring and violent in modern times, posing a major threat to world peace".
The Human Factor begins by taking us back to 1991. The Cold War has ended, leaving the US as the only global super power. The film explains that, to further assert its influence, the US decided to act as a peacemaker between Israel and its Arab neighbours. 
This venture would, of course, require some extremely challenging negotiations. As Gamal Helal (an interpreter and diplomat who played many vital roles in the process) observes, in the Middle East everyone thinks they can "reinvent the wheel".
The concept of negotiation is defined in the documentary as not manipulation but as the willingness to establish a relationship of credibility, empathy and trust. Meanwhile, you cannot ignore the human factor. Success will always depend on the personalities involved.
Moreh focuses on the individuals behind the peace talks. How much did they manage to achieve? Why were there such devastating failures? The Human Factor features an impressive number of talking heads and all speak remarkably candidly about their experiences. 
Their stories are set against a powerful backdrop of archival material - making this documentary a surprisingly immersive experience. It feels as if we are being taken behind the scenes at critical moments in the peace process.
The Human Factor features the recollections of a number of key American negotiators. For example, we hear from Dennis Ross, known as "the architect" of the Arab-Israeli peace process, Martin Indyk, who twice served as US Ambassador to Israel between 1995-2001, the aforementioned Gamal Helal, and Aaron Miller who became the US State Department's top analyst for Lebanon and the Palestinians in 1980 and went on to become Deputy Special Middle East Coordinator to Dennis Ross.
While the global political stakes were, of course, overwhelmingly high, Moreh never lets us forget about the individuals at the centre of these negotiations. It is absolutely fascinating to hear them talk about their hopes, their frustrations and the insights they now have with the benefit of hindsight. 
For example, Dennis Ross explains the challenge of facilitating talks between Isreali Prime Minister, Yitzhak Rabin, and Palestinian political leader and chair of the Palestine Liberation Organisation, Yasser Arafat. The nerve-wracking negotiations involved in organising a public handshake between these two men is a gripping and compelling story in itself.  
Ross and Martin Indyk remind us how tantalisingly close Israel and Palestine came to finding peace during President Bill Clinton's time in office. The ingredients seemed to be there - including that critical human factor - and the stage was set for a significant move forward in the process. 
However, in emotional scenes, Ross explains how this precious chance for peace was lost when Rabin was shot and killed in November 1995.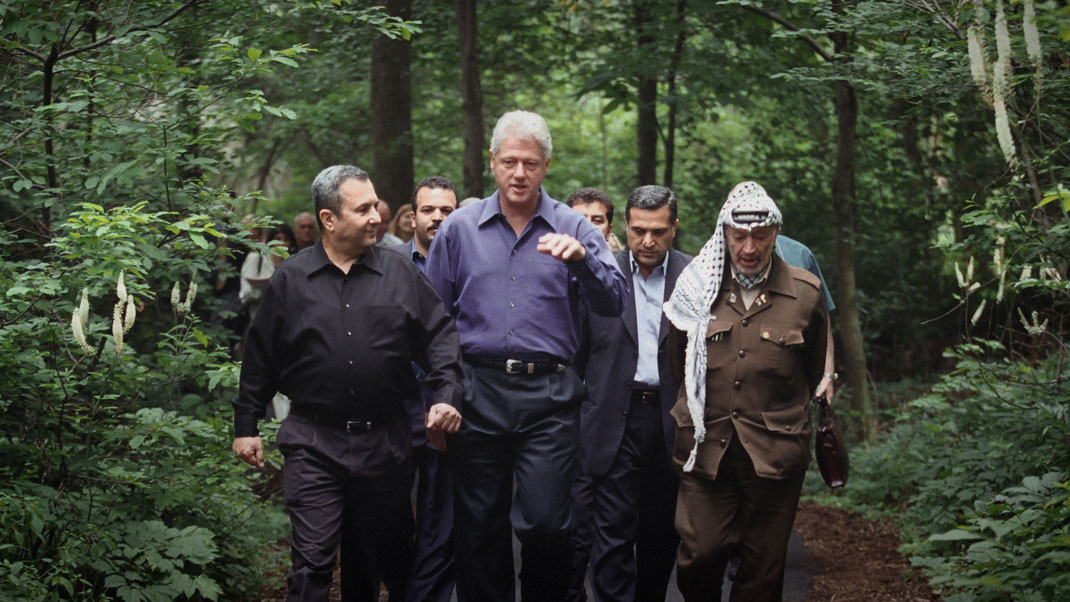 As well as documenting America's key Middle East negotiators, The Human Factor examines the country's position in the peace process. Moreh explores the impact of the all Jewish US negotiating team and America's close relationship with Israel - the country was, we are told, far from an "honest broker". 
While the negotiators in the film all talk about their desire for peace and a good outcome for all sides (and they have, of course, dedicated their lives and careers to this ambition), they freely admit that mistakes were made. "It's a history of missed opportunities," says Martin Indyk. "It's a terrible tragedy."
Aaron Miller recalls hearing President Clinton conclude that trying and failing in the Middle East was much better than not trying at all. Miller remembers feeling inspired by this comment. In hindsight, he now believes that, while this is a fine slogan for a college football team, it is "no substitute for a foreign policy of the most consequential nation on earth". 
"Failure costs," Miller explains. "We saw the world the way we wanted it to be. We did not see the world the way it was."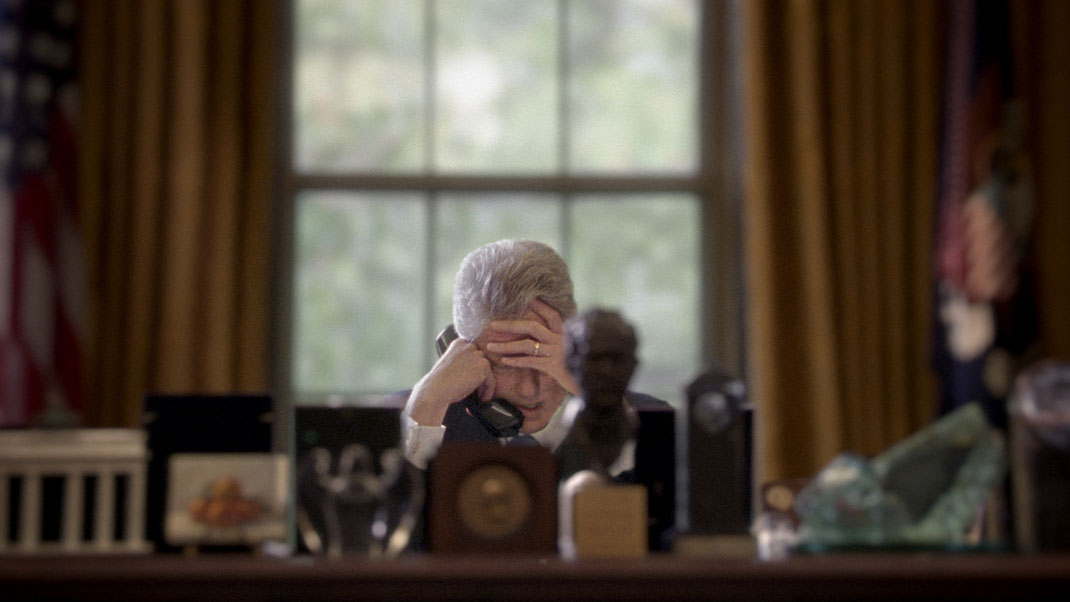 The Human Factor was inspired by a meeting that Moreh had with Dennis Ross back in 2015. "I asked if he would be willing to share those intimate moments from within those rooms during his 25 years of work trying to achieve peace between Israel and its Arab neighbours," Moreh remembers. "Not what happened in front of the camera  but behind the scenes, with the leaders and the other American negotiators. Ross wanted to think about it - after all it's his life's work and memories – but after a few days he agreed."
This is, of course, a story with global significance. However, it also has a very personal connection to Moreh. "On 4th November 1995, which happens to be my birthdate, Prime Minister Rabin was shot. Ever since that night my life was turned around. It ended up as the driving force behind The Gatekeepers, my previous film, and it fed a deep desire to really understand why although a huge American effort had been invested into the peace process, all attempts to reach peace went so badly wrong since that horrible November night."
In some ways, Moreh sees The Human Factor as a companion piece to The Gatekeepers. He believes that the documentary "answers that question from within the negotiating rooms, from the perspective of those who were there, from those who spent days, months, years to bring peace. I wanted to revisit those moments with the individuals at the heart of the negotiations.They were working closely with leaders on all sides and, through their perspective, I wished to decipher what were the real reasons for that failure.
"More than that, The Human Factor explores on a more fundamental psychological level, the human beings who are the political leadership, the core of diplomacy and decision making - and portray them as they really are."