500 Days Of Film Reviews The Guernsey Literary And Potato Peel Pie Society Starring Lily James, Matthew Goode, Michiel Huisman And Penelope Wilton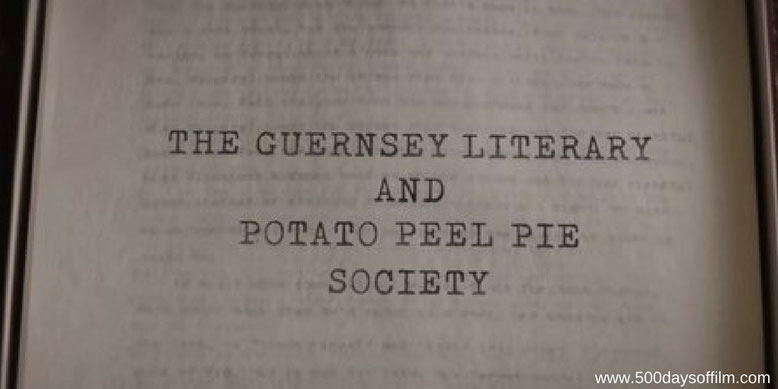 London, 1946. Juliet (Lily James), a charismatic and free-spirited writer receives a letter from a member of a mysterious literary club started in Nazi-occupied Guernsey. Her curiosity piqued, Juliet decides to visit the island. 
There she meets the delightfully eccentric members of the Guernsey Literary and Potato Peel Pie Society, including Dawsey (Michiel Huisman), the rugged and intriguing farmer who wrote her the letter. As the secrets from their wartime past unfold, Juliet's growing attachment to the island, the book club and her affection for Dawsey will change the course of her life forever. 
Is It Any Good?
The name says it all. The Guernsey Literary And Potato Peel Pie Society is exactly the film you think it is - jolly, whimsical and thoroughly quaint. However, despite this, I enjoyed Mike Newell's adaptation of Annie Barrows and Mary Ann Shaffer's best selling book.
Perhaps I was just in the right frame of mind for some harmless, romantic escapism. Perhaps it was the film's wonderful cast (featuring Lily James, Penelope Winton, Matthew Goode, Tom Courtenay and Michiel Huisman) that won me over.
Whatever the reason, I had a nice couple of hours watching what shall henceforth (in this review at least) be known as Guernsey.
Lily James lights up Guernsey as writer, Juliet Ashton. Hers is always such a charming screen presence (albeit a little too 'breathy' here). In the aftermath of World War 2, Juliet longs for something worthy to write about - a more authentic life than the "carnival" of London.
She finds inspiration in Guernsey - visiting the island after a brief correspondence with Michiel Huisman's Dawsey Adams (perhaps the world's handsomest pig/potato farmer - wobbly accent and all).
What happens next is no real surprise. 
However, Guernsey does have weightier matters up its crocheted sleeve: namely, the Nazi occupation of the island. As the society's secrets are revealed, there is real heartbreak and emotional heft - largely thanks to Penelope's Winton's superb performance as Amelia Maugery.
I entered my screening of The Guernsey Literary And Potato Peel Pie Society a little skeptical of the film ahead - concerned that the next two hours would be unbearably twee. I left in a pleasant haze of escapism having thoroughly succumbed to the charm of Mike Newell's movie. 
Random Observations
Despite its setting, the majority of filming took place in Devon and Cornwall for "logistical reasons".
Have you seen The Guernsey Literary And Potato Peel Pie Society? If you have, what did you think of this movie?
Let me know in the comments section below or you can find me on Twitter @500DaysOfFilm.