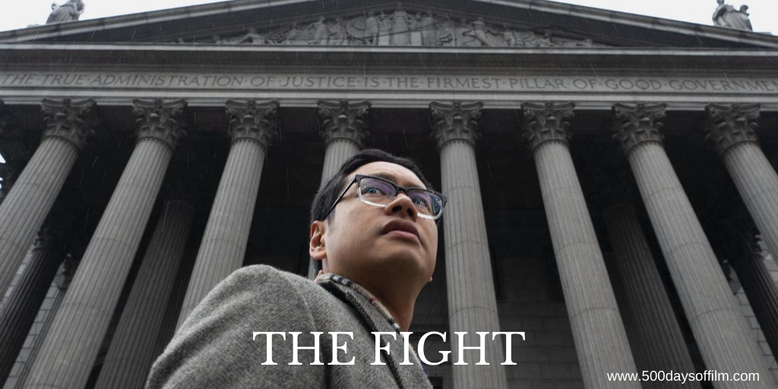 What does it take to sue the US Government? The Fight follows a team of American Civil Liberties Union (ACLU) lawyers as they aim to do just that - fighting against some of Donald Trump's most disturbing attacks on the country's civil rights. 
Of the many legal challenges against the Trump administration's plans (over 140 lawsuits to date), The Fight focuses on four key issues: the separation of immigrant families (many seeking asylum), the blocking of access to abortion, the expulsion of transgender soldiers and an insidious assault on voting rights.
Each one of these topics alone could fill a documentary, of course. However, the combination of all four creates a powerful cumulative effect. Directors Elyse Steinberg, Joshua Kriegman and Eli Despres portray a country whose civil liberties are being besieged on all sides - and reveal the overwhelming task that the ACLU faces.
It may be a cliché, but this really is a David and Goliath situation. The power and deep pockets of the US Government versus a relatively small team of lawyers. Lawyers who are, as a result, always on the go - often sacrificing time with their families. Lawyers who - no matter the task ahead - will never back down.
Taking place between early 2017 and the end of summer 2019, The Fight follows Brigitte Amiri, a deputy director at the ACLU's Reproductive Freedom Project, Chase Strangi and Joshua Block, lawyers with the National ACLU's Lesbian Gay Bisexual Transgender & HIV Projects, Lee Gelernt, the deputy director of the ACLU's National Immigrants' Rights Project, and Dale Ho, the director of the ACLU's Voting Rights Project.
The filmmakers have impressive access to each lawyer (at work, at home... and while drinking train wine!) and it is a clear that a powerful, trusting relationship has been established. It is both fascinating and inspiring to watch the lawyers do their work. In an office buzzing with energy, they are an exciting force to be reckoned with - this is what true heroes look like.
With four complex issues to define and five ACLU lawyers to introduce, The Fight could easily have become overwhelmed with exposition. However, thanks to the brilliant editing skills of Greg Finton, the documentary never feels confusing - even as it switches back and forth between legal battles.  
Key moments in the four lawsuits are shown from beginning to end (not that there ever really is an end). As the tension builds, so you realise just how invested you have become in each lawyer's story. Sensibly, The Fight steers clear of the minutiae of legal argument, preferring to focus on the real lives at the centre of each case.
As a result, The Fight is, at times, a disturbing and deeply emotional viewing experience. Lee Gelernt's work fighting against the separation of families is particularly moving. The film refuses to let these separated families become another statistic - we see the devastating impact of their horrific experiences.
In the face of such inhumane treatment, you cannot help but feel relieved that tenacious lawyers such as Amiri, Strangi, Block, Gelernt and Ho exist (and that they continue despite the hate mail and messages they receive). However, as Ho explains in the film, they can only do so much. We all have a role to play… starting with our vote.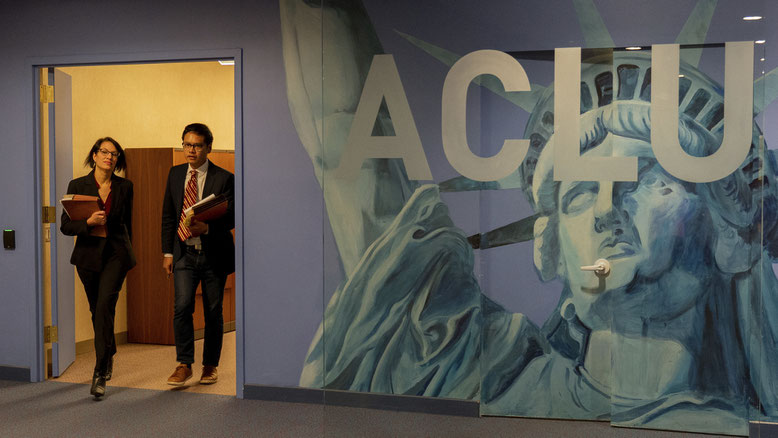 This year marks the 100th anniversary of the founding of the ACLU. The not-for-profit organisation created "to defend and preserve the individual rights and liberties guaranteed to every person in this country by the Constitution and laws of the United States" is needed now more than ever.
Steinberg, Kriegman and Despres (who also worked together on Weiner, the documentary about Anthony Weiner and his doomed New York City mayoral campaign) were inspired to make their film just seven days into Trump's presidency.
"On the night his Muslim Ban was issued, I joined protesters on the steps of a courthouse in Brooklyn," Steinberg explains. "Inside, ACLU lawyer Lee Gelernt was arguing for an emergency order to free those suddenly detained at airports. When Lee emerged with his fist raised high, I was standing close enough to read the expression on his face - exhilaration, exhaustion and shock at walking into a crowd of thousands chanting "ACLU!" In that moment I recognised that next to this guy was where we needed to be."
When the directors met the lawyers who were later to become their subjects, they realised that they had met real-life superheroes. "Being shoulder to shoulder with these men and women for the past three years has been a wild ride - tense, hilarious, devastating, surprising," says Steinberg. 
"But mostly, we feel inspired. There are times when we just want heroes to root for, and today we rest easier knowing that these people - scrappy, brilliant, human, and tough as nails - are on the front lines defending our democracy. Their work is messy and exhausting. More often than not, they get knocked back on their heels. But, sometimes, they win."