500 Days Of Film Reviews Satire, The Death Of Stalin, Starring Steve Buscemi, Michael Palin, Jeffery Tambor, Jason Isaacs, Rupert Friend, Simon Russell Beale, Olga Kurylenko, Paddy Considine and Andrea Riseborough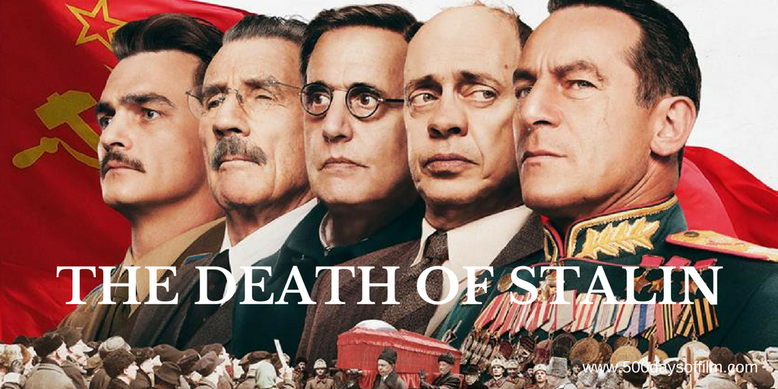 In the days following Stalin's death, his core team of ministers begin their devious fight to take control. Some desire positive change in the Soviet Union, others have far more sinister motives. Their one common trait? They're all just desperately trying to stay alive.
Is It Any Good?
You get more bees with honey than with vinegar... or so the saying goes. In much the same way, a message can be more powerful when conveyed via comedy than by a more serious method. Satire disarms us - we laugh and then we think.
This is exactly the tone found in The Death of Stalin. This film from director, Armando Iannucci (Veep, The Thick Of It), is brilliantly and consistently funny. It is perhaps the funniest film of 2017.
After the death of Joseph Stalin (Adrian McLoughlin), his key ministers - Nikita Khrushchev (Steve Buscemi), Georgy Malenkov (Jeffrey Tambor), Vyacheslav Molotov (Michael Palin), Lavrentiy Beria (Simon Russell Beale) and Anastas Mikoyan (Paul Whitehouse) - gather to plan (or plot) the future of the Soviet Union.   
Cue much ridiculous posturing and scenes of ludicrous political manoeuvring. Prepare to laugh out loud from the first scene of The Death Of Stalin to the last. However, beneath all the hilarity lies something dark and deeply unsettling.
Something true.
From the very beginning, we feel the air of deadly tension in The Death Of Stalin. We watch as Paddy Considine's music producer desperately tries to re-stage a concert after Stalin has asked for a last minute recording of the event. We witness the strain on the citizens of Moscow. They live in fear - one wrong move will likely land them on Beria's NKVD torture and execution list. 
Beneath the gags and the absurdity, there is a disturbing sense of historical authenticity in The Death Of Stalin. These men may not have had the hilarious range of accents that we hear in Iannucci's movie, but their crazed political machinations (and outlandish outfits) are strikingly the same. 
There is evil here and (move over Pennywise) Simon Russell Beale's Beria (chief of the secret police) must go down as one of this year's most terrifying characters. And he is in pretty sinister company. In a remarkably impressive cast, Buscemi shines as (a rather Fargo-esque) Khrushchev, Tambor is bumbling brilliance as Malenkov and Jason Isaacs is scene-stealingly good as head of the Russian Army, Georgy Zhukov.
The Death of Stalin is a laugh out loud comedy - an intelligent satire with a vicious bite. Iannucci's film paints an astonishingly brutal picture of Russia in 1953. However, perhaps more unsettling is that this story of what happens when egomaniacs gain access to unfettered power feels so uncomfortably relevant today.
Random Observations
Have you seen The Death Of Stalin? 
If you have what did you think of this movie? Let me know in the comments section below or let's chat over on Facebook or Twitter (@500DaysOfFilm).