500 Days Of Film Reviews The Boy Who Harnessed The Wind Starring Maxwell Simba And Chiwetel Ejiofor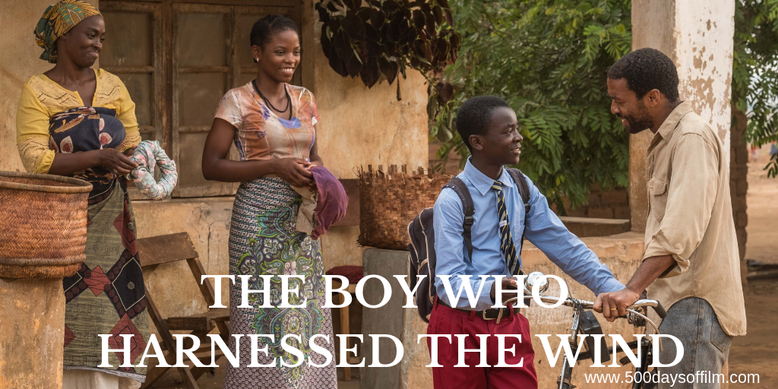 Against all the odds, William (Maxwell Simba) a thirteen year old boy in Malawi invents an unconventional way to save his family and village from famine. 
Is It Any Good?
The Boy Who Harnessed The Wind really has it all… a gripping story, compelling characters, fascinating universal themes and a genuinely inspiring conclusion. Plus it is a true story. You can certainly see why Chiwetel Ejiofor would want to adapt William Kamkwamba's book for his debut feature film.
Entrusted with this remarkable tale, Ejiofor's are an impressive and confident pair of directorial hands (he also wrote the script and stars as William's father, Trywell). He tells this story extremely well - conveying the challenges of living in William's vibrant but deprived village in Malawi. 
Meanwhile, Maxwell Simba is wonderfully engaging as William. He is desperate for the things we take for granted - food, water, safety and an education. When we first meet William, we see that he has a natural ability in science and engineering - he fixes radios for a little extra (much needed) money. His future seems bright as he starts senior school.
However, desperate times first threaten William's schooling and then his life and the lives of his family and friends.
Thanks to Ejiofor's direction, we become utterly immersed William's story. His decision to use the local language of Chichewa with English subtitles and the film's stunning cinematography by Dick Pope bring an impressive level of authenticity to The Boy Who Harnessed The Wind.
While this is very much a window into William's world, Ejiofor also highlights the more universal aspects of the tale. For example, the idea that both boys and girls should aspire to further education and the chance of a life outside the village.
In addition, one of the most compelling moments in the film is when William moves beyond his father in terms of his scientific knowledge. The conflict this generates is heartbreaking and almost unbearable to watch. 
The Boy Who Harnessed The Wind is an incredible story and a very impressive debut from director Chiwetel Ejiofor. 
Random Observations
Have you seen The Boy Who Harnessed The Wind? 
If you have, what did you think of this film? Let me know in the comments section below or over on Twitter. You can find me @500DaysOfFilm.