500 Days Of Film Reviews Thriller, Super Dark Times, Starring Owen Campbell, Charlie Tahan, Elizabeth Cappuccino and Amy Hargreaves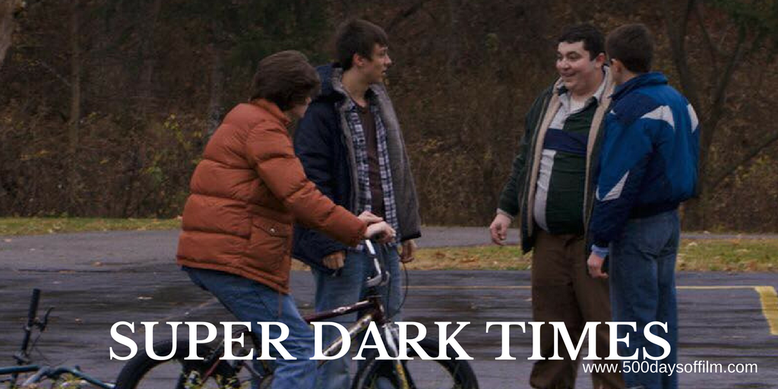 Zach (Owen Campbell) and Josh (Charlie Tahan) are best friends growing up in a leafy Upstate New York suburb in the 1990s. The pair share numerous interests, one of which is an attraction to classmate, Allison (Elizabeth Cappuccino). 
However, on a seemingly routine day, a traumatic incident changes everything - driving a wedge between the previously inseparable pair and destroying all traces of their youthful innocence.
Is It Any Good?
Directorial debuts don't come much more assured than Kevin Phillips' Super Dark Times. This story of tragedy and guilt is notable not, perhaps, for its narrative but more for its  brooding atmosphere and impressive sense of time and place. 
Beautifully shot by Eli Born, Phillips transports us back to the 1990s. We follow Zach and Josh through largely uneventful days - hanging out after school at home and in the woods nearby. The film's keen sense of nostalgia paints these as simpler times - before widespread internet access and mobile phones.
Zach and Josh exude youthful innocence - they seem like typical teenage boys and we like them both. However, largely thanks to the film's unsettling opening, a dark sense of foreboding pervades each scene. 
Something terrible is about to happen.
We see tragedy approach from miles away. Yet Phillips takes his time - making sure we are fully invested in his characters and ramping up the tension. The event itself is horrific and, in its aftermath, the boys make decisions that they struggle to live with.
Super Dark Times then becomes a gripping exploration of guilt and regret. We see the toll this takes on Zach (a powerful performance by Owen Campbell). He experiences horrific nightmares as his life spins out of control just at the point when his affection for Allison is returned. 
Allison (a charming turn from Elizabeth Cappuccino) has no idea of the darkness consuming Josh and Zach - or the danger that she is in. We truly fear for her as the film moves towards its final act.
While its conclusion feels at best rushed and at worst flawed, the film's dark and brooding atmosphere still impresses… and lingers. Super Dark Times is a remarkable feature debut from Phillips - I look forward to his next project.
Random Observations
Have you seen Super Dark Times?
If you have, what did you think of this film? Let me know in the comments section below or via Facebook or Twitter (@500DaysOfFilm).