500 Days Of Film Reviews The 2018 London Sundance Film Festival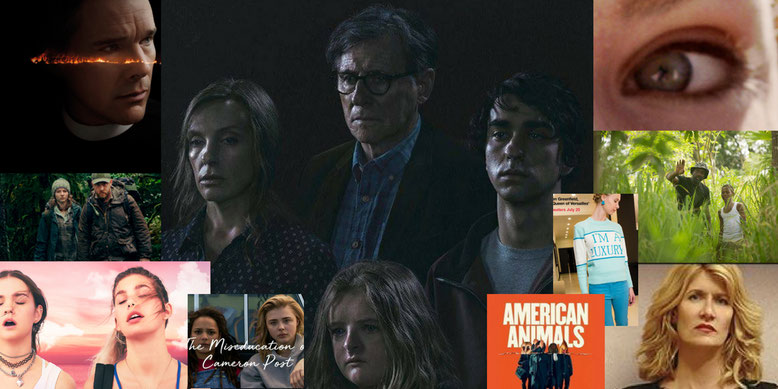 The 2018 London Sundance Film Festival has come to a close leaving film fans buzzing about a wide range of exciting movies and superb (potentially Oscar-winning) performances. Here are ten of the most highly anticipated films screened at London Sundance and details of when they will be arriving on UK screens. 
10 Of The Best London Sundance Movies
Hereditary
Director: Ari Aster
Starring: Toni Colette, Gabriel Byrne and Alex Wolff
Synopsis: When Ellen, the matriarch of the Graham family, passes away, her daughter Annie (Toni Colette) and her husband (Gabriel Byrne) and their two children begin to unravel cryptic and increasingly terrifying secrets about their ancestry. The more they discover, the more they find themselves trying to outrun the sinister fate they seem to have inherited.
UK Release: 15th June 2018
Eigth Grade
Director: Bo Burnham
Starring: Elsie Fisher and Josh Hamilton
Synopsis: Thirteen-year-old Kayla endures the tidal wave of contemporary suburban adolescence as she makes her way through the last week of middle school - the end of her thus far disastrous eighth grade year - before she begins high school. 
*Winner of the Mubi Audience Favourite Award*
UK Release: TBC
Leave No Trace
Director: Debra Granik
Starring: Ben Foster and Thomasin Harcourt McKenzie
Synopsis: A teenage girl (Thomasin Harcourt McKenzie) and her father (Ben Foster) have lived undetected for years in Forest Park, a vast woods on the edge of Portland, Oregon. A chance encounter leads to their discovery and removal from the park and into the charge of a social service agency. They try to adapt to their new surroundings, until a sudden decision sets them on a perilous journey into the wilderness seeking complete independence and forcing them to confront their conflicting desire to be part of a community and fierce need to live apart.
UK Release: 29th June 2018
First Reformed
Director: Paul Schrader
Starring: Ethan Hawke and Amanda Seyfried
Synopsis: A priest undergoes a crisis of faith after he fails to prevent a tragedy in his parish. 
UK Release: 13th July 2018
The Tale
Director: Jennifer Fox
Starring: Laura Dern
Synopsis: The Tale follows Jennifer (Laura Dern) as she faces life-altering questions when a short story she wrote at thirteen forces her to re-examine her first sexual relationship and the stories we tell ourselves in order to survive.
UK Release: TBC
Yardie
Director: Idris Elba
Starring: Aml Ameen, Everaldo Creary, Shantol Jackson and Sheldon Shepherd
Synopsis: Set in '70s Kingston and '80s Hackney, Yardie centres on the life of a young Jamaican man named D (Aml Ameen), who has never fully recovered from the murder, committed during his childhood, of his older brother Jerry Dread (Everaldo Creary). 
UK Release Date: 24th August 2018
The Miseducation Of Cameron Post
Director: Desiree Akhavan
Starring: Chloe Grace Moretz, John Gallagher Jr and Sasha Lane
Synopsis: Cameron Post (Chloë Grace Moretz) looks the part of a perfect high school girl. But after she's caught with another girl in the back seat of a car on prom night, Cameron is quickly shipped off to a conversion therapy center that treats teens "struggling with same-sex attraction." At the facility, Cameron is subjected to outlandish discipline, dubious "de-gaying" methods, and earnest Christian rock songs - but this unusual setting also provides her with an unlikely gay community. For the first time, Cameron connects with peers and she's able to find her place among fellow outcasts.
UK Release: 31st August 2018
American Animals
Director: Bart Layton
Starring: Barry Keoghan, Evan Peters, Jared Abrahamson and Blake Jenner
Synopsis: Spencer wants to become an artist but doesn't have anything to say. His friend Warren has been raised to believe that his life will be special. As they start university, it dawns on them that their lives may never be unique or extraordinary in any way. On a library tour, Spencer is shown the special collections room - home to the country's most valuable books. When he shares this with Warren, they begin to wonder: what would their lives look like if they planned to execute the perfect robbery?
*The London Sundance Surprise Movie*
UK Release: 7th September 2018
Generation Wealth
Director: Lauren Greenfield   
Starring: Florian Homm, Tiffany Masters and Jaqueline Siegel  
Synopsis: For the past 25 years acclaimed photographer and filmmaker Lauren Greenfield has travelled the world, documenting with ethnographic precision and an artist's sensitivity a vast range of cultural movements and moments. Yet, after so much seeking and searching, she realized that much of her work pointed at one uniting phenomenon: wealth culture. With her new film, Generation Wealth, she puts the pieces of her life's work together for an investigation into the pathologies that have created the richest society the world has ever seen. 
UK Release: TBC
Never Goin' Back
Director: Augustine Frizzell
Starring: Maia Mitchell and Camila Morrone
Synopsis: Never Goin' Back is a fresh and funny look at female friendship, following Angela (Maia Mitchell) and Jessie (Camila Morrone), who dream of escaping their waitressing jobs at a low-rent Texas diner, even if it's only to Galveston. Taking place over just a few days, the film follows their hilarious and unpredictable misadventures on the streets of suburban Dallas as they attempt increasingly madcap and wild schemes to try and raise some cash.
UK Release: TBC
What Films Are You Looking Forward To?
What Sundance London films are you most looking forward to watching?
Or have you already seen some of the films on this list? If so, do let me know what you thought of them! Just leave me a comment in the box below or let's chat over on Twitter. I'm @500DaysOfFilm.