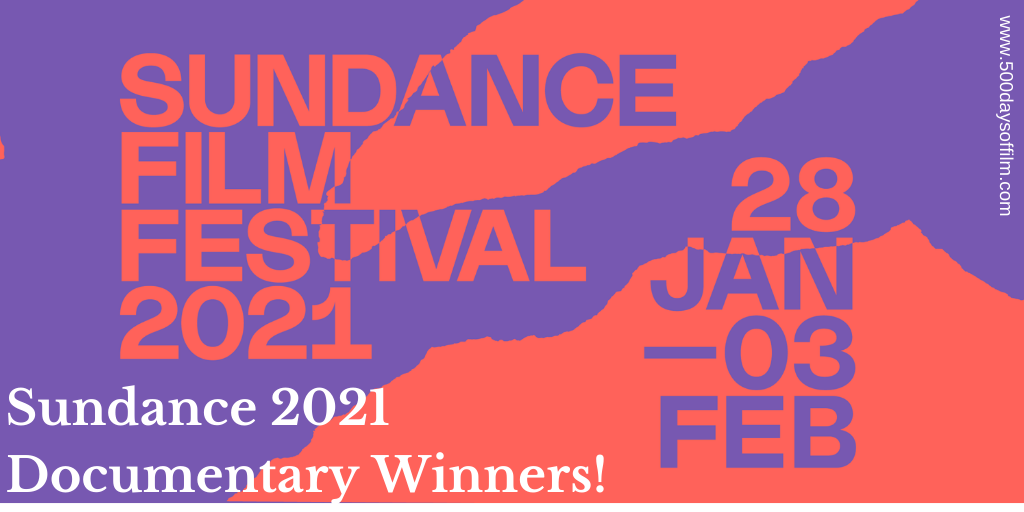 Over six days, 73 feature films and 50 short films were screened at Sundance Film Festival 2021. The quality of the documentaries was incredibly high - making the task of choosing a winner at the festival's awards ceremony nigh on impossible.
However, winners had to be selected of course and, during the ceremony hosted by actor and comedian Patton Oswalt, jurors (including Joshua Oppenheimer, Lana Wilson and Kim Longinotto) presented 24 prizes for feature filmmaking and seven for short films. 
The US Grand Jury Prize: Documentary and the Audience Award: US Documentary were presented to director Ahmir "Questlove" Thompson for his film Summer Of Soul (...Or, When The Revolution Could Not Be Televised).
Summer Of Soul takes place in 1969. During the same summer as Woodstock, a different music festival took place 100 miles away. More than 300,000 people attended the Harlem Cultural Festival. The event was filmed but, after that summer, the footage languished unseen in a basement for 50 years. 
Until now. 
Sundance called Summer Of Soul - Thompson's feature debut - "a stunning unearthed treasure destined to become a pillar of American music and African American history." The film features incredible music gems, including a Stevie Wonder drum solo and a duet between Mahalia Jackson and Mavis Staples. Sign. Me. Up.
The Sundance World Cinema Grand Jury Prize: Documentary was presented to director Jonas Poher Rasmussen for Flee. In the film, an Afghan refugee talks about his journey of persecution and escape. As he does not want his identity to be revealed, the documentary uses stunning animation to tell his powerful story. 
Sundance described Flee as "a film unbound by documentary constraints and swept up in an astonishing array of archive footage, '80s pop music, and hand-drawn craft that brings audiences directly into the experience of a teen fleeing multiple countries - and the psychological impact on how he loves, trusts, and understands his burgeoning identity". 
The Sundance Audience Award: World Cinema Documentary and the World Cinema Documentary Special Jury Award: Impact for Change were given to directors and producers Rintu Thomas and Sushmit Ghosh for Writing With Fire. Their film follows the inspiring and fearless women reporters who work for Khabar Lahariya, India's only all-female news network.
Led by chief reporter, Meera, and armed with smartphones the team of journalists investigate police incompetence, document
stories of caste and gender violence and confront injustice.. 
According to Sundance, "thanks to the directors' intimate yet respectful lens, we witness these rural reporters' awe-inspiring efforts to dismantle patriarchy and redefine traditional notions of power. Writing With Fire is an electrifying reminder to never underestimate the strength of a woman who's had enough."
The Sundance Directing Award: US Documentary was won by Natalia Almada for Users. Her film examines the seemingly unstoppable pace of technology in the context of its relationship with the equally unstoppable might of Mother Nature. 
Almada's poetic investigation is accompanied by intimate shots of her young son. As we watch him staring unquestioningly at his computer screen and witness him being rocked to sleep in his electronic crib, we wonder about the influence of technology in his life.
Sundance describes Users as a documentary "With transcendent camerawork that peers into the internal organs of a technologically dependent planet, Users both marvels at and fears for a world in which a child is not only at risk from a warming Earth but comes to trust a perfectly constructed artificial caretaker over his own biological mother."
Meanwhile, the Sundance Directing Award: World Cinema Documentary was presented to Hogir Hirori for Sabaya. In August 2014, the Islamic State of Iraq and Syria (Daesh) attacked the ancestral homeland of the Yazidis, one of the oldest ethnic and religious minorities in Iraq. 
Among the many horrific atrocities that Daesh committed was the abduction of thousands of women and girls, who were passed on as sex slaves (sabaya) among the jihadists. Five years after the attack, Hirori follows a group of volunteers from the Yazidi Home Center as they try to save the women and children held by Daesh in the Al-Hol camp.
Sundance calls Sabaya "a visceral, often petrifying journey that will keep you on the edge of your seat." 
The Jonathan Oppenheim Editing Award: US Documentary was presented to editors Kristina Motwani and Rebecca Adorno for Homeroom. The documentary follows the students of Oakland High School's class of 2020 during an unprecedented year. 
Sundance describes Homeroom as "a revealing, outspoken coming-of-age story that taps into the collective experience of a nation in transition calling out for change."
Special Jury Awards
Several Special Jury awards were presented at the ceremony. A US Documentary Special Jury Award: Emerging Filmmaker was presented to Parker Hill and Isabel Bethencourt for Cusp. The film takes place in a Texas military town where three teenage girls confront the dark corners of adolescence at the end of a fever dream summer.
Meanwhile, a US Documentary Special Jury Award: Nonfiction Experimentation was given to Theo Anthony for All Light, Everywhere. This film is an exploration of the shared histories of cameras, weapons, policing and justice. 
A World Cinema Documentary Special Jury Award: Vérité Filmmaking was presented to Camilla Nielsson for President. The film examines Zimbabwe at a crossroads as the leader of the opposition MDC party, Nelson Chamisa, challenges the old guard ZANU-PF led by Emmerson Mnangagwa, known as "The Crocodile". 
In the documentary short film category, the Short Film Jury Award: Nonfiction was awarded to Don't Go Tellin' Your Momma. Topaz Jones and rubberband's film takes us back to 1970 when Black educators in Chicago created an alphabet flashcard set to provide Black centered teaching materials to the vastly white educational landscape. The Black ABCs were born. 
Earlier Sundance awards included The Sundance Institute | Amazon Studios Producers Award for Nonfiction, which was won by Nicole Salazar for Philly D.A. The documentary series follows the inner workings of a big city district attorney's office - this one run by Larry Krasner, who was elected as a reformer in 2017.
The Sundance Institute | Adobe Mentorship Award for Editing Nonfiction went to Juli Vizza. Vizza is an Emmy Award winning editor and producer whose films have premiered at Sundance, Berlin, and Tribeca. They recently edited And She Could Be Next, a two-part series about women of colour transforming American politics from the ground up and they are currently editing True Believer, a feature documentary exploring the politicisation of Evangelical Christians. 
This year's Sundance Film Festival was once again impacted by the global pandemic. "This has been a singular festival for a singular moment," says Keri Putnam, chief executive of Sundance Institute. "We've been able to elevate independent art and celebrate a wonderful slate of films by gathering in new ways, ways that worked thanks to adventurous audiences everywhere, eager to connect and engage with the work and with one another."
Tabitha Jackson, director of Sundance Film Festival, adds that this "was not a 'virtual' festival, it was a real festival and the power of these artists and their work was what made it so. It has been a privilege to help this work meet new audiences and enter the culture with such fanfare, especially now, when breaking through the noise is harder than ever."