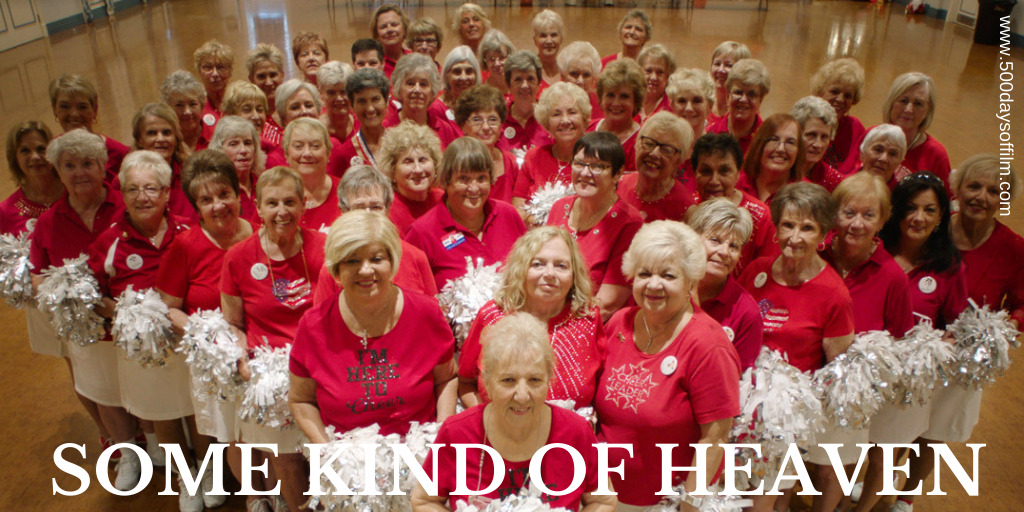 A charming, poignant and insightful portrait of old age, Some Kind Of Heaven explores life at the largest retirement community in the US, The Villages in Florida. Lance Oppenheim's debut documentary feature is an absolute gem. Combining four wonderfully compelling stories with stunning, cinematic filmmaking, the film seeks to dispel "otherness" from old age.
Oppenheim unsettles us from the start. Some Kind Of Heaven opens with a montage of surreal clips -  footage taken from the many clubs (over 3,000 in fact) that are on offer at The Villages. As we watch synchronised golf cart driving, rowing and swimming, we start to wonder - are we being encouraged to laugh at the residents of The Villages?
Thankfully this is not the case. Oppenheim is not here to mock or make fools of his subjects. Far from it. He is genuinely fascinated by The Villages and why over 130,000 people have chosen to move away from their homes, from their friends and their families. 
At first, the attractions seem obvious. The Villages, called the Disney World of retirement communities, reminds the residents of their youth. "Everything here is so positive," says one man. "You come here to live, you don't come here to pass away," says another. Meanwhile, a resident reveals that "there is no place like this. This is nirvana". Living in The Villages, we are told, is like being on holiday every day.
However, the more Oppenheim observes life in The Villages, the more we begin to see the cracks and the more we understand how, for some, the dream could turn into a nightmare. 
Some Kind Of Heaven follows four people - a married couple, a widow and a bachelor - whose experience of The Villages has not quite been what they had hoped. The pressures of time and of living in a place where you are supposed to have fun 24/7 are all too clear.
Married couple, Reggie and Anne, struggle to adapt to life in the retirement community. While Anne embraces many of the activities at The Villages, Reggie begins to lose touch with reality and starts to experiment with drugs. After 47 years, their marriage looks in real trouble.
Barbara is also struggling. Recently widowed and still processing her grief, she often appears lost and alone. We watch as she tries many of the clubs on offer in the desperate hope of connection. All the while she longs for home, admitting that The Villages "hasn't been the fantasy land I thought it would be". 
Meanwhile, when we first meet Dennis he is living in his van. The Villages is his hunting ground - he wants to catch a wealthy woman and "get set up for life". However, he is conflicted between comfort and freedom. He may be 81 years old, but he is, like Reggie, Anne and Barbara, still searching for happiness and fulfillment. Some Kind Of Heaven tells their coming of age story.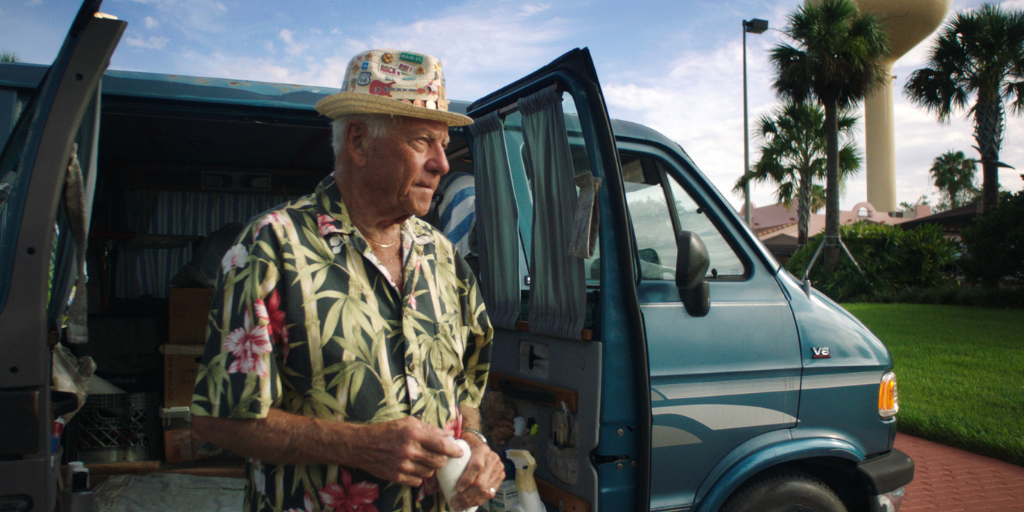 In exploring these stories, Oppenheim captures some wonderfully intimate and revealing moments. He spent 18 months living and filming in The Villages and, during that time, developed a collaborative, trusting and lasting relationship with his four subjects. 
There is a performative aspect to some of these moments - a sense that Reggie, Anne, Barbara and Dennis are portraying versions of themselves on screen (reminding me of Chloé Zhao's work in The Rider and Nomadland). However, Some Kind Of Heaven remains very much rooted in the documentary genre. 
The film's style and tone is deliberate and Oppenheim has been open about his filmmaking process. He was not interested in making a purely observational documentary because he wanted his film - with its stunning cinematography, wonderful score and superb editing - to mirror the fiction and reality of life in The Villages. 
"No matter how you make a documentary, no matter what the aesthetics are, capturing moments like a fly on the wall doesn't make a film more authentic or real," Oppenheim explains. "From the moment that you bring a camera into any setting, there is a perversion of reality." 
By highlighting the surreal nature of The Villages and by working so closely with his subjects, Oppenheim exposes the Truman Show-like artificiality of this retirement community and reveals some important, universal truths. Some Kind Of Heaven reminds us that, despite what society might have us believe, there is far more that unites the generations than divides them - older people are still people after all.
---
Click here to read my interview with Some Kind Of Heaven's director, Lance Oppenheim