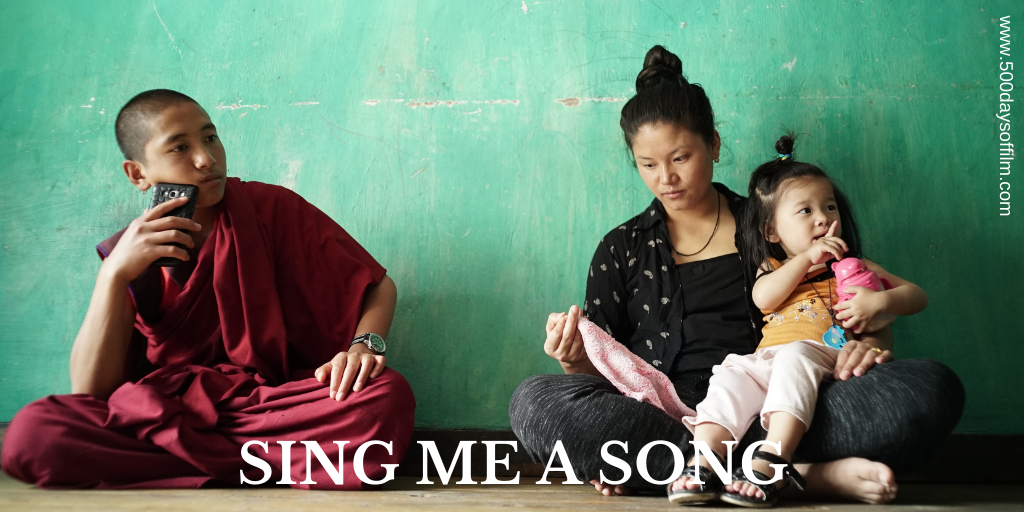 After centuries of isolation, Bhutan - a Buddhist kingdom on the eastern edge of the Himalayas - was the last nation on earth to introduce television and the internet. Sing Me A Song explores some of the more unfortunate consequences of the adoption of online technology in the country.
Thomas Balmès's documentary follows a young monk called Peyangki. He lives and studies in a picturesque monastery in Laya - a village 4000 metres up in the mountains of Bhutan. Wonderfully captured by Balmès's camera, Laya is breathtakingly beautiful.
We first meet Peyangki when he is eight years old. He tells us that his mother and sister wanted him to go to a regular school. He was far more interested in becoming a monk. Peyangki lives what seems to be an idyllic, outdoorsy life - cartwheeling around the monastery's grounds and making crowns out of flowers. 
Peyangki is fascinated by the construction of a new road into Laya. Once completed, the village will have electricity for the first time. Peyangki is both excited and, he admits, rather scared about this development. He has heard that electricity causes house fires. 
However, unbeknownst to Peyangki, other dangers lurk in the shadows of progress.
Although late to the online party, social media caught on quickly in Bhutan. In just five years, more than ten percent of the country had a Facebook account. The country also experienced many benefits as a result. For example, a greater access to information led to criminal justice reform and an increased awareness of social and political issues.
Sing Me A Song, however, is not interested in exploring the advantages of online technology. Indeed, the documentary takes a rather bleak view of the introduction of the internet and television in Bhutan. When we rejoin Peyangki, ten years have passed. He still lives in the monastery, but is becoming increasingly distracted by the lure of his phone. Daily rituals of candle lighting and the recitation of prayers are now accompanied - and often lit - by a row of addictive little screens.  
While exploring his new online world, Peyangki meets and falls in love with a young singer, Ugyen, from the city of Thimphu. He becomes eager to take their relationship beyond the confines of the Chinese social mesia platform, WeChat. With the help of his sister, Peyangki gathers and sells rare medicinal mushrooms to make enough money to leave the monastery in search of "the one he dreams of night and day". 
Meanwhile, we spend time with Ugyen in Thimphu. Balmès observes the challenges that she faces and documents her desperate hope for a better, more secure future. With a growing sense of unease, we understand that neither Peyangki nor Ugyen are being entirely honest with each other online. 
With our social media/tech wary eyes, this revelation, comes as no real surprise. However, for Peyangki, this is new territory. We watch as he confronts the difference between the promise of the world of the internet and the reality of real life - the experience is a painful one.