500 Days Of Film Reviews September's Must Watch Films…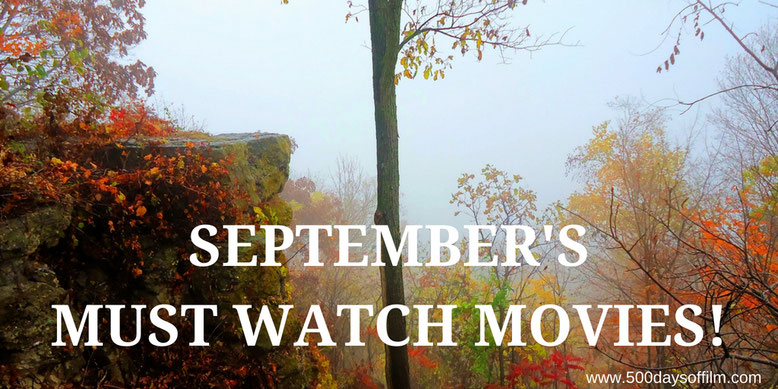 August was a strange month for me... movie wise at least. I went off on my annual family holiday without seeing the two big blockbuster releases (Ant-Man And The Wasp and The Meg). As a result, I've had a lot of catching up to do!
Having now watched these two highly entertaining and enjoyable films, I feel that August has been a good month cinema-speaking. I would also really recommend Spike Lee's superb 
However, my work is not yet done. For example, I am still desperate to watch Brett Haley's Hearts Beat Loud (starring Nick Offerman, Kiersey Clemons, Ted Danson and Sasha Lane). I would also like to see Antoine Fuqua's The Equalizer 2.
In addition, I am looking forward to watching Pawel Pawlikowski's Cold War, Leigh Whannell's Upgrade and Idris Elba's Yardie. Oh and Aneesh Chaganty's thriller, Searching, also looks intriguing.
Busy, busy, busy!
Of course, next month will offer no respite as we move closer to the madness that is awards season. Here are September's must see movies (UK releases)...
Films To Watch In September!
THURSDAY 6 SEPTEMBER 2018
The Nun 
Director: Corin Hardy 
Starring: Demian Bichir, Taissa Farmiga, Jonas Blocquet, Charlotte Hope, Ingrid Bisu, Bonnie Aarons
FRIDAY 7 SEPTEMBER 2018
American Animals 
Director: Bart Layton 
Starring: Evan Peters, Barry Keoghan, Jared Abrahamson, Blake Jenner, Ann Dowd 
The Miseducation Of Cameron Post 
Director: Desiree Akhavan 
Starring: Chloë Grace Moretz, John Gallagher Jr., Sasha Lane, Forrest Goodluck, Jennifer Ehle
The Seagull 
Director: Michael Mayer 
Starring: Annette Bening, Saoirse Ronan, Elisabeth Moss, Corey Stoll, Billy Howle 
THURSDAY 13 SEPTEMBER 2018
The Predator
Director: Shane Black 
Starring: Boyd Holbrook, Trevante Rhodes, Jacob Tremblay, Keegan-Michael Key, Olivia Munn, Sterling K. Brown, Alfie Allen, Jane Thomas, Augusto Aguilera, Jake Busey, Yvonne Strahovski
FRIDAY 14 SEPTEMBER 2018
Crazy Rich Asians 
Director: Jon M. Chu
Starring: Constance Wu, Henry Golding, Michelle Yeoh 
King Of Thieves 
Director: James Marsh 
Starring: Michael Caine, Michael Gambon, Charlie Cox
Lucky 
Director: John Carroll Lynch 
Starring: Harry Dean Stanton, David Lynch, Ron Livingston, Ed Begley Jr, Tom Skerritt  
The Rider 
Director: Chloe Zhao 
Starring: Brady Jandreau, Llly Jandreau, Tim Jandreau
FRIDAY 21 SEPTEMBER 2018
Climax 
Director: Gaspar Noe 
Starring: Sofia Boutella, Romain Guillermic, Kiddy Smile
Faces Places 
Director: Agnes Varda, JR 
Starring: Agnes Varda, JR
The Little Stranger 
Director: Lenny Abrahamson 
Starring: Domnhall Gleeson, Ruth Wilson, Will Poulter, Charlotte Rampling
FRIDAY 28 SEPTEMBER 2018
The Wife 
Director: Bjorn Runge Starring: Glenn Close, Jonathan Pryce, Max Irons, Harry Lloyd, Annie Starke, Elizabeth McGovern and Christian Slater
What Will You Watch This September?
From this list alone, September is shaping up well for movie fans. 
What are you most looking forward to watching? Let me know! Leave me a comment in the box below or let's chat over on Twitter! You can find me @500DaysOfFilm.