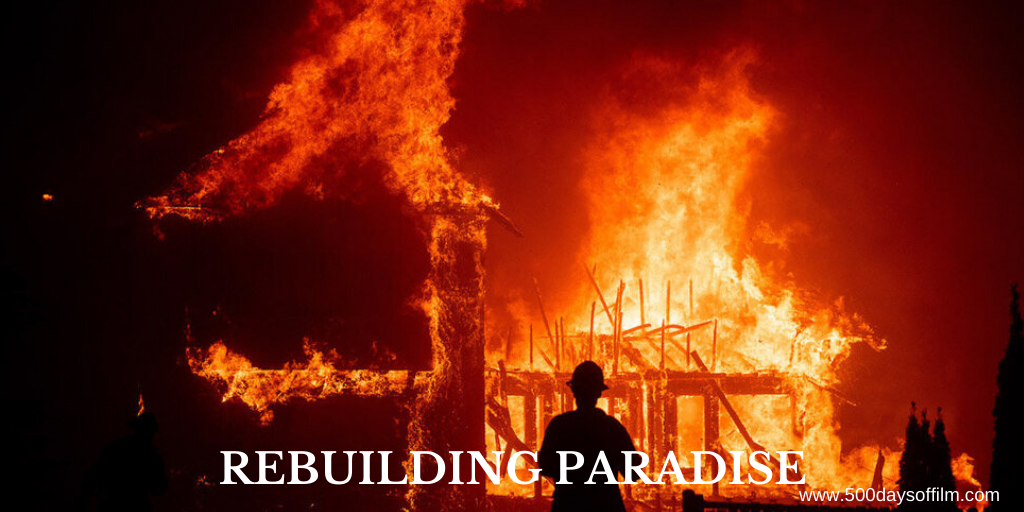 At 7.30am on 8th November 2018, a perfect storm of fire conditions created the most destructive wildfire in California's history. Camp Fire tore through the Californian town of Paradise, consuming everything in its path. 
The residents of Paradise had minutes to flee their town. Many did not survive - tragically, eighty five people lost their lives that day. Homes and businesses were destroyed. Of the nine schools in the area, eight were damaged and four were lost to the flames.
For anyone fortunate enough not to have lived through a wildfire (myself included), it is impossible to imagine the terror of that day. However, thanks to incredible video footage taken by the residents of Paradise, we can begin to understand the sheer horror of their experience.
I first saw the distressing footage of Camp Fire in Drea Cooper and Zackary Canepari's powerful Netflix documentary, Fire In Paradise. Similar scenes feature at the beginning of Ron Howard's film, Rebuilding Paradise.
We see day turn to night as smoke engulfs the town. Roads are blocked with cars as fearsome fires rage all around. The heat is ferocious. We hear audio recordings of people in distress as they try to escape - and witness the incredible, heroic efforts of the town's emergency services. 
The footage in both documentaries put us at the centre of a nightmare.
For those that survived Camp Fire, this was just the start of a heartbreaking journey. As we hear from those interviewed in Rebuilding Paradise, the long term effects of Camp Fire only became more challenging with the passage of time. 
The documentary follows their stories in the year following the tragedy and explores what reality was like for the residents who lost their homes, their schools, their businesses - and their entire way of life. Many residents became refugees, living for months in cramped conditions in tents and mobile homes. Many began to suffer from PTSD. 
Filmmakers, Xan Parker and Lizz Morhaim, visited Paradise soon after the fire. Slowly, they gained the trust of many people in the town. They established strong and lasting relationships - many residents have described how Parker and Morhaim feel like family.
Rebuilding Paradise owes everything to the relationships that Parker and Morhaim fostered. The film features incredibly intimate and insightful moments - moments that show us the very human impact of Camp Fire.
Residents invite us into their lives at some of their most vulnerable moments. They talk, in extremely powerful and incredibly moving scenes, about their personal struggles, their loss and their heartbreak. 
In the aftermath of Camp Fire, questions began to be asked about the cause of the tragedy. Five years of climate change-driven drought coupled with high winds may have created the perfect conditions for a wildfire - but how did the fire actually start? 
Rebuilding Paradise examines the role that electrical transmission lines owned and operated by Pacific Gas and Electricity (PG&E) played. Prepare to feel Erin  Brockovich levels of anger (and Ms Brockovich does indeed make an appearance). 
However, Rebuilding Paradise is not interested in stirring up outrage or taking us on a journey through the legal ramifications of Camp Fire. 
Instead, the film focuses on the strength of the people of Paradise who, despite experiencing unimaginable loss (and the continued threat of wildfires), love their town and want it to survive.
Thanks to Parker and Morhaim's footage, Rebuilding Paradise is a powerful and inspiring portrait of resilience.