500 Days Of Film Reviews RBG, Betsy West and Julie Cohen's documentary about Ruth Bader Ginsburg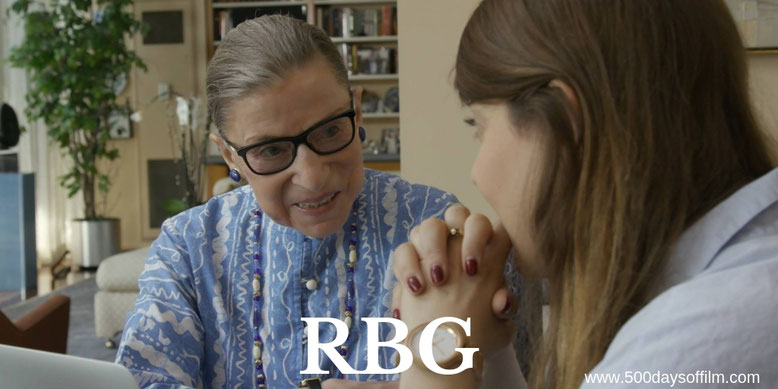 At the age of 84, US Supreme Court Justice, Ruth Bader Ginsburg, has developed a breathtaking legal legacy while becoming an unexpected pop culture icon. But without a definitive Ginsburg biography, the unique personal journey of this diminutive, quiet warrior's rise to the nation's highest court has been largely unknown, even to some of her biggest fans – until now. 
Is It Any Good?
I expected RBG, Betsy West and Julie Cohen's documentary about Ruth Bader Ginsburg, to be fascinating. I expected it to be inspiring. However, I did not expect this film to be such an emotionally moving experience.
In these troubling times, a film about a person of quiet (but no less powerful) persistence, consistency and steadfast belief is both refreshing and motivating. It feels as if the world needs RBG now more than ever.
However, this documentary very nearly didn't get made. When West and Cohen first approached Ruth Bader Ginsburg about their idea for the film, her response was far from encouraging. "Not yet," she said. 
Crestfallen, the directors wondered what to do next. Then they realised something crucial - not yet did not mean "no". After presenting her with more details about their project, Bader Ginsburg relented. She would speak to them about her life - in two years time.
West and Cohen spent those intervening years researching their subject before finally sitting down with Bader Ginsburg and asking their key remaining questions (and, in a charming scene, showing her Kate McKinnon's RBG impression on Saturday Night Live). 
RBG features a mixture of to camera interviews with family members, colleagues and admirers, archive footage and recordings of several, more recent events attended by Bader Ginsburg. We soon understand the impact that she has had (and still has) on the US legal landscape - particularly with regards to gender equality and women's rights. 
Meanwhile, Bader Ginsburg's own personal story is just as interesting as her professional life. In many moving scenes, the documentary reveals her long and adoring marriage to Martin Ginsburg. Martin was incredibly proud of his wife. He put his own career (as a successful tax attorney) on the back burner in order to support Ruth and their family - particularly impressive given the expectations of women at the time.   
A loving and respectful celebration of a truly remarkable life, RBG also hints at some less flattering aspects of Bader Ginsburg's life. The documentary discusses her rather frank comments about Donald Trump - one of the more difficult issues that Cohen and West raised in their interview.
Meanwhile, the documentary's interviews with her two children, Jane and James, reveals that Bader Ginsburg's path to the US Supreme Court (a culmination of an eye-watering work ethic) came at a price.
"We used to keep a book called Mommy Laughed," Jane recalls. "It had parsimonious entries." When asked to describe what RBG was like as a mother, Jane simply says "exigent".
Nonetheless, the love and affection felt by both James and Jane (and RBG's granddaughter, a Harvard Law graduate) is clear. Watching Bader Ginsburg, whether at work, giving motivational speeches or working out at the gym, it is easy to share in their affection - joining the thousands of other people who, old or young, feel inspired by what the Notorious RBG has achieved and what she stands for today.
Random Observations
Have you seen RBG?
If you have, what did you think of this documentary? Let me know in the comments section below or over on Twitter. You can find me @500DaysOfFilm.