500 Days Of Film Reviews Piercing Starring Christopher Abbott And Mia Wasikowska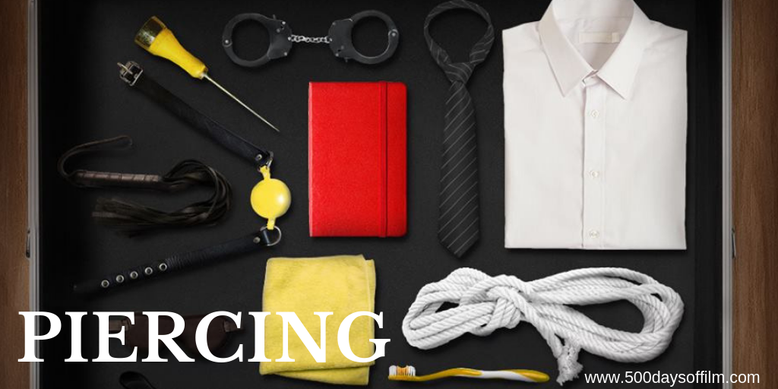 Reed (Christopher Abbott) sets off on a business trip and kisses his wife and baby goodbye. But in lieu of a suitcase filled with clothes, he's packed a toothbrush and a murder kit. He meticulously plans everything out. He checks into a hotel and plans to kill an unsuspecting victim in order to quench his devious impulses. However, Reed soon gets more than he bargained for…
Is It Any Good?
Piercing will not be a film for everyone. However, if you (like me) happen to enjoy visually stunning, dark, twisty and weird little horror thrillers then Nicolas Pesce's film has a lot to offer. 
Featuring two brilliant performances from Christopher Abbott and Mia Wasikowska, Piercing is based on a novel by Ryû Murakami. The less you know about the story the better… suffice to say that the film contains elements that reminded me of movies by Park Chan-wook and Takashi Miike.  
Amid the gorgeous set (and costume) design, horror awaits - and an unsettling layer of darker than dark humour. At no point did I ever feel safe in assuming where this story was headed.
While I enjoyed Piercing, it did not completely satisfy. I wanted to know more about Mia Wasikowska's character and (I can't believe I'm writing this… apologies) a touch more horror nastiness (the film is strangely bloodless).
Piercing feels close to being a stylish horror classic, but doesn't quite fulfill its twisted promise. Nonetheless, Pesce has once again (after his acclaimed debut feature, The Eyes Of My Mother) demonstrated his potential. He is certainly a director to watch out for in the future. 
Random Observations
Have you watched Piercing?
If you have, what did you think of this film? Let me know in the comments section below or over on Twitter. You can find me @500DaysOfFilm.