500 Days Of Film Reviews Outlaw King Starring Chris Pine, Aaron Taylor-Johnson, Florence Pugh and Billy Howle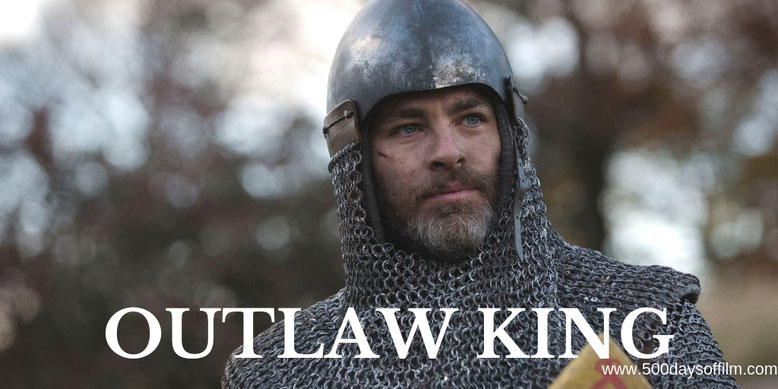 The untold, true story of Robert the Bruce who transforms from defeated nobleman to outlaw hero during the oppressive occupation of medieval Scotland by Edward I of England. Despite grave consequences, Robert seizes the Scottish crown and rallies an impassioned group of men to fight back against the mighty army of the tyrannical King and his volatile son, the Prince of Wales. 
Is It Any Good?
Before we begin, I would like to clarify two things about David Mackenzie's entertaining film, Outlaw King. First, Chris Pine's Scottish accent is (to my admittedly untrained ear) perfectly fine. By that I mean it isn't jarring.
Second, yes Pine does have a scene involving full frontal nudity. Unless you feel the need to use the pause button (and I'm not here to judge) the moment is in no way gratuitous and lasts all of a couple of seconds. 
Now onto my review…
If you listen or read any interviews with director, David Mackenzie, you will sense a wariness about comparisons between his movie and Braveheart. Such comparisons are, nonetheless, rather inevitable. After all, for better or worse (and largely for better) Outlaw King touches on many of the same story beats as Mel Gibson's film.
However, there are also marked differences between the two movies. Mackenzie keeps things restrained - aiming for a note of realism rather than anachronistic bombast. He sets the scene with some helpful and informative title cards and then lets the (sometimes grusome) action speak louder than words.
Playing Robert the Bruce, Pine is, as ever, a charismatic screen presence. While there is often too much going on for us to truly connect with him on any deep emotional level, he keeps us engaged and brings a sense humanity to this historical figure.
Pine is supported by an impressive cast. I particularly enjoyed Florence Pugh's performance as Elizabeth Burgh - Robert's wife (via an arranged marriage). She brings much power and passion to this, albeit slight, role.
Stealing every scene (for me at least) is Aaron Taylor-Johnson's James Douglas, Lord of Douglas. In one look, he conveys all the emotion, madness and desperation of war. Taylor-Johnson really brings the brutal action scenes to life.
Meanwhile, the land itself has a significant role to play in Outlaw King. Filmed on location in Scotland, the movie's stunning locations (beautifully captured by cinematographer Barry Ackroyd) add a crucial layer of authenticity. 
While not as deep or compelling as his previous work, Hell Or High Water (also, of course, starring Chris Pine), Outlaw King is an entertaining account of a fascinating moment in history.
Random Observations
Have you seen Outlaw King?
If you have, what do you think of this Netflix film? Let me know in the comments section below or via Twitter. You can find me @500DaysOfFilm.