500 Days Of Film Reviews The 90th Academy Awards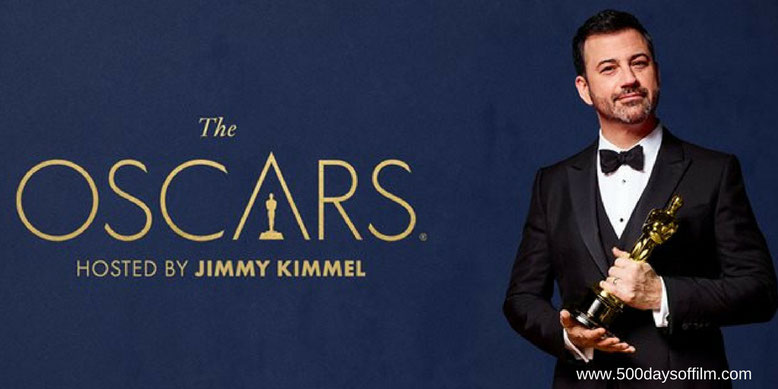 While The Shape Of Water won the most Oscars, the 90th Academy Awards was a satisfyingly inclusive (and visually stunning) affair that recognised a wide range of films and performances.
Guillermo del Toro's stunning fantasy romance won four awards - Best Picture, Best Score (for Alexandre Desplat), Best Production Design and Best Director. Del Toro gave a truly moving speech, referencing the fact that he is an immigrant and that we should all try to remove geographical barriers rather than build them. 
It was a night of few surprises (see below for a list of all the winners). Gary Oldman won Best Actor for his transformative performance as Sir Winston Churchill in Darkest Hour, Sam Rockwell won Best Actor for his role in Three Billboards Outside Ebbing, Missouri and Allison Janney won Best Supporting Actress for her work in I, Tonya.
Meanwhile, no one was shocked to see Frances McDormand win the Oscar for Best Actress. Her performance as Mildred Hayes in Three Billboards is superb. In addition, her acceptance speech was one of the highlights of the evening. We, of course, expected nothing less.  
One of my most anticipated awards this year was that of Best Cinematography. It was fantastic to see Roger Deakins finally get an Oscar for his phenomenal work on Blade Runner 2049. After 14 nominations, it was about time that the talent of this exceptional DPP was recognised.
The Best Picture category was extremely competitive this year. While many were hoping that Get Out would win, it was wonderful to see the Oscar go to The Shape Of Water. However, in one of the evening's highlights the Academy audience (and, I'm sure many of us at home) got the chance to acknowledge Jordan Peele's film when he won the award for Best Original Screenplay. 
Another writing highlight came when James Ivory was awarded the Oscar for Best Adapted Screenplay for Call Me By Your Name. When the 89 year old won a Bafta for his work on Luca Guadagnino's film, lead actor, Timothée Chalamet, helped him to the stage. In a lovely tribute, Ivory accepted his Oscar wearing a shirt with Chalamet's face on the front. 
It felt like wonderful timing for the Academy to award Ivory in its 90th year. The event further recognised this milestone by creating some wonderful montages. To top it all, Eva Marie Saint presented the Oscar for Best Costume Design (won by Phantom Thread). She gave a very moving speech - pointing out that she was older than the Academy by some four to five months!
In addition to Guillermo del Toro's acceptance speech, the issue of migration came up several times during the show. One of the evening's best moments came when Lupita Nyong'o and Kumail Nanjiani presented the award for Best Production Design and celebrated the people who come to America with a dream.
I also loved the hilarious combination of Tiffany Haddish and Maya Rudolph - who took to the stage to present the awards for Best Animated/Live Action Short. More of these pairings please! 
Jimmy Kimmel voiced the need for gender equality and the acceptance of diversity in an opening monologue that also referenced last year's La La Land / Moonlight mix-up (Warren Beatty and Faye Dunaway appeared together again to present the Best Picture Oscar).
"Here's how clueless Hollywood is about women," the two time host stated, "we made a movie called What Women Want and it starred Mel Gibson. Kinda all you need to know." He added that "the world is watching us and we need to set an example". 
Kimmel also highlighted more hopeful signs - referencing the success of Black Panther and Wonder Woman - and reminded his audience that "this is a night for positivity… This year we have a lot to celebrate".
Wonderful then that the Oscar for Best Foreign Language film went to the superb A Fantastic Woman. Featuring a truly stunning performance from transgender actor, Daniela Vega, Sebastián Lelio's film was a worthy winner in a competitive category.
There were, of course, a few Oscar disappointments. Lady Bird certainly deserved to come away with something and it still hurts that The Florida Project was so criminally snubbed (only getting a nomination for Willem Dafoe in the Best Supporting Actor category).
Meanwhile, I would have loved for the Best Visual Effects award to go to War For The Planet Of The Apes. In addition, many people were conflicted by Kobe Bryant's Dear Basketball Best Animated Short win.
However, overall the 90th Academy Awards was a success - a great night for cinema and film fans alike.   
Now time to start the race for Oscar 2019!
Those 2018 Oscar Winners In Full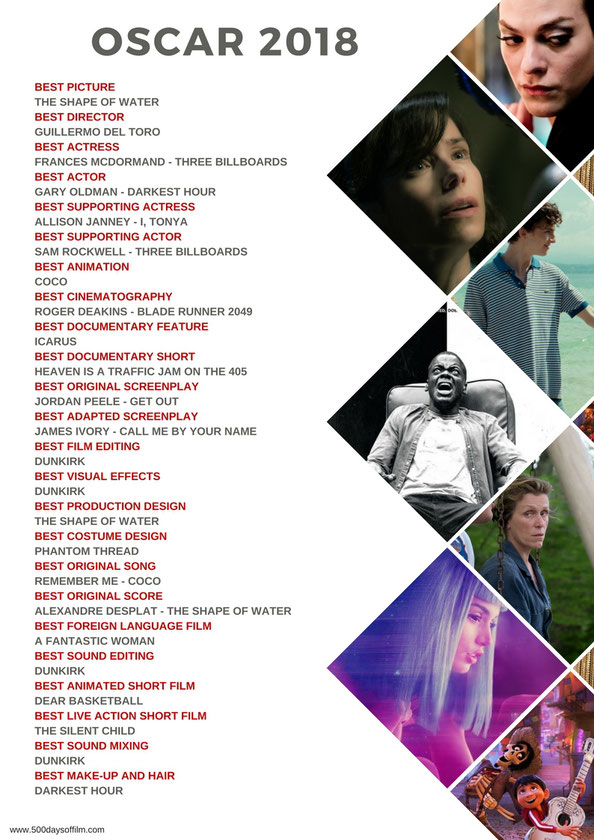 Over To You...
What did you think about this year's Oscars? Let me know in the comments section below or via Facebook or Twitter (@500DaysOfFilm).