500 Days Of Film Reviews The 2019 Oscar Nominees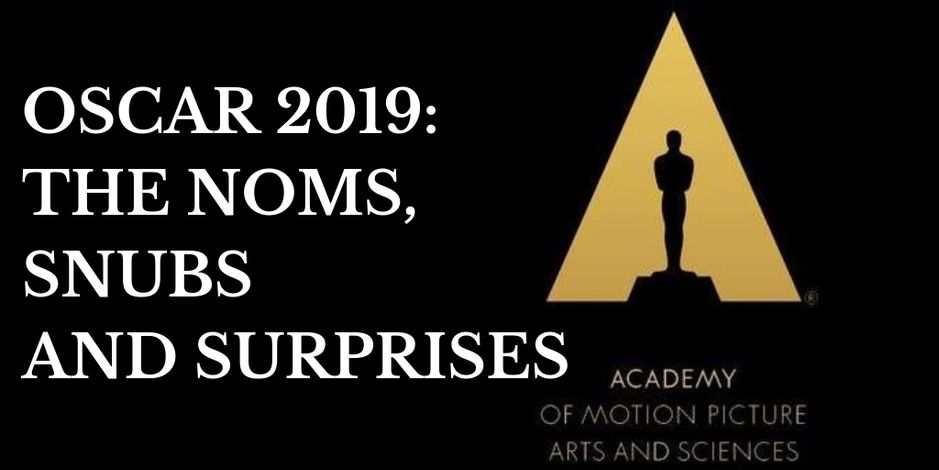 The big reveal has occurred. After months of speculation and debate, we now know who has a place in the Oscar race. The nominations for the 91st Academy Awards proved to be a dramatic event in itself - featuring (as they always do) both snubs and surprises.
Here are the nominations in full and the key talking points in each category:
Best Picture
BlacKkKlansman
Black Panther
Bohemian Rhapsody
The Favourite
Green Book
Roma
A Star Is Born
Vice
A truly eclectic mix of films form the category for Best Picture. There were no real shocks here - just a collective, disappointed sigh that the list failed to include (my favourite film of 2018) Leave No Trace or any film directed by a woman for that matter. 
Black Panther's nomination (the first Best Picture nod for a superhero film) was very well received. However, it was the inclusion of Spike Lee's BlacKkKlansman that gave me all the feels - a timely and deserving nomination.
Best Actor
Christian Bale - Vice
Bradley Cooper - A Star Is Born
Willem Dafoe - At Eternity's Gate
Rami Malek - Bohemian Rhapsody
Viggo Mortensen - Green Book
I have not watched At Eternity's Gate but am always glad to see Willem Dafoe recognised. However, I am disappointed that Ethan Hawke failed to get a nomination. His performance in First Reformed is breathtaking. 
Best Actress
Yalitza Aparicio - Roma
Glenn Close - The Wife
Olivia Colman - The Favourite
Lady Gaga - A Star Is Born
Melissa McCarthy - Can You Ever Forgive Me?
What an incredible category. Incredible.Yalitza Aparicio's story is utterly compelling. I would love for Olivia Colman to win here, my heart is with Glenn Close (particularly after her powerful and poignant Golden Globes acceptance speech).
Best Supporting Actor
Mahershala Ali - Green Book
Adam Driver - BlacKkKlansman
Sam Elliott - A Star Is Born
Richard E Grant - Can You Ever Forgive Me?
Sam Rockwell - Vice
I was so relieved to see Sam Elliott's nomination for Best Supporting Actor. He gives an incredible performance in A Star Is Born. Meanwhile, Sam Rockwell's nod for Vice caused some consternation. I would have preferred to have seen either Timothée Chalamet (for Beautiful Boy) or Michael B. Jordan (for BlacKkKlansman). Meanwhile, the early money seems to be on Mahershala Ali for his role in Green Book. 
Best Supporting Actress
Amy Adams - Vice
Marina de Tavira - Roma
Regina King - If Beale Street Could Talk
Emma Stone - The Favourite
Rachel Weisz - The Favourite
I am so thrilled to see Oscar recognition for Regina King. She is superb in If Beale Street Could Talk. Superb. Nods for Amy Adams, Emma Stone and Rachel Weisz were expected. Marina de Tavira's nom (for Roma) was a real surprise - but so well deserved. My favourite performance is still Toni Collette in Hereditary, however.
Best Director
Alfonso Cuaron - Roma
Yorgos Lanthimos - The Favourite
Spike Lee - BlacKkKlansman
Adam McKay - Vice
Pawel Pawlikowski - Cold War
So happy for Spike Lee. An icon in the world of film for so many years, this is nomination is long overdue. I do feel sad for Bradley Cooper, however.
Best Adapted Screenplay
The Ballad of Buster Scruggs
BlacKkKlansman
Can You Ever Forgive Me?
If Beale Street Could Talk
A Star Is Born
I would be so love any one of these films to win Best Adapted Screenplay. My heart, however, is with If Beale Street Could Talk.
Best Original Screenplay
The Favourite
First Reformed
Green Book
Roma
Vice
Paul Schrader's response (in an interview with the Los Angeles Times) to his first Oscar nomination was priceless: "You know, this is a very difficult conversation because I have never really respected the Academy for their choices. On the other hand, I'm enormously gratified that they have selected me. So you live in a kind of conflicted world. Where on one hand you say it truly doesn't matter. And on the other hand you say, 'Well, I guess it does matter.'"
Best Foreign Language Film
Capernaum - Lebanon
Cold War - Poland
Never Look Away - Germany
Roma - Mexico
Four incredibly powerful and impressive films. If Roma gets Best Picture, Capernaum or (perhaps more likely given its other nominations) Cold War could get a look in...
Best Original Song
All The Stars - Black Panther
I'll Fight - RGB
The Place Where Lost Things Go - Mary Poppins Returns
Shallow - A Star Is Born
When A Cowboy Trades His Spurs for Wings - The Ballad of Buster Scruggs
Dolly Parton's loss (for Dumplin') is The Ballad of Buster Scruggs's gain. I was so glad to see Carter Burwell's nomination in Best Original Song. 
Best Original Score
BlacKkKlansman - Terence Blanchard
Black Panther - Ludwig Goransson
If Beale Street Could Talk - Nicholas Britell
Isle of Dogs - Alexandre Desplat
Mary Poppins Returns - Marc Shaiman, Scott Wittman
It is great to see recognition for Nicholas Britell and his wonderful work on If Beale Street could talk. I also love Ludwig Goransson's Black Panther score. Meanwhile, I feel shocked and really sad that Justin Hurwitz was snubbed for his incredible First Man score.  
Best Animated Feature
Incredibles 2
Isle of Dogs
Mirai
Ralph Breaks the Internet
Spider-Man: Into the Spider-Verse
So, so glad that Spider-Man: Into The Spider-Verse has been given a nomination. It deserves the recognition and, if I was in charge, the Oscar.
Best Documentary Feature
Free Solo
Hale County This Morning, This Evening
Minding the Gap
Of Fathers and Sons
RBG
Dear Academy, please (pretty please) could you allow more films to be included in this category? I don't want to bump any of these documentaries but would have loved to have seen Three Identical Strangers, McQueen, Won't You Be My Neighbor and Shirkers added to the nomination list. Until then, RBG and Free Solo look like the frontrunners here.
Best Cinematography
Cold War
The Favourite
Never Look Away
Roma
A Star Is Born
I have not seen Never Look Away but (from the trailer) it looks absolutely stunning. I cannot wait to watch this film. Dominated by foreign language movies, this is a tough and competitive category. Cold War and Roma are both incredibly beautiful films and I would expect one of these two to win (and it will probably be Roma).
Best Costume Design
The Ballad of Buster Scruggs - Mary Zophres
Black Panther - Ruth E Carter
The Favourite - Sandy Powell
Mary Poppins Returns - Sandy Powell
Mary Queen of Scots - Alexandra Byrne
The costume design in all of these films is stunning. However, while I love Alexandra Byrne's work in Mary Queen of Scots, Sandy Powell's designs surely make The Favourite the, erm, favourite in this category.
Best Make-Up And Hairstyling
Border
Mary Queen of Scots
Vice
While Christian Bale looks incredible in Vice, I would like this Oscar to go to Mary Queen Of Scots. Sad that Stan and Ollie didn't get any recognition here. 
Best Production Design
Black Panther
The Favourite
First Man
Mary Poppins Returns
Roma
Wow, what an impressive and, again, eclectic selection of films. While a case could have been made for Crazy Rich Asians and Fantastic Beasts, I am so happy with this category.
Best Visual Effects
Avengers: Infinity War
Christopher Robin
First Man
Ready Player One
Solo: A Star Wars Story
Oddly devoid of Best Picture nominees, Best Visual Effects is another impressive category (although I would have loved to see Black Panther and Mary Poppins here too). I am hoping that the lack of love for First Man will be rectified here. However, I would be happy with any win… apart, perhaps, Solo: A Star Wars Story.
Best Film Editing
BlacKkKlansman
Bohemian Rhapsody
The Favourite
Green Book
Vice
I would have liked to have seen First Man in this category. Meanwhile, having missed out on this and Best Director, A Star Is Born's chances of winning Best Picture have well and truly nosedived. 
Best Sound Editing
Black Panther
Bohemian Rhapsody
First Man
A Quiet Place
Roma
Good to see A Quiet Place in this category. It feels good that this is now officially an Oscar-nominated film. However, I think First Man is the front-runner here.
Best Sound Mixing
Black Panther
Bohemian Rhapsody
First Man
Roma
A Star Is Born
The sound mixing in each of these nominated films is exceptional. For me, A Star Is Born takes the prize as the sound mixing in this film is stunning.
The Shorts
Best animated short
Animal Behaviour
Bao
Late Afternoon
One Small Step
Weekends
Best live action short
Detainment
Fauve
Marguerite
Mother
Skin
Best documentary short
Black Sheep
End Game
Lifeboat
A Night at the Garden
Period. End of Sentence.
I am embarrassed to report that I have only seen two of the Oscar nominated shorts. However, I do intend to put this right asap. Meanwhile, I can report that I loved Bao and found End Game (available on Netflix) incredibly powerful.
Snubs & Surprises
This year (as in all years) there were a number of films and performances that I wish could also have been recognised. These include:
Toni Collette should absolutely have been nominated for Hereditary.
Women In Film - once again, the Oscar nominations were dominated by male filmmakers. Come on Academy - in a year with Leave No Trace and You Were Never Really Here (to name but two) this is no longer acceptable.
After widespread critical and audience acclaim, Won't You Be My Neighbor failed to secure a nomination. It would have been in my list, as would Three Identical Strangers… am just not sure what I would want to replace, however.
Widows - Steve McQueen's film deserved to be recognised by the Academy.
Mission Impossible - if ever there was a film to reward this incredible franchise, it was surely Fallout. 
Bradley Cooper - I was so impressed by Bradley Cooper's directorial debut. I would have loved for him to get a nomination.
Over To You...
What do you think about the nominations for this year's Oscars? Let me know in the comments section below or over on Twitter. You can find me @500DaysOfFilm.