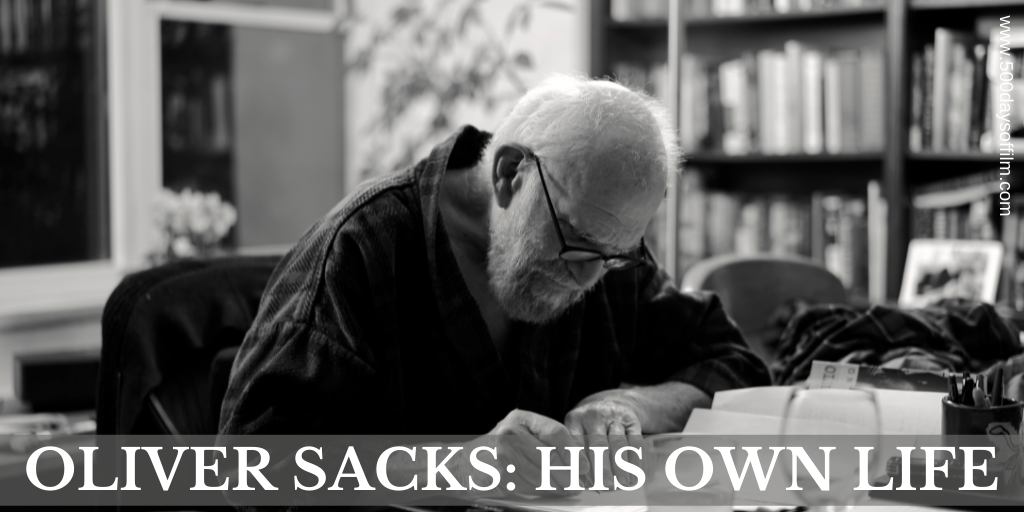 On 15th January 2015, a few weeks after completing his autobiographical memoir, Oliver Sacks found out that the rare form of cancer he had been treated for nine years earlier had returned and that he had only a few months to live. A few weeks later, the 81-year old writer and neurologist sat down with documentarian, Ric Burns, for a series of filmed interviews in his apartment in New York. 
Surrounded by friends, family and long-time colleagues, Sacks spent 80 hours (over five days in February and on three more occasions in April and June) talking about his fascinating life and career, his enduring sense of wonder about life, his thoughts on consciousness and what it means to be "a sentient being on this beautiful planet".
Before watching Burns's documentary, my knowledge of Sacks was limited to Penny Marshall's film, Awakenings (he was, of course, the inspiration for the character of Dr. Malcolm Sayer who was so wonderfully portrayed by Robin Williams), and the book The Man Who Mistook His Wife for a Hat (which I haven't actually read but which has always intrigued me).
As a result, I was eager to learn more. When we first meet Sacks in Burns's film, we find a charismatic man full of life, warmth and humour. He does not seem like a man facing a devastating diagnosis. However, time is running out and you sense that Sacks still has a lot more to say. 
A self-described "inveterant storyteller", Sacks has a truly remarkable story of his own. Using archival footage and photographs, Burns takes us on a chronological journey through his life. The film features an impressive number of "talking heads" (family members, colleagues, patients and close friends, including Jonathan Miller, Temple Grandin, Christof Koch, Lawrence Weschler, Isabelle Rapin, Billy Hayes Mark Homonoff and Steve Silberman) to help us put Sacks's legacy into context. 
We learn that Sacks was able to make a wide range of neurological differences understandable and accessible to the general public. "OIiver saw medicine a lot differently than other people saw it," explains neurologist Mark Homonoff. "He was trying to conceptualise how people thought and how they saw the world."
Sacks's approach was to treat the patient, not the disease. He saw the value inherent in a person's unique story and understood the power of writing case histories - a practise that had fallen out of favour. "He was somebody for whom the primary diagnostic question was - how are you?" recalls author, Lawrence Weschler.
However, as Burns's documentary reveals, Sacks was not just a genial, empathetic doctor. He was also a self destructive drug addict who did not expect to live past 40. We hear about his disruptive and erratic past. Despite his obvious intellect and talent, no one expected him to amount to much. "I did and did not realise that I was playing with death," Sacks tells us in the film. 
Burns takes us back to Sacks's childhood in England to understand the two very different sides to his personality. The youngest of four boys in a middle class orthodox Jewish family, his parents were both doctors. It was understood that he too would become a doctor. When his brother Micheal was diagnosed as schizophrenic, Sacks became terrified for him and began to focus his studies on the inner workings of the brain. 
Sacks tells us that he had an "uneasy relationship" with his mother. She thought Sacks should follow in her footsteps and become a gynecologist. In a startling scene, Sacks remembers that she would bring dead fetuses home for him to dissect when he was just ten years old. 
His mother's influence would have a devastating impact on Sacks's life. When she found out that he was gay, she called him an "abomination" and said that she wished he had never been born. These words haunted Sacks for much of his life. In 1960, angry at homophobia in UK society, he left the country and started a new life in California.
This new chapter brought challenges and also many incredible discoveries. In 1966, Sacks began to see an analyst. In what he describes as a "remarkable turning point in my life", he gave up drugs and wrote his first book. He would, however, be dismissed by the neurological world for years. Many of his peers rejected his mix of biology and biography.
Thankfully, the third act in the life of Oliver Sacks brought more than one kind of acceptance - his contribution and legacy was finally embraced and he found love. He made, we hear, a generational and historic difference in the world - inspiring patients, doctors and readers alike. 
As Burns's documentary drew to its deeply moving close, I felt both sadness at the loss of this remarkable and complicated person and happiness that Oliver Sacks lives on in his writing and in his stories. I, for one, cannot wait to start reading.