500 Days Of Film Reviews Ocean's 8 Starring Sandra Bullock, Cate Blanchett, Anne Hathaway, Mindy Kaling, Sarah Paulson, Awkwafina, Rihanna and Helena Bonham Carter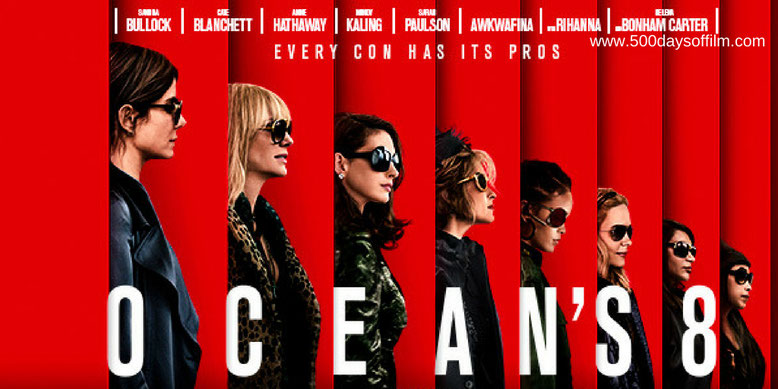 The tide has turned and it's a whole new "Ocean's" when eight women plan and execute a heist in New York. 
Is It Any Good?
While not entirely convincing (or as smart as it, perhaps, should have been), Ocean's 8 is a lot of silly, escapist fun. It may not linger long in the memory but there is, nonetheless, much to enjoy - largely thanks to the film's impressive cast.
Never mind the diamonds, it's the charisma and star power in Ocean's 8 that truly dazzles. What a cast. I could watch these fabulous women all day. Indeed, I wish director, Gary Ross, had spent more time with each of his film's con-artists. 
However, of course, the heist takes priority and (particularly if you have seen any of the previous Ocean movies) follows a pretty familiar path. We start with an audacious idea. A crack team is assembled and then we watch the twists and turns as the con unfolds.
Sandra Bullock is brilliantly charismatic as Debbie Ocean - the mastermind of the con (having spent five years in jail perfecting her plan). She and partner in crime, Lou (a wonderfully wicked Cate Blanchett), spend much of the first half of Ocean's 8 gathering their team together. 
The con involves stealing an extraordinarily expensive Cartier necklace from the neck of A-List actress, Daphne Kluger. Enter Anne Hathaway and a truly scene stealing comic performance. 
It's all nonsense, of course, but no less entertaining for that - apart from a third act misstep featuring a rather excruciating appearance from James Corden. Flat doesn't even come close to describing his role.
In addition, Ocean's 8 suffers from a lack of a truly formidable baddie. Someone of the calibre of Terry Benedict (played with such relish by Andy Garcia) in Ocean's Eleven. As a result, the con does not feel quite so satisfying.
However, Ocean's 8 is entertaining and it is undeniably refreshing to see a group of such powerful women head this type of film. So, while they might not be perfect, let's support movies like Ocean's 8. We can then (fingers crossed) look forward to many more smart, female driven stories. 
Random Observations
Have you seen Ocean's 8? 
If you have, what did you think of this movie? Let me know in the comments section below or over on Twitter. You can find me @500DaysOfFilm.