500 Days Of Film Reviews Hitchcock Classic, North by Northwest, Starring Cary Grant, Eva Marie Saint And James Mason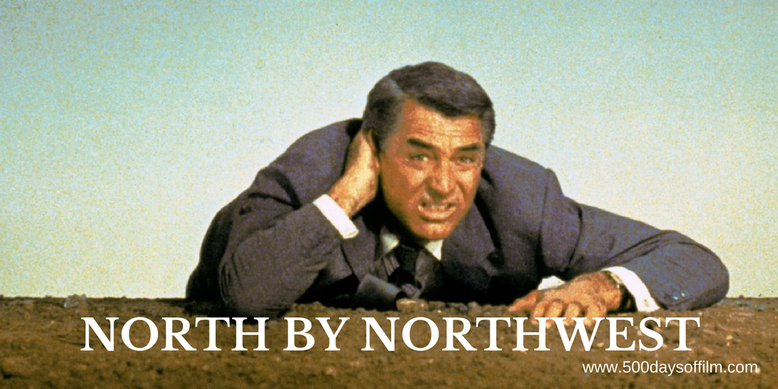 Manhattan advertising executive, Roger Thornhill (Cary Grant), is plunged into a dangerous world of spies and counterspies after he is mistaken for a mysterious man called George Kaplan. 
Abducted, framed for murder and on the run from both the police and a murderous spy organisation, Thornhill sets out to find Kaplan and clear his name.  
Is It Any Good?
North by Northwest may have been released in 1959 but Alfred Hitchcock's classic thriller is just as fresh, fun and exciting today. This timeless spy adventure is an example of what can be achieved when the best in the business are working at the top of their game.
Even as we watch MGM's iconic lion roar, we hear the start of Bernard Herrmann's superb score. The music is urgent, insistent and dramatic - the perfect accompaniment to the story that is about to unfold. 
We are then treated to Saul Bass' stunning opening credits. A green screen is filled with first diagonal then vertical blue lines forming a grid that houses the credits that zoom to the centre of the screen. 
The green background then dissolves to reveal the side of the building where Thornhill works. Another dissolve plunges us into Manhattan's frantic street level hustle and bustle. The cumulative effect is disorienting - again, setting the tone for what is to come.  
Today, Roger Thornhill feels like a recognisable figure - part Mad Men, part James Bond. He is desperately suave, sharp tongued and quick witted - cool in even the most bewildering of situations. Cary Grant was the perfect choice for the role. However, according to Hitchcock, the actor had his doubts about the film. 
In Francois Truffaut's brilliant (must read) book, Hitchcock Truffaut, the director explains that during the first part of the film "all sorts of things happen to the hero with such bewildering rapidity that he doesn't know what it's all about. Anway, Cary Grant came up to me and said, 'It's a terrible script. We've already done a third of the picture and I still can't make head or tail of it.'" 
Far from being concerned about the potential confusion in his story (which was brilliantly written by Ernest Lehman), the director was amused that Grant had used actual dialogue from the film to express his worries.
Hitchcock, of course, knew exactly what he was doing and had planned a scene in the second third of the film (at the airport) where everything is summed up and clarified for the audience.     
Hitchcock left nothing to chance in North by Northwest - aided by the fact that his contract with MGM gave him complete artistic control.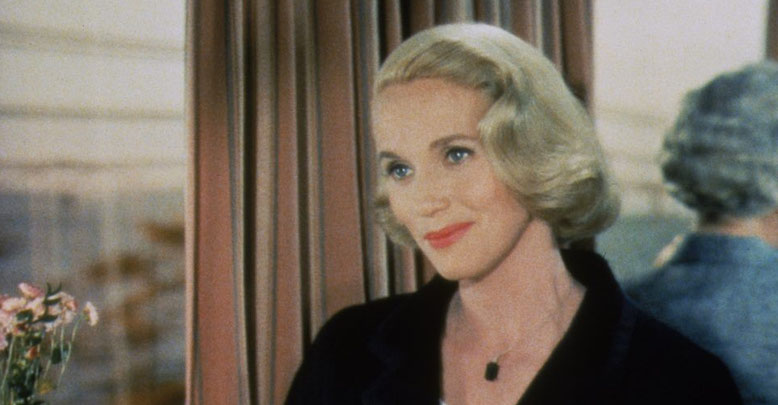 North by Northwest is visually stunning - its superb design made even more impressive by the fact that Hitchcock had to recreate many of his famous locations. For example, the director was not allowed to shoot inside the United Nations building.
In Truffaut's book, Hitchcock explains that "we shot one scene of Cary Grant coming into the building by using a concealed camera… then we got a still photographer to get permission to take some coloured stills inside, and I walked around with him, as if I was a visitor, whispering, 'Take that shot from there. And now, another one from the roof down.' We used those colour photographs to reconstitute the settings in our studios."
Meanwhile, the house that we see at the end of North by Northwest is an exact miniature of a house designed by Frank Lloyd Wright (shown in the film from a distance). Hitchcock had the replica built for the scene where Roger Thornhill circles around the building.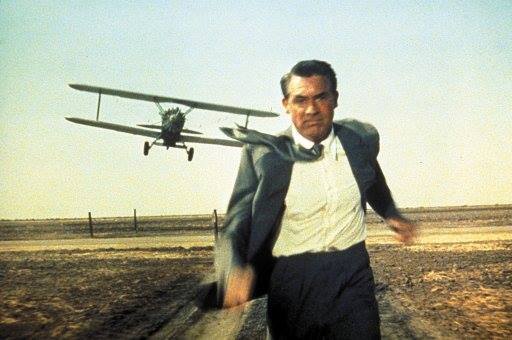 North by Northwest is perhaps most famous for its cornfield scene. This sequence, where Thornhill waits to meet the elusive Kaplan, is (quiet frankly) absurd. There are, of course, far easier ways to murder someone than via crop duster. However, this sense of absurdity is what makes North by Northwest so exciting. 
Hitchcock explained to Francois Truffaut that the idea for this scene came when he found himself "faced with the old cliche situation: the man who is put on the spot, probably to be shot. Now, how is this usually done? A dark night at a narrow intersection of the city. The waiting victim standing in a pool of light under the street lamp… A shot of a window, with a furtive face pulling back the curtain to look out. The slow approach of a black limousine…
"Now, what would be the antithesis of a scene like this? No darkness, no pool of light, no mysterious figures in windows. Just nothing. Just bright sunshine and a blank, open countryside with barely a house or tree in which any lurking menaces could hide." 
Thus, one of the most iconic scenes in movie history was born. What a treat it must have been to watch this sequence when the film was first released. Many critics at the time felt certain that North by Northwest was something special.
Indeed, I believe that the BFI's Sight & Sound magazine review (published in 1959) sums it up perfectly when it states that North by Northwest "is the mark of the ultimate in professionalism… a film that never puts a foot wrong".
Random Observations
North by Northwest was nominated for three Academy Awards including Best Writing, Film Editing and Art Direction.The film was also number four on AFI's "100 Years…100 Thrills" list and selected by the Library of Congress for preservation in the United States National Film Registry.
Click here to read the original 1959 Sight & Sound review
Have you seen North by Northwest? 
If you have, what do you think of this movie? Let me know in the comments section below or via Facebook or Twitter (@500DaysOfFilm).