500 Days Of Film Reviews Mute Starring Alexander Skarsgård, Paul Rudd And Seyneb Saleh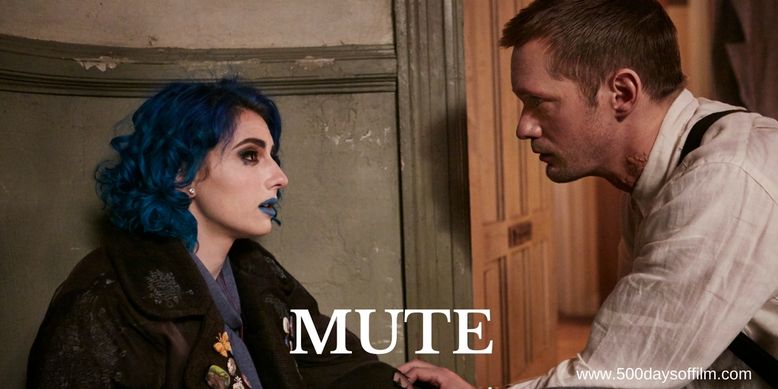 2052 in the loud, often brutal city of Berlin, Leo (Alexander Skarsgård) – unable to speak after a childhood accident – searches for his missing girlfriend, the love of his life through dark streets and frenzied plazas.
As he seeks answers, Leo finds himself mixed up with Cactus Bill (Paul Rudd) and Duck (Justin Theroux), a pair of irreverent US army surgeons on a dark mission all their own. 
Is It Any Good?
On the eve of the release of his new film, Mute, director Duncan Jones shared a picture of a jar of "Mute" marmite on Twitter. The image was accompanied by the line: "You Are Going To Love It… Or Hate It". 
A perceptive post as it turned out. Within hours, the critical consensus was in and, sadly, the majority of reviews fell in the latter camp. In short, Mute was mauled - described as another Netflix Original disaster. 
Audiences were undeterred, convinced that the well respected director of Moon and Source Code would surely have made a film worth watching. This movie is his passion project after all - Jones has been working on Mute for over a decade.
Like that divisive spread, early responses have been mixed. Some believe that Mute rivals Blade Runner 2049 in terms of its storytelling, visuals and themes. Others have been left feeling bitterly disappointed.
As for me, I went into Mute with an open mind. I love both Moon and Source Code. However, a weary two hours six minutes later, I emerged feeling frustrated and bemused. Mute left me with a sour aftertaste. 
Let's start with the good. Mute is a striking film to watch. The film's future noir visuals, while not in the same league as those found in Blade Runner 2049, are often stunning and the future tech on display is innovative and fascinating. In addition, I enjoyed Clint Mansell's score. 
The cast deliver some strong performances. Alexander Skarsgård conveys so much as Leo without saying a word. It is also interesting to see how this Amish man functions in a world so reliant on technology.
Unfortunately, I did not feel emotionally connected to Leo, nor did I feel engaged by his love for Naadirah. Played by Seyneb Saleh, Naadirah is by far the most intriguing character in the film - it is such a shame that she is so woefully underdeveloped. 
Meanwhile, Paul Rudd is scene stealingly good as Cactus Bill. Dangerously so in fact, as Jones obviously finds him far more interesting (the end of Bill's story is the scene I will remember most... but not in a good way). As a result, his seedy storyline threatens to overpower Leo's noble journey.
Cactus Bill's repulsive relationship with Justin Theroux's fellow surgeon, Duck, is compelling - initially at least. However, an odd story arc involving paedophilia felt extremely distasteful. I had real problems with the way that this narrative reveal was handled.
As Mute finally reached its bloody conclusion (and, boy, was it a slog to get there) I had had more than enough. As much as I respect and admire Duncan Jones as a filmmaker and appreciate aspects of his movie, Mute, like Marmite, is just not for me.
Random Observations
Have you seen Mute?
If you have, what did you think of Duncan Jones's movie? Let me know in the comments section below or via Facebook or Twitter (@500DaysOfFilm).