500 Days Of Film Reviews The Unmissable Movies In March!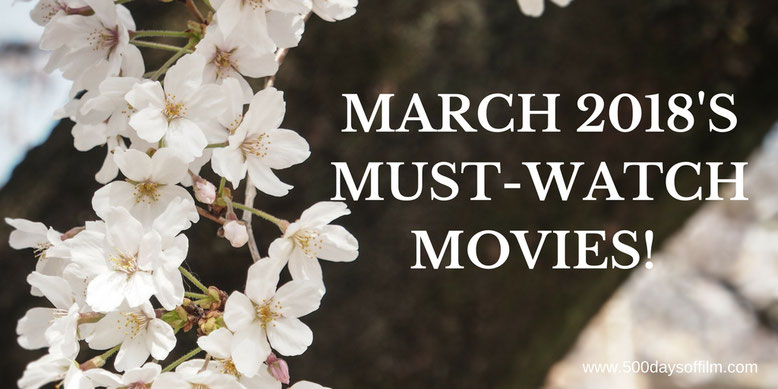 Well, here we are in March already. How that has happened is beyond me. However, 2018 has already given us a wealth of unmissable movies - Lady Bird, The Shape Of Water, Black Panther and Three Billboards Outside Ebbing, Missouri to name but four.
So, what can we expect from March's batch of UK film releases? Let's take a look at this month's unmissable movies...
The Movies To Watch In March 2018!
1st March
Red Sparrow
What attracts me to Francis Lawrence's film is not its spy thriller concept but its cast - Jennifer Lawrence and Joel Edgerton are (hopefully) a safe pair of hands.
2nd March
A Fantastic Woman
A film that generated much buzz around the festival circuit, director Sebastián Lelio's A Fantastic Woman tells the story of Marina (a much admired performance from Daniela Vega) as she comes to terms with the death of her partner. For me, a must see.
Game Night
Starring Jason Bateman, Rachel McAdams, and Kyle Chandler, Game Night - about a murder mystery party that goes a step too far - looks like a lot of fun.
9th March
Gringo
I'm not sure what to make of Nash Edgerton's Gringo. The film is being described as an "exhilarating mix of dark comedy, white-knuckle action and dramatic intrigue". So there's that. It also has an impressive cast (including David Oyelowo, Charlize Theron, Joel Edgerton, Thandie Newton and Sharlto Copley). As a result, I am most definitely intrigued.
Sweet Country
I am looking forward to Warwick Thornton's Australian western (starring Sam Neill and Bryan Brown) set on the Northern Territory frontier in the 1920s. Justice is put on trial when an aged Aboriginal farmhand shoots a white man in self defense and goes on the run as posse gathers to hunt him down.
You Were Never Really Here
Lynne Ramsay is one of my favourite directors and I am so excited for You Were Never Really Here. I expect this movie (starring Joaquin Phoenix) about corruption, violence and a missing teenage girl to grip, unnerve and challenge me. 
12th March
Annihilation
Sadly not a theatrical release, but I still can't wait for Alex Garland's Annihilation (starring 
Natalie Portman, Jennifer Jason Leigh, Tessa Thompson and Oscar Isaac) to hit Netflix.
16th March
Mary Magdalene
Rooney Mara seems perfectly cast in Garth Davis's film about the life of Mary Magdalene. Joaquin Phoenix plays Jesus in this intriguing drama from the director of Lion.
The Square
Ruben Östlund's film (starring Claes Bang, Elisabeth Moss and Dominic West) won the Palme d'Or prize at Cannes last year I have been looking forward to watching this daring satire ever since. 
Tomb Raider
Another film that I am a tad wary of... however, I'm still looking forward to Tomb Raider because Alicia Vikander is such an impressive actor.
23rd March
Pacific Rim: Uprising
Okay, so I'm not as desperate to see this film as some others on my list. However, I do love the first Pacific Rim movie (largely because it was directed by Guillermo del Toro) and I always enjoy watching John Boyega. So I'm keeping an open mind…
Unsane
I don't know much about Unsane except that it is about a woman who is involuntarily committed into a mental institution where she has to confront her greatest fear. Oh and that it is directed by Steven Soderbergh, shot on an iPhone and stars Claire Foy and Juno Temple. That is more than enough to colour me intrigued…
A Wrinkle In Time
Based on the best-selling novel by Madeleine L'Engle, A Wrinkle In Time tells the story of a young girl called Meg (Storm Reid) who is sent into space with her brother and friend to try to find her father. Any film by Ava Duvernay is a must-watch for me, the cast (including Oprah Winfrey, Reese Witherspoon, Chris Pine and Gugu Mbatha-Raw) is so impressive and the trailer looks stunning. Reserve me a seat, stat!  
29th March
Ready Player One
Ready Player One looks like another spectacular adventure from legendary director, Steven Spielberg. Based on the book by Ernest Cline, the movie follows Wade Watts (Tye Sheridan) as he hunts for treasure within a virtual reality world called the Oasis.
30th March
Journeyman
We've had to wait seven years, but March sees the release of Paddy Considine's second (after the heartbreaking Tyrannosaur) feature film. Journeyman tells the story of boxer, Matty Burton, who suffers a serious head injury during a fight. 
Isle Of Dogs
I love the cinematic worlds created by Wes Anderson and cannot wait to see his forthcoming animation Isle Of Dogs. Set in Japan, the film follows a boy who is searching for his dog and features the vocal talents of Scarlett Johansson, Greta Gerwig, Frances McDormand, Bill Murray, Tilda Swinton, Edward Norton, Jeff Goldblum, Bryan Cranston and a host of others. It is a must see movie.
What Films Do You Plan To See In March?
What movies are on your must-watch list for March?
Let me know! Leave me a comment in the box below or via Facebook or Twitter (@500DaysOfFilm).