500 Days Of Film Reviews The Unmissable Films You Need To See In July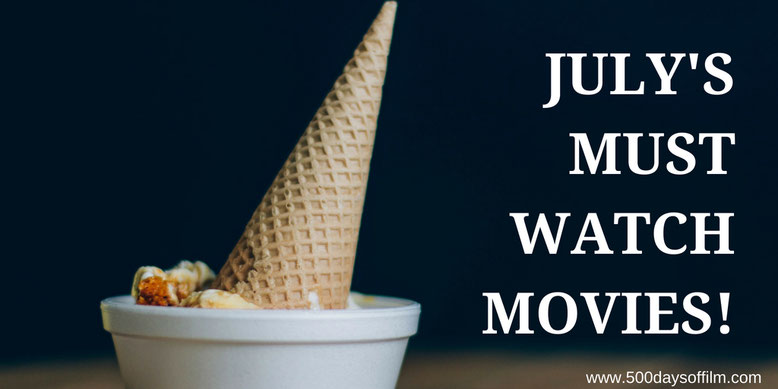 As we (incredibly) move into the seventh month of 2018, I have started to compile my favourite movies for the first half of the year. June certainly provided some strong contenders - including Hereditary, Leave No Trace, In The Fade, Sicario 2 and, over on Netflix, Sunday's Illness and Set It Up. 
So, what do we have to look forward to in July? Here are this month's must watch movies (based on UK releases).
Wednesday 4th July
The First Purge
Director: Gerard McMurray 
Starring: Y'Lan Noel, Lex Scott Davis, Joivan Wade, Luna Lauren Velez and Marisa Tomei
I am not a massive fan of The Purge franchise. While I find the concept intriguing (a 12 hour time window when all crime is legal), I find many of these films lacking. However, I remain interested in (and open minded about) this Purge origin story.
Friday 6th July
Whitney 
Director: Kevin Macdonald
I cannot wait to watch Kevin Macdonald's documentary on Whitney Houston. From all accounts, the film is a new take on the singer's life and untimely death. 
Mary Shelley
Director: Haifaa al-Mansour 
Starring: Elle Fanning, Maisie Williams, Douglas Booth, Joanne Froggatt, Stephen Dillane, Bel Powley
The critics have not been kind about Haifaa al-Mansour's biopic. Susan Wloszczyna over on RogerEbert.com called the film "muddled" and "misguided". Regardless, I am willing to give it a try. You should always make up your own mind after all.
Thursday 12th July
Skyscraper 
Director: Rawson Marshall Thurber 
Starring: Dwayne Johnson, Neve Campbell, Pablo Schreiber, Byron Mann, Hannah Quinlivan, Noah Taylor
Dwayne 'The Rock' Johnson versus a skyscraping tower block? Count me in…
Friday 13th July
First Reformed 
Director: Paul Schrader 
Starring: Ethan Hawke, Amanda Seyfried, Cedric Kyles
Early reviews have been fantastic for Paul Schrader's First Reformed - a soul searching drama about a pastor's crisis of faith. I'm all in for this film featuring what looks like another powerful central performance from Ethan Hawke.
The Secret Of Marrowbone
Director: Sergio G. Sanchez 
Starring: George MacKay, Charlie Heaton, Anya Taylor Joy, Mia Goth, Kyle Soller and Matthew Stagg 
Sergio G. Sanchez wrote and hoped to direct horror classic, The Orphanage. However, he couldn't raise the necessary funds and so gave the project to JA Bayona. Here, in the creepy looking The Secret Of Marrowbone, he finally gets his moment in the director's chair.
Incredibles 2
Director: Brad Bird 
Starring: Holly Hunter, Craig T. Nelson, Sarah Vowell, Huck Milner, Samuel L. Jackson
Well it's about darn time… I cannot wait to see my favourite superhuman family back on the big screen.
Racer And The Jailbird 
Director: Michael R. Roskam 
Starring: Matthias Schoenaerts, Adele Exarchopoulos
I have heard interesting things coming out of festival screenings of Racer And The Jailbird. Reviews have been mixed but I'm nonetheless willing to give Michael R. Roskam's film a go.
Friday 20th July
Mama Mia: Here We Go Again
Director: Ol Parker 
Starring: Meryl Streep, Pierce Brosnan, Colin Firth, Stellan Skarsgård, Julie Walters, Dominic Cooper, Amanda Seyfried, Christine Baranski, Lily James, Josh Dylan, Hugh Skinner, Jeremy Irvine, Alexa Davies, Jessica Keenan Wynn, Andy Garcia and Cher
Time for some silly summer fun!
Generation Wealth 
Director: Lauren Greenfield
Recently screened at London's Sundance Film Festival, Generation Wealth is the intriguing multi-platform project (it will be released as a museum exhibition, a photographic monograph and a documentary film) that director Lauren Greenfield has been working on since 2008. The project aims to provide a visual history exploring our growing obsession with wealth.
Wednesday 25th July
Mission Impossible: Fallout
Director: Christopher McQuarrie 
Starring: Tom Cruise, Henry Cavill, Simon Pegg, Rebecca Ferguson, Ving Rhames, Sean Harris, Angela Bassett, Vanessa Kirby, Michelle Monaghan, Alec Baldwin, Wes Bentley, Frederick Schmidt
Who can resist watching Tom Cruise trying to prove what we have all long suspected - he is inhuman and incapable of destruction. Seriously, crazy stunts aside, I am very much looking forward to this the latest in the Mission Impossible franchise - it looks like a whole lot of action-fuelled fun. 
What Films Are You Looking Forward To In July?
How's July shaping up for you movie wise? What films are you most looking forward to watching?
Let me know in the comments section below or over on Twitter. You can find me @500DaysOfFilm.