500 Days Of Film Reviews Drama, Most Beautiful Island, Written, Directed And Starring Ana Asensio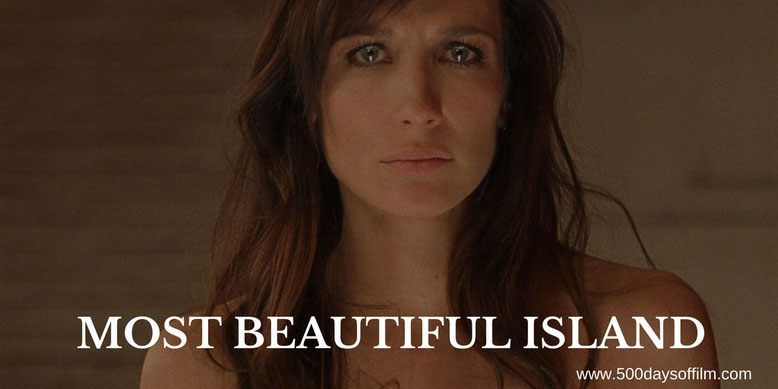 Luciana is a young, undocumented immigrant struggling to make ends meet. She has moved to New York to escape her past but her future remains bleak. Dangerously close to homelessness, Luciana takes a mysterious job. A job that offers a high reward - but at what price?    
Is It Any Good?
Most Beautiful Island is part social realist drama, part intense thriller. The first half of Ana Asensio's film (which she also produced and wrote - as well as portraying Luciana) explores the dark side of the American dream - revealing the reality for undocumented immigrants like Luciana. A reality that is closer to a nightmare.
Shot on the streets of New York City on 16mm film, Most Beautiful Island has an edgy and intimate tone. We follow Luciana over the course of a day - one unremittingly awful day. We see a woman wracked with guilt and grieving after a terrible tragedy. A woman who, despite having a number of (often demeaning) jobs, is struggling to survive.
It is uncomfortable to watch Luciana as her life spirals ever downwards. However, she is also remarkably strong and resourceful- a fighter who knows that she hasn't the luxury of choice when it comes to employment. As a result, we understand why she would (reluctantly) agree to fill in for her friend Olga (Natasha Romanova) and work at a secret party. We sense something sinister, but Luciana is out of options.
Once Luciana arrives at the party, Asensio's film changes direction and Most Beautiful Island becomes a gripping and highly suspenseful thriller. The less you know the better - suffice to say, the final scenes of this film are (for me) some of the most excruciatingly uncomfortable of the year. 
Most Beautiful Island is a strange, intense and thought-provoking film from an extremely talented and exciting new director. I can't wait to see what Ana Asensio does next.
Random Observations
Have you seen Most Beautiful Island?
If you have, what did you think of this film? Let me know in the comments section below or via Facebook or Twitter (@500DaysOfFilm).