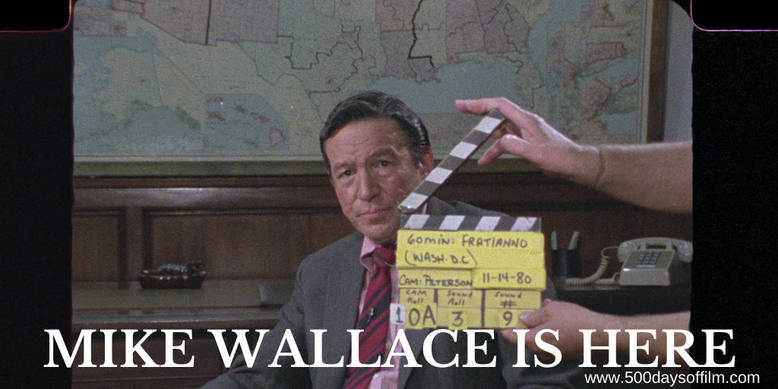 The very mention of his name struck fear into the hearts of his interviewees. For over fifty years, Mike Wallace defined journalistic television - disrupting TV's traditional, cosy chats and introducing a new tough-talking style with insistent questioning and an investigative eye for the truth.
Avi Belkin's fascinating and entertaining documentary places his subject front and centre. Wallace, who died in 2012 at the age of 93, tells his own story and explores his own legacy thanks to an impressive use of archival footage. Meanwhile, the film features an effective framing structure - combining interviews with Wallace with his interrogations of others. 
As a result, Mike Wallace Is Here is an immediate and gripping watch. The film traces Wallace's career from his first use of the "tough question" in his 1950s interview show, Night Beat, through his news specials of the 1960s to his forty decade reign on CBS's 60 Minutes.
Belkin examines how Wallace's work and style changed television journalism - for better and, sometimes, for worse. The documentary hints at his bullying tactics but does not really explore his personal life and conduct beyond acknowledging his unpleasant behaviour as, perhaps, a necessary evil.
Nonetheless, it is fascinating to see interview tropes that are so familiar today take shape and consider the critical importance of a free press in society. At the beginning of the documentary, we hear Wallace talk about this issue. 
"Take a look at the history of any nation which has lost its freedoms," Wallace urges, "and you'll find that the men who grabbed the power also had to crush the free press." Words spoken many years ago could not feel more timely today. 
To demonstrate Wallace's talent for putting people on the spot, Belkin includes clips from some of his most iconic interviews - including Vladimir Putin, Malcolm X, Richard Nixon, Barbra Streisand, an 1980s-era Donald Trump, Bette Davis and the Ayatollah Khomeini to name but a few.
Of course, many of his interviewees did not take kindly to Wallace's interview style. In 1982, Wallace and CBS faced a significant libel lawsuit filed by retired US Army General William Westmoreland. Westmoreland disputed a report about his actions in Vietnam. 
The case had far reaching implications. News organisations became wary of exposing individuals and corporations with deep pockets. For example, in 1996 CBS tried to kill a story about tobacco industry whistleblower, Dr Jeffrey Wigand, at the urging of cigarette manufacturer Brown & Williamson. 
"Mike said that the Westmoreland case and others like it intimidated the big corporations that owned networks, and he was right," says Belkin. "The real intention in those cases was to deter other journalists. But Mike wasn't going to take orders from anybody." 
Belkin began researching his film in 2016. He was given full access to the CBS vault - including thousands of hours of interviews and broadcast work and never-before-seen raw footage of some of his interviews. "This was the first time 60 Minutes and CBS News have ever opened their archives completely to an outside filmmaker," the director explains. "I had my pick of over 50 years of unparalleled archival footage... it was a dream."
In addition, Belkin investigated every place where Wallace had worked and gained access to material from the University of Texas at Austin and the University of Michigan. "UT-Austin had the black-and-white kinescopes of The Mike Wallace Interview that launched his hard-questioning style," he says. "They had unbelievable footage, a real treasure trove of material that helped create the full arc of the film. Those materials really show how Mike invented the direct question as we know it today, and chronicle the emergence of the new 'star journalist' in Mike Wallace."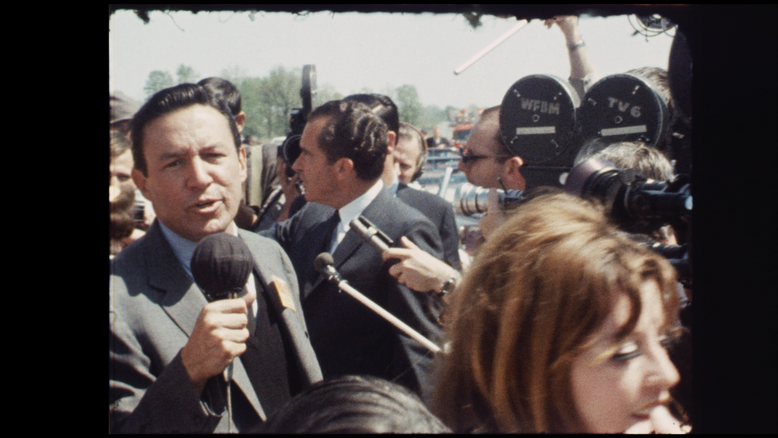 Curating the footage was no easy feat. Belkin watched hundreds of hours of footage and read thousands of pages of printed transcripts - picking the toughest questions posed to Mike and his most revealing answers. 
Belkin then repeated the process for the material where Wallace was the interviewer, noting the themes that connected to Wallace's life. In this way, Mike Wallace Is Here is more than just a collection of archive interviews - it is an intimate exploration of a complicated man.
The documentary reveals the struggles in Wallace's professional and private life. While he created a tough and uncompromising persona, Wallace was also vulnerable - he suffered from depression and was haunted by industry slights concerning his background.
"He didn't really come from a broadcast news background - he came from a performance background," says Belkin. "Because of that disparity, his lack of formal education, he had a chip on his shoulder - and people with chips on their shoulder often work harder. Mike always felt like he had to prove himself."
Wallace's world was devastated in 1962 following the death of his oldest son, Peter. It is heartbreaking to hear Wallace describe how he found Peter's body after he had fallen from a mountain in Greece. Grief prompted Wallace to reevaluate his life and his career.
"Mike turned the hard question on himself after Peter's death," Belkin explains. "He thought about the commercials he was doing and essentially said to himself, 'What are you doing with your life?' This is the moment where we see the real purpose of the hard question: to create a moment of reflection and truth that triggers a change for the better."
Mike Wallace Is Here is both a compelling look at a complex and fascinating man and also an insightful exploration into the importance of high quality journalism. In the film we hear Wallace state that "a nation's press is a good yardstick for a nation's health". Words, it feels, that we need to hear now more than ever.