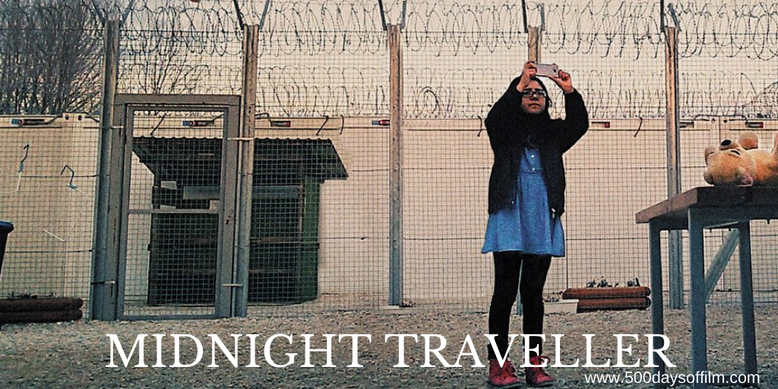 You would be forgiven for thinking that Midnight Traveller, a documentary about a family forced to leave their home following death threats from the Taliban, would be full of tension, conflict and heartbreak.
You would be right.
Midnight Traveller has more than its fair share of desperation and horror, but what will stay with me the most after watching Hassan Fazili's powerful film is the love, the laughter and the power of family. 
We are introduced to Fazili and his family via a wonderfully edited (more of which later) montage of family scenes. So many of these moments feel familiar - family events, trips to the park. 
It is tempting, given their situation, to place a barrier between our lives and theirs but Midnight Traveller asks to look again. The documentary - entirely filmed on three mobile phones - encourages us to understand that this is a family much like many millions of others around the world. 
However, there are also significant differences between Fazili's family and my own. He, a filmmaker from Afghanistan, happened to live in a country that - to put it mildly - does not recognise freedom of speech and expression.
In 2015, after Fazili's documentary called Peace aired on Afghan national television, the Taliban assassinated the film's main subject and put a price on Fazili's head. In that moment he knew that he and his family had to flee their home and seek refugee status in Europe - travelling along the notorious and dangerous Balkan smuggling route.
The two year journey depicted in Midnight Traveller is horrendous. What Fazili, his wife Fatima and their two daughters - Nargis and Zahra - experience along the way is the stuff of nightmares. They are all in near constant danger, vulnerable to human traffickers and abused by those who view immigrants as less than human.
It is heartbreaking to watch - particularly in scenes when the situation becomes too much for Nargis. While she is largely full of joyful exuberance - laughing, dancing and singing - life often becomes unbearable. It is, of course, outrageous that she and her sister have to bear this at all.
Nargis offers us one of the three main perspectives in Midnight Traveller. In addition to Fazili and Fatima, we see her record her surroundings with a mobile phone. It is incredible how stunning this footage looks - the mobile phones keep us immersed and rooted in the story. The documentary is as cinematic as it is deeply intimate.
"In our circumstances, it wasn't possible to work with professional  cameras," Fazili explains.  "All we had was three mobile phones. However, the phones were easy for my whole family to use, they were small, and could be ready to shoot quickly. So they made the film possible."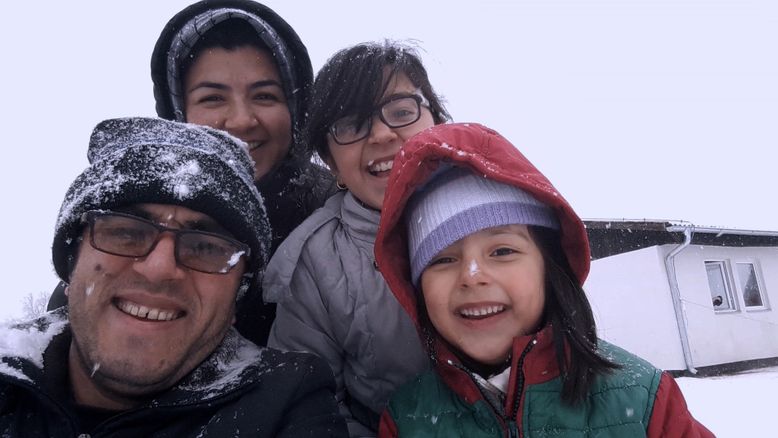 As you might expect given their circumstances, the production of Midnight Traveller was often unusual. As there was no film crew or ability to capture establishing shots, the documentary's footage (comprising over 300 hundred hours) needed careful editing.
Emilie Mahdavian knew Fazili before the idea of Midnight Traveller was born. "During the period that the family was trying to avoid having to take the smuggling route, I tried to organise a letter-writing campaign in support of the family's case," she recalls. "When their situation deteriorated, I agreed to help Hassan in documenting their life."
At the start, having become the film's writer, producer and editor, Mahdavian did not know what the end product would be - but everyone involved felt this was a story worth capturing and preserving. "So from day one of the filmmaking journey, I was there to provide logistical support and to collaborate with Hassan to tell his family's story," she says.
Fazili was unable to travel with his laptop, so he captured the footage on SD cards that he kept until Mahdavian was able to arrange local contacts in each country to copy and ship the original footage to the US. "Once the footage was with me, Hassan could wipe his SD cards and keep shooting new material," she explains. "This way, the production of the film was lightweight and mobile."
The end result is a stunning and poetic portrait of immigration. However, the task of capturing this journey while also living it created conflict within Fazili - conflict that he explores in one of the documentary's most disturbing scenes when he is looking for one of his daughters. 
"As a father, I am tired from the strain of protecting my family from threats we encountered on this route," the director says. "But as a filmmaker, these wanderings and troubles are appealing to me, so we all became the subject of this film. Still, I struggle to make the film realistic and engaging because sometimes I am a father, sometimes a husband, sometimes a director, and sometimes all three roles at once."
Midnight Traveller, named after a book by Said Bahodine Majrouh that is read Nargis in the opening  minutes of the film, is a tremendous feat of filmmaking. Gripping, heartbreaking and enraging, this documentary is also an incredible story of love.