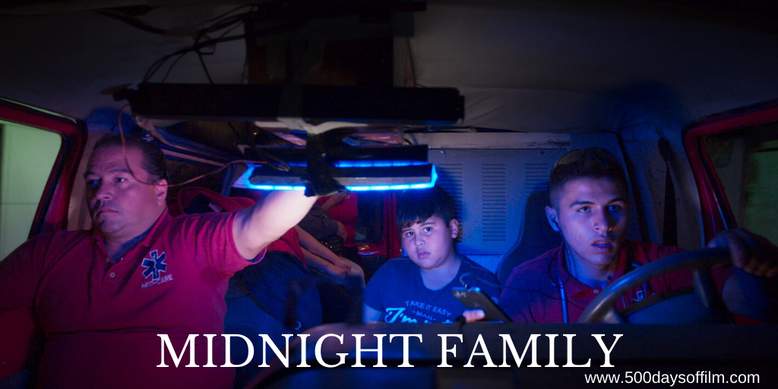 Did you know that in Mexico City the government operates fewer than 45 emergency ambulances for a population of nine million? I certainly did not… not, that is, before watching Midnight Family. 
Luke Lorentzen's tense and gripping documentary explores the underground industry of for-profit ambulances that has arisen to fill the gap - many run by people with little or no training or certification.
Midnight Family follows the Ochoas - a family who operates one of these for-profit ambulances. Listening closely to police radio transmissions, their vehicle (a retired ambulance from Oklahoma) races to the scene - ready to treat and transport the ill and injured to hospital.
The Ochoas face a daily struggle… one with a heartbreaking moral dilemma at its core. The people of Mexico City desperately need emergency care and transport. However, the Ochoa's also need money to survive (they barely have enough money for food) and run their ambulance. 
Battling growing levels of corruption and fierce competition (this is a truly cutthroat industry), the family loses money when a passenger cannot - or will not - pay. As a result, when the Ochoa's travel further to a private hospital where they will get financial compensation, it is hard to blame them - no matter how deeply troubling the entire situation feels. 
Lorentzen gained intimate access to the Ochoa family and Midnight Family places us at the heart of their personal and professional lives. We are given a seat in the back of their ambulance as they rush to the scene of an emergency. It is a breathtaking roller coaster ride full of tension and a growing sense of horror. 
It is also an incredibly impressive piece of filmmaking.  
During the three years Lorentzen took filming Midnight Family, six months was spent in the back of the Ochoa's ambulance. Lorentzen shot his documentary using two cameras - one was mounted to the hood of the ambulance and he operated the other from within.
"The Ochoas became my close friends," Lorentzen says. "I loved being with them and knew they were good people. And yet the more time I spent in their ambulance, the more I learned about darker details of their operation."
Using their network of police contacts, the Ochoas pay a 300 peso ($17) bribe for every accident call sent directly their way. When they arrive first to the scene, they charge patients 3800 pesos ($185) for transport to a hospital. 
We learn that many private ambulances in Mexico City extort vulnerable patients or refuse to transport people in critical condition who don't have the ability to pay. Thankfully, the Ochoas charge only when patients can afford the cost and spend much of their time supporting people who would otherwise be left without any care at all. 
"While they continued to provide much-needed services to a city lacking sufficient emergency care, I saw their financial insecurity begin to affect their treatment of their patients," Lorentzen adds. "My sense of right and wrong in knots, I kept asking myself, 'What would I do here? What's the better alternative?'" 
The director rarely had any good answers. "Their frequent run-ins with bribe-demanding police officers made clear, the Ochoas were operating within an inherently corrupt, dysfunctional system, trying to scrape by like millions of other Mexican families," he explains. 
"As the accidents became more serious and the pressure on the Ochoas intensified, the lines I hoped they wouldn't cross drew frighteningly close. Though often proud of their work, at other times I worried for the patients in their care. This emotional and ethical confusion became the central tension of my story."
Throughout the film, Midnight Family achieves an impressive balance between these two opposing positions. The film encourages us to feel sympathy for the Ochoa family. It also allows us the space to question the ethics of their actions and consider a complex problem that is literally a matter of life or death.