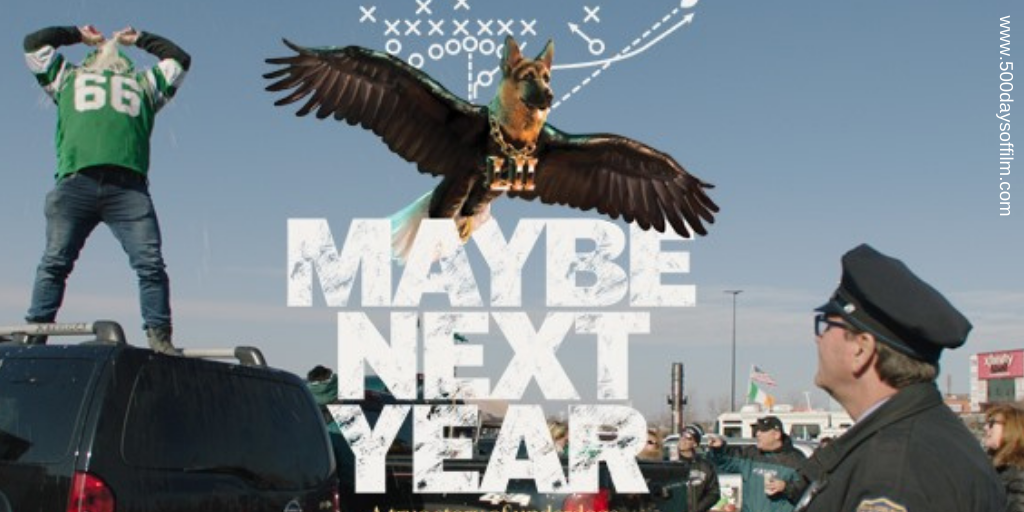 Following the Philadelphia Eagles' 2017 bid to become Super Bowl champions, Maybe Next Year captures the joy and the agony, the triumph and the heartbreak of being a sports fan.
Kyle Thrash's entertaining and surprisingly moving documentary begins by introducing us to its main character - the city of Philadelphia itself. This is, we are told, a blue collar city, a union city, a "rough and tumble" place that has never fully recovered from losing its premier city status to New York.
Battling with this somewhat compromised sense of self esteem, citizens of Philadelphia pour much of their hopes into their football team, the aforementioned Philadelphia Eagles. Archive footage and talk radio discussion confirms the importance of football in the city. The Super Bowl is their holy grail. 
However, Philadelphia's relationship with its football team has not always been smooth and stress free. After 58 years of coming up short, the team's fans have begun to vent their frustrations. They feel let down ("they stink" comments a young boy), cursed and develop an almost pathologically negative state of mind.
As a result of this potent mix of passion and frustration, Eagles fans have quite the reputation. Throwing snowballs at Santa Claus and hurling batteries at players, the fans have earned the inglorious title of being the "worst in the NFL". The Eagles stadium even has its own jail.
Despite their notoriety, Thrash is determined to show the human side to the Eagles' fan base. Joining the team at the beginning of the 2017 season, Maybe Next Year introduces us to four fascinating Eagles fans - Shirley, Barry, Jesse and Bryant.
A well known Eagles supporter, Barry ploughed his retirement savings into a house extension - building an impressive room (dedicated, of course, to the Eagles) where friends and family can meet and watch their team play. Barry is so passionate about the Eagles that his cardiologist worries about him during every game.
Described as the soul of the Eagles' fan base, Shirley is also wonderfully dedicated to her team. "We are the most loyal fans in the world. All we want is a championship," she says. "I love my Eagles… I can't take it. They drive me crazy." However, as much as they drive her to distraction, Shirley will never give up on her team.
Meanwhile, Bryant uses YouTube videos to express his devotion to the Eagles. He is unafraid to vocalize his thoughts about the team - and that's putting it mildly. Bryant's rages are often accompanied by the destruction of anything in his path. It's an issue that he knows he needs to address.
Jesse may be the quietest of the quartet, but his love for the Eagles is no less powerful. In intimate scenes, Jesse explains how his lifelong support for the Eagles is inextricably linked to both his relationship with his ailing father and his hopes for his young son.
In addition to following Shirley, Barry, Jesse and Bryant, Maybe Next Year also charts the Eagles' 2017 NFL campaign via snippets of life in Philadelphia throughout the season. Fan by fan, game by game, Thrash reveals the unity and power inherent in this community.
Regardless of your affinity to the Eagles or your knowledge of NFL history, it is impossible to remain unmoved by the human stories at the heart of this journey. The team's fan base may have a bad rep - and Thrash does not shy away from their more troubling behaviour - but this is far from the whole story. Indeed, it is hard not to fall in love with everyone we meet in Maybe Next Year.
You may know what happened to the Philadelphia Eagles back in 2017. I did not. As a result, I found myself on the edge of my seat - rooting for the team alongside Shirley, Barry, Jesse and Bryant. Maybe Next Year is a joy - a love letter to sports fans and a celebration of the city of Philadelphia.