500 Days Of Film Reviews Mary Poppins Returns Starring Emily Blunt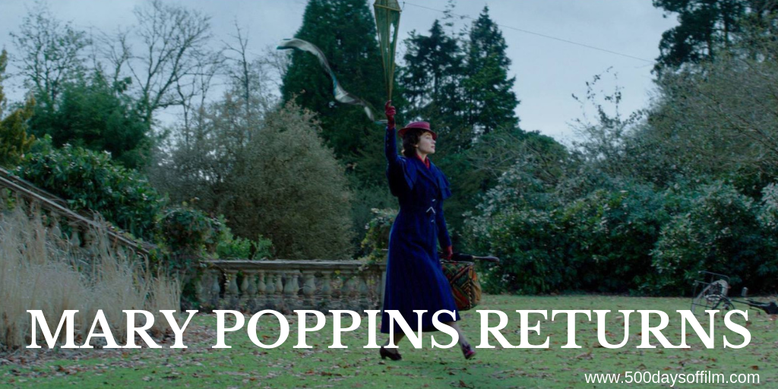 Mary Poppins (Emily Blunt) returns to the Banks' household where, using her legendary magic, she takes the children on an animated adventure - bringing joy and wonder back into their family.
Is It Any Good?
I was not alone in feeling a keen sense of unease when a sequel to Mary Poppins was first announced. The casting of Emily Blunt as Mary Poppins calmed my nerves to a large extent but I remained wary.
I needn't have worried.
The opening scenes of Mary Poppins Returns reassured me that I (and Mary Poppins herself) was in safe hands. I relaxed and, from that point on, thoroughly enjoyed Rob Marshall's film. This is an entertaining, respectful and beautiful movie that feels part of the Poppins world that we know and love.  
Emily Blunt's performance is very much her own. Sensibly, she does not try to emulate her predecessor. This Mary Poppins is perhaps more spikey than the original but she still possesses a wonderful aura of kindness and a wealth of mysterious knowledge - we trust that she will steer the Banks family to better times.
Blunt is joined by an impressive supporting cast (including a couple of joyous cameos). Lin-Manuel Miranda is utterly charming as Jack and Ben Whishaw gives a stand out and deeply poignant portrayal of Mr Michael Banks. 
Everyone gets a chance to participate in the film's key musical numbers - many of which seem likely to become as beloved as those of the original. I adore The Place Where Lost Things Go, for example, and Trip A Little Light Fantastic is, well, pretty darn fantastic.
Marshall has achieved something that few thought possible… a sequel that both satisfies Mary Poppins fans and takes the story forward for new generations. A gorgeous new family film that is destined to become a classic.
Random Observations
Have you seen Mary Poppins Returns?
If you have, what did you think of this film? Let me know in the comments section below or via Twitter. You can find me @500DaysOfFilm.