500 Days Of Film Reviews Lucky Starring Harry Dean Stanton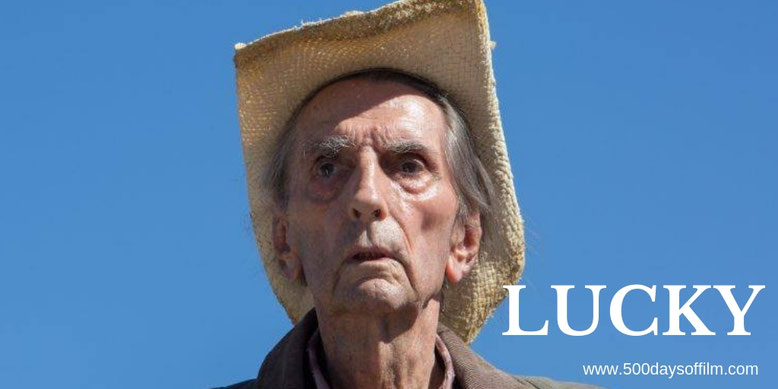 Having outlived and out smoked all of his contemporaries, the fiercely independent Lucky (Harry Dean Stanton) finds himself at the precipice of life, thrust into a journey of self exploration, leading towards that which is so often unattainable: enlightenment.
Is It Any Good?
Honouring an actor like Harry Dean Stanton in a film starring Harry Dean Stanton would surely have felt daunting for even the most experienced of film directors. Not so John Carroll Lynch who, in his poignant debut feature, celebrates Stanton in what, sadly, would be his final performance.
Stanton is utterly superb in Lucky - a charming, funny and moving film that uses the experiences of its titular character to explore issues of loneliness and human connection, life and mortality.
"The story was absolutely written with Harry Dean in mind," says Lynch. "It was written as a love letter to the actor and the man. It is, in essence, biographical. Lucky's stories, his behaviour are drawn from Harry's life."
An example of this can be seen in Lucky's first line in the film. He walks into Joe's Diner and says to Joe (warmly played by Barry Shabaka Henley) "You're nothing". Joe then replies "You're nothing" to which Lucky says "Thank you". This exchange was captured (by writer Logan Sparks) from the banter that Stanton used to have with a valet at Ago's in Los Angeles. 
"We all felt an immense responsibility to create from Harry's life, and from Harry's interactions, a story about a man who suddenly brings into his heart that he might have weeks and months to live, not years and decades," Lynch explains. 
"It also had to reflect Lucky's journey from something to nothing, but not through 'bucket list' experiences. No bank robberies, or jumping from planes. While those things are dramatic, they don't represent most of our experiences. We change from the inside."
Stanton is ably supported by an impressive cast. While Beth Grant is brilliant as tough bar owner, Elaine, the standout performance for me came from one David Lynch. The legendary director plays Lucky's friend, Howard, a man struggling with the loss of his tortoise. 
"David was gracious, responsive, supportive, prepared and committed," says John Carroll Lynch. "It was clear he'd come to play and to simply be an actor. I imagine he was the kind of actor he always hopes to work with. And I learned a lot about being an actor on set in the days he worked."
Nonetheless, making Lucky was a challenge for the new director. The film was shot in 18 days on a limited budget. However, according to Lynch, his primary concern was Stanton's energy. 
Speaking before the actor's death, Lynch explained that, prior to shooting Lucky, he had also played the lead in film with an 18-day shoot: "I was in every scene, and I was exhausted - and I am just a little more than half of Harry's age. 
"We made a schedule that had as few five-day weeks as possible. We tried to husband his energy in every way we could. but sometimes, we couldn't... In the walking scenes, with the repeating of the sequences, Harry walked about three miles in 100 degree heat. And that was just on screen. 
He gave us everything he had." 
Random Observations
Random Observations
Have you seen Lucky? If you have, what did you think of this film? Let me know in the comments section below or over on Twitter. You can find me @500DaysOfFilm.