500 Days Of Film Reviews Loveless Starring Maryana Spivak, Aleksey Rozin And Matvey Novikov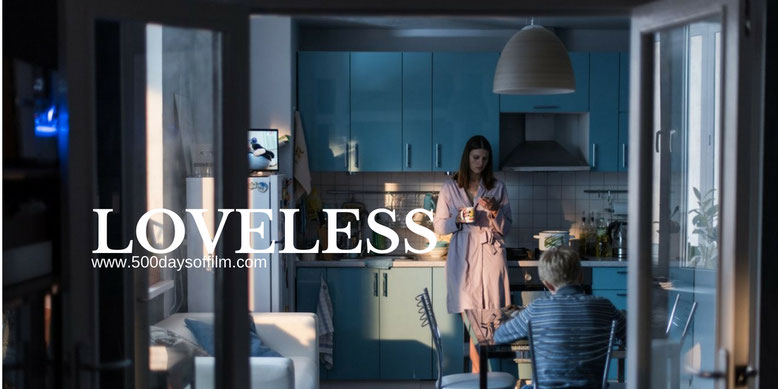 Zhenya (Maryana Spivak) and Boris (Aleksey Rozin) are going through a vicious divorce marked by resentment, frustration and recriminations. Already embarking on new lives, each with a new partner, they are impatient to start again, to turn the page – even if it means threatening to abandon their 12-year-old son Alyosha (Matvey Novikov). Then, after witnessing one of their fights, Alyosha disappears…
Is It Any Good?
It's symbolism, themes and message may not be subtle but Andrey Zvyagintsev's Loveless is nonetheless gripping and devastating. Superbly acted, beautifully shot and featuring a truly powerful soundscape, this is a film about the dangers inherent in a vacuous and compassionless society.
Secretly listening to his parents argue, 12 year old Alyosha understands that there is no love for him in his (soon to be sold) home. Neither his mother nor his father want him and his pain is incredibly raw - almost unbearable to watch.
When Alyosha (a symbol perhaps of our hope for the future) goes missing, the reaction of his parents, their new partners and the state is shockingly cruel and unfeeling. No one seems willing or able to take any responsibility for his care. 
As Loveless moves from relationship drama to procedural, so the film's tension - full of foreboding from the start - mounts. Where is Alyosha? The world is suddenly full of danger - both inside abandoned buildings and out in the cold, snowy forests. 
Zvyagintsev paints a bleak picture indeed. In contrast to the truly stunning scenes of nature (wonderfully depicted by cinematographer, Mikhail Krichman), humans are trapped in ugly boxes - be they cold, modern buildings, toxic relationships or intractable religious expectations.
The only glimmer of hope for humanity lies within a voluntary group (inspired by a real life search and rescue organisation) who use their experience and expertise to try to find Alyosha. Their professionalism is impressive but you get the sense they are fighting an overwhelming battle.
As much a reflection of contemporary Russia as it is of many societies around the globe, Loveless explores what happens when, hypnotised by our mobile devices and driven by selfish desires, we forget what is really important in life. Let's try not to do that shall we?
Random Observations
Loveless ranked eighth in Sight & Sound's films of the year poll, won Best Film at the BFI London Film Festival and took home the Jury Prize in Cannes (2017). The movie was also nominated for a Best Foreign Language Film Oscar (it lost out to A Fabulous Woman).
Have you seen Loveless?
If you have, what did you think of this movie? Let me know in the comments section below or via Twitter. You can find me @500DaysOfFilm.