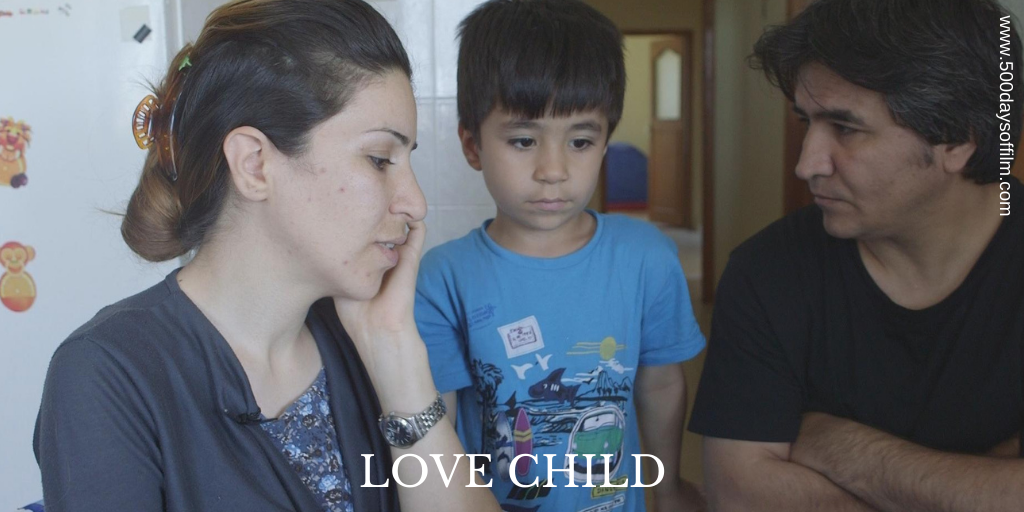 Love Child is a compelling portrait of one family's quest to live together in safety. Eva Mulvad's powerful and intimate film follows Leila and Sahand - an Iranian couple who are forced to flee Tehran where their secret affair and illegitimate son are both considered crimes punishable by death. 
The documentary joins the couple in 2012, as they prepare to seek refuge in Turkey with Mani, who is just four years old. The dangers of the journey ahead are clear. We watch as a visibly distressed Sahand packs a suitcase. "This is my last day at home," he says. "I'm not sure tomorrow if I will be dead or alive".
Thankfully, the family arrives safely in Istanbul where they hope to seek asylum and then travel once more to start a new life in Canada or the US. However, their emotional journey is far from over. Their decision to leave Iran and make a life together will weigh heavily on them all for years to come.
While the UN considers their case, Leila, Sahand and Mani have the right to stay in Turkey. They are given an apartment and begin their first, tentative steps towards 'normal' family life. They do not plan to be in Istanbul for long. Negotiating the price of a fridge, Leila explains that they will be on the move again in four-five months.
The asylum process, of course, does not often move so swiftly. Already struggling with past trauma, the new family is left in a state of limbo about their future. They have no rights, no idea where they belong. Such overwhelming uncertainty breeds fear, anxiety and paranoia.
Lelia, in particular, struggles to cope with being away from home. She worries about the potential consequences that her family might face as a result of her relationship with Sahand. "There is a huge emptiness in me," she says, "I left my family behind". There is, however, no going back.
The past few years have seen the release of a number of stunning documentaries about the plight of migrants and asylum seekers. Films like Midnight Traveller, Stolen Fish, For Sama and Fire At Sea have opened our eyes to the horrors that await those forced to leave their homes and embark upon often perilous journeys.
As a result, it is hard to watch Mulvad's documentary without a growing sense of dread. However, this is not a brutal film. Indeed, Love Child contains many scenes of joy and happiness as the family comes together and forms a powerful bond.  The genius of Mulvad's filmmaking approach lies in the way she humanises her subjects. They are not faceless "asylum seekers", they are human beings. They are not a threat, they are a family.
As a result, we are all the more shocked when we learn about their past experiences. Leila and Sahand have terrifying stories to tell. "If they catch people like us in Iran," Leila explains in a therapy session, "my punishment is to be stoned to death and Sahand would be executed." Sahand recalls seeing a woman being stoned. "I watched her die right in front of me," he says. It was not like a movie, he adds.
The pressure on the family is intense - often leading to fierce rows between the couple. Meanwhile, developments in their case are agonisingly slow. We see the years tick by - punctuated by Mani's growth and Sahand's greying hair. 
As they wait for news, the family makes a good life in Turkey. However, their aim remains to move to the US. As the years pass - 2012, 2013, 2014, 2015, 2016 - a fresh sense of foreboding descends. We know something that Leila and Sahand do not - soon America will have a new president and a devastating new immigration policy.