500 Days Of Film Reviews Period Drama, Lady Macbeth, Starring Florence Pugh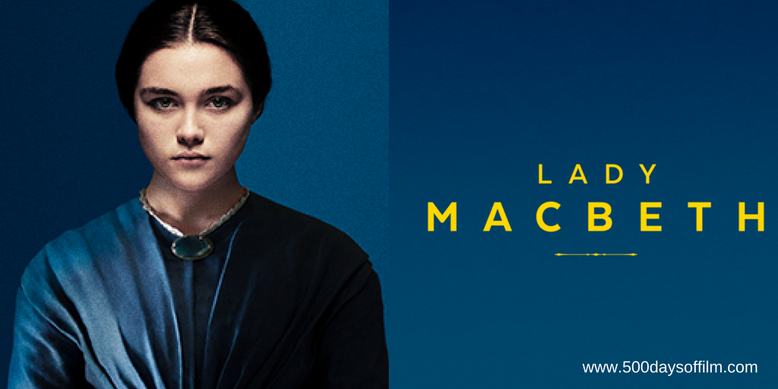 Trapped in a loveless marriage of convenience, young, headstrong woman, Katherine (Florence Pugh), decides to create her own destiny and seek passionate escape in the arms of Sebastian (Cosmo Jarvis), one of her husband's servants.
Is It Any Good?
Set in 19th century England, Lady Macbeth is a tense and disturbing thriller. This intelligent, remarkably assured debut feature from director, William Oldroyd, feels part Wuthering Heights (bringing Andrea Arnold's film very much to mind), part Jane Eyre… part nightmare.
Subverting the tropes we have come to expect from costume dramas, Oldroyd explores themes of race, class and gender discrimination. While desperate for freedom, each character is powerless - trapped by the rules and conventions of society.
Lady Macbeth features a truly stunning performance from its leading lady - Florence Pugh (following her brilliant turn in Carol Morley's The Falling). Forced to internalise her needs and desires, she has to convey much by doing little. As a result, the camera lingers on her face, capturing Katherine's descent from repressed victim to murderous villain. 
Pugh is joined by an impressive supporting cast (Naomi Ackie is particularly powerful in her role as the servant, Anna). In addition, the house she inhabits is a central character in the film. We never see this building from the outside, only from within. Its rooms (brilliantly captured by director of photography, Ari Wegner) are stifling spaces, devoid of warmth or comfort.
Trapped in this toxic, lifeless place, we welcome Katherine's escape outside - following the departure of her husband and father-in-law (a wonderful turn from Christopher Fairbank).   However, our sympathies waver when it becomes clear that she will let nothing and no one stand in the way of her freedom.
Something wicked this way comes. 
Random Observations
Ari Wegner's use of framing and lighting is superb. 
Lady Macbeth was adapted from a Russian novel by Nikolai Leskov called Lady Macbeth of Mtsensk by Alice Birch.
Have you seen Lady Macbeth? 
If you have, what did you think of William Oldroyd's debut film? Let me know by leaving me a comment in the box below or get in touch via Twitter or Facebook (@500DaysOfFilm)!