500 Days Of Film Reviews Lady Bird Starring Saoirse Ronan And Laurie Metcalf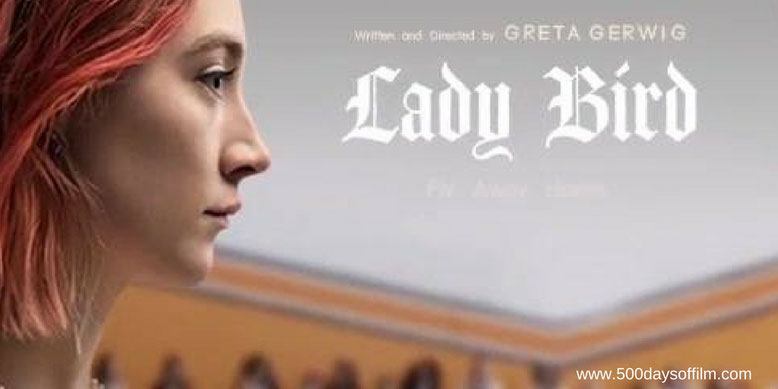 Christine "Lady Bird" McPherson (Saoirse Ronan) fights against but is exactly like her wildly loving, deeply opinionated and strong-willed mother (Laurie Metcalf), a nurse working tirelessly to keep her family afloat after Lady Bird's father (Tracy Letts) loses his job. 
Set in Sacramento, California in 2002, amidst a rapidly shifting American economic landscape, Lady Bird is an affecting look at the relationships that shape us, the beliefs that define us, and the unmatched beauty of a place called home.
Is It Any Good?
I didn't shed a single tear while watching Lady Bird. Not a one. No, it was only as I left the cinema and made my way back to my car that I was hit by an unexpected wave of emotion. All I knew, as I fought back the tears, was that I had to call my mum and hug my kids.
That is the power of Greta Gerwig's superb directorial debut*. Lady Bird is such a natural and assured film that its emotional power and resonance sneaks up on you... and then suddenly you are left weeping in a carpark.
That Lady Bird works as well as it does is a result of Greta Gerwig's brilliant script (based partly on her own experiences) and unshowy direction. It is also thanks to the film's endlessly impressive cast. 
Saoirse Ronan is wonderful as Lady Bird - showing us all the confusing and complicated emotions of a teenager living on what she views as "the wrong side of the tracks". While she is often obnoxious, we cannot help but love Lady Bird - particularly when she is with her best friend Julie (brilliantly portrayed by Beanie Feldstein).
Meanwhile, Laurie Metcalf is astonishing in her role as Lady Bird's mother, Marion McPherson. She delivers her lines with perfect tone and timing - revealing, despite her brutal observations of Lady Bird's life, just how much she loves her daughter.
Lady Bird and Marion's interactions are often hilarious to watch. They are at each other's throats one minute, in harmony the next. However, their relationship is also deeply poignant - the nuanced power of family love exists in every line of dialogue. 
Metcalf and Ronan are joined by a fabulous supporting cast. Tracey Letts, an accomplished writer himself (Gerwig has spoken about how supportive Letts was during the making of Lady Bird), is superb. Lucas Hedges impresses again and the film also features another great performance from Timothée Chalamet.
On the surface, Lady Bird is a funny coming of age story about a teenage girl, her mother and her life in Sacramento, California. Full of superb performances, this movie is entertaining, engaging and heartwarming.
However, underneath the surface, lies a beautifully written, emotionally intelligent and sharply observed drama. A film that will strike a chord with anyone of any age, gender or geographical location. This is a truly wonderful movie from a brilliant new filmmaking voice. Go see it…
Random Observations
*Gerwig did co-direct 2008's Nights and Weekends with Joe Swanberg.
Have you seen Lady Bird? If you have, what did you think of Greta Gerwig's film? Let me know in the comments section below or via Facebook or Twitter (@500DaysOfFilm).