500 Days Of Film Reviews Kodachrome Starring Jason Sudeikis, Ed Harris And Elizabeth Olsen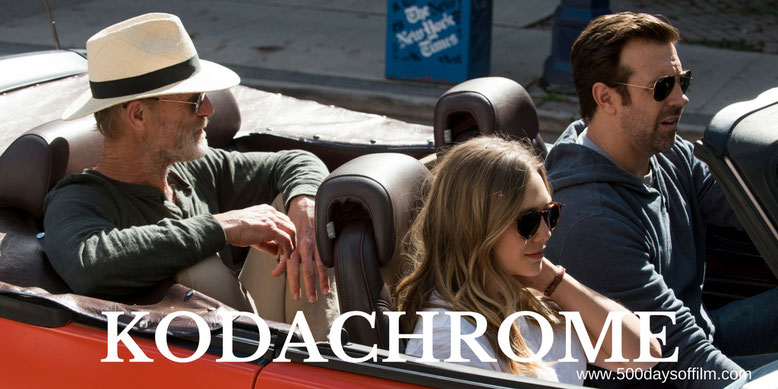 Struggling A&R executive Matt (Jason Sudeikis) finds his world turned upside down when his estranged father's nurse (Elizabeth Olsen) shows up unexpectedly in his office. Matt's father, a famed bad-boy photojournalist (Ed Harris), is facing terminal cancer and his dying wish is for Matt to join him on a road trip from New York to Kansas to process his last rolls of Kodachrome film before the sole remaining lab closes and those captured moments are gone forever.
Is It Any Good?
In a recent interview with Variety's Kris Tapley, Ed Harris voiced "mixed feelings" about Netflix. "Any film that works, works better on the big screen," he said. "If I was to make a film, (which I hope to do this Fall) … I would not want to make it under the Netflix banner." 
However, Harris does understand the value that Netflix offers (hence his mixed feelings). In a world where multiplex cinemas rarely have space for independent films, at least Netflix gives its subscribers the chance to watch smaller budget movies.
It is thanks to Netflix that Kodachrome has the potential to reach its audience. Featuring powerful portrayals from Jason Sudeikis and Elizabeth Olsen and a truly superb performance from Ed Harris, this is a film worthy of your attention.
Kodachrome was inspired by a New York Times article by A. G. Sulzberger (For Kodachrome Fans, Road Ends at Photo Lab in Kansas) about the discontinuation of Kodachrome film. Sulzberger received a tip from a Metro reporter in New York, who'd heard that the last machine in the world that could develop Kodachrome film - in a lab in Parsons, Kansas - was being retired. 
What was even more interesting was the pilgrimage photographers were making to Kansas:  "Dozens of visitors and thousands of overnight packages have raced here, transforming this small prairie-bound city not far from the Oklahoma border for a brief time into a center of nostalgia for the days when photographs appeared not in the sterile frame of a computer screen or in a pack of flimsy prints from the local drugstore but in the warm glow of a projector pulling an image from a carousel of vivid slides." 
This fascinating and endearing story says so much about our lives today - our often uneasy relationship with technology and our enduring love for film. Screenwriter, Jonathan Tropper, added further layers - exploring what it means to be a father and the balance of art and parenthood.
The mix doesn't always work as well as it might. Kodachrome hits all traditional road movie beats without adding anything new or particularly insightful. However, despite this, director Mark Raso's cast is hard to resist.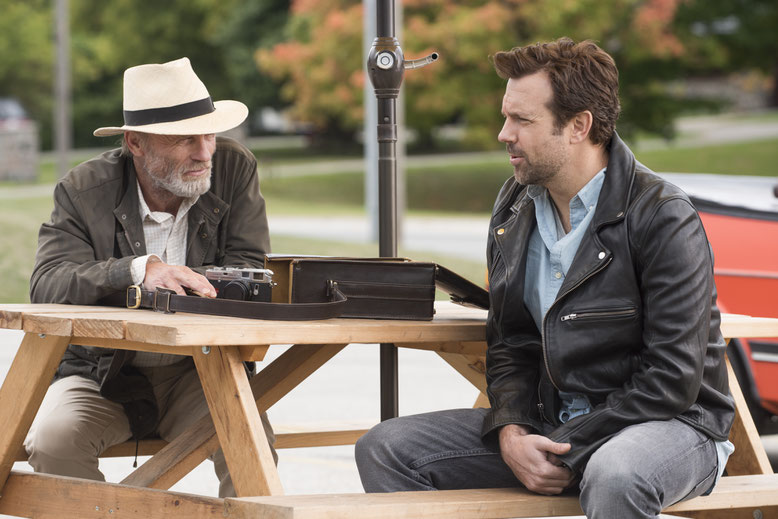 Ed Harris gives an outstanding performance as Ben. He gets to have fun with this character who, in the face of a terminal cancer diagnosis, has no time to sugar coat matters. However, he also conveys Ben's pain - his desperate need to connect with his son before it is too late.
"Ed Harris was Ben for me even before he was cast," explains Raso. "As I read the script for the first time I automatically starting reading Ben in Ed's voice. He was the first person we went out to on the film and his support for this story was the reason it got made."
Tropper also enjoyed constructing Ben around Ed Harris, an actor who he explains has "a certain hardness. He's almost like a granite man. It's exciting to take someone with that much strength and rigidity and watch it crack. Because Ed's such a good actor that when he cracks, he takes us all with him."
Meanwhile, following his outstanding work in Nacho Vigalondo's Colossal, Jason Sudeikis impresses with his nuanced portrayal of Matt. His comedy credentials are, of course, assured. However, Sudeikis brings so much more to this role - a searing anger and palpable sense of sadness.
Elizabeth Olsen shines as Zooey. She takes this rather underwritten (originally described as a "tag-a-long") character and gives her spark and depth. "Elizabeth Olsen is fantastic," attests Raso. "She's a wonderful actress and brought a humanity with her. She's beautiful, but she's vulnerable. She's played this role with strength and confidence, but also with great humor and great lightness."
By the end, I couldn't help but wonder if Raso's film really got to the heart of the Kodachrome pilgrimage. I certainly feel that there is another story to tell here. However, while Kodachrome takes us on a familiar road-trip, our experience is elevated by three superb central performances. 
Random Observations
The character of Ben Ryder is, in terms of his work, based on American photojournalist, Steve McCurry, best known for his 1984 photograph of the "Afghan Girl", which originally appeared on the cover of National Geographic. McCurry allowed Kodachrome's producers to access his photos for the film. However, the similarities between Ben and Steve McCurry start and end with the photography.
For obvious reasons, Kodachrome was shot on film - specifically Vision 35mm film (5207 and 5219 stock).
Have you seen Kodachrome? If you have, what did you think of this film? Let me know by leaving me a comment in the section below or let's chat over on Twitter. You can find me @500DaysOfFilm.