500 Days Of Film Reviews Journey's End Starring Sam Claflin, Paul Bettany, Asa Butterfield And Toby Jones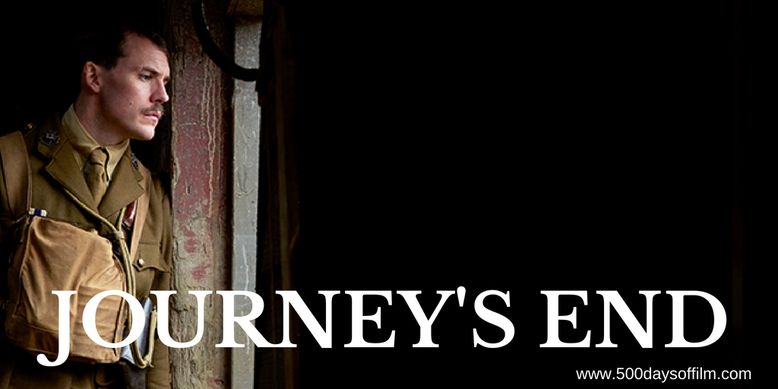 March, 1918. C-company arrives to take its turn on the front-line trenches in northern France led by the war-weary Captain Stanhope (Sam Claflin). A German offensive is imminent, and the officers (played by Paul Bettany, Stephen Graham and Tom Sturridge) and their cook (Toby Jones) distract themselves in their dugout with talk of food and their past lives. 
Stanhope, meanwhile, soaks his fear in whisky, unable to deal with his dread of the inevitable. A young new officer, Raleigh (Asa Butterfield), has just arrived, fresh out of training and abuzz with the excitement of his first real posting – not least because he is to serve under Stanhope, his former school house monitor and the object of his sister's affections. Each man is trapped, the days ticking by, the tension rising as the attack draws ever closer.
Is It Any Good?
Based on the play by RC Sherriff (and the novel by RC Sherriff and Vernon Bartlett), Journey's End is a moving portrait of the futility of war. The loss of life sustained in World War One remains unfathomable - numbers that are still hard to grasp. 
Saul Dibb's film takes us into those muddied, claustrophobic and dangerously deteriorating trenches. He shows us that the men there grasped all too well the horrific challenge that they were about to face. 
As a result, Journey's End is full of sadness, of knowing looks as soldiers and officers alike resign themselves to their inevitable fate. Each employs different coping mechanisms - humour, denial, a nice cup of hot tea and, for Captain Stanhope (brilliantly portrayed by Sam Claflin), the numbing effects of whisky.
The arrival of Raleigh (well played by Asa Butterfield) only makes the situation worse - his 'can do' optimism and bright-eyed, fresh faced bravado forces the officers to confront the broken men they have become. 
It is undeniably hard to watch Journey's End knowing, as we do, how the story ends. However, Dibb's film is not without moments of warmth and hope. Paul Bettany is superb - gracefully stealing every scene as paternal figure, Osborne. Meanwhile, I loved Toby Jones's role as Mason the cook and Stephen Graham's portrayal of Officer Trotter.
As a result of these intelligent, powerful performances and the film's resigned depiction of the nightmare on the front line (for both sides), Journey's End is an intense, gripping and deeply moving experience.
Random Observations
The play on which Journey's End was based premiered in London in 1928. It was written by war veteran RC Sherriff in the same year, ten years after the Armistice at a time when public opinion was daring to question the purpose of the Great War. He had caught the mood of the nation. Journey's End opened in the West End with Laurence Olivier playing Stanhope and it continued to play to packed houses for years afterwards.
Sherriff never claimed his play to be anti-war, saying that he simply wrote what he knew and had experienced in the trenches. 
There was a film adaptation of Journey's End in 1930 and a British television version in 1988.
Many play adaptations eventually betray their stage roots. However, Saul Dibb ensures that Journey's End maintains an impressively cinematic atmosphere. His depiction of trench life is superb.
Have you seen Journey's End? 
If you have, what did you think of this film? Let me know in the comments section below or over on Twitter. You can find me @500DaysOfFilm.