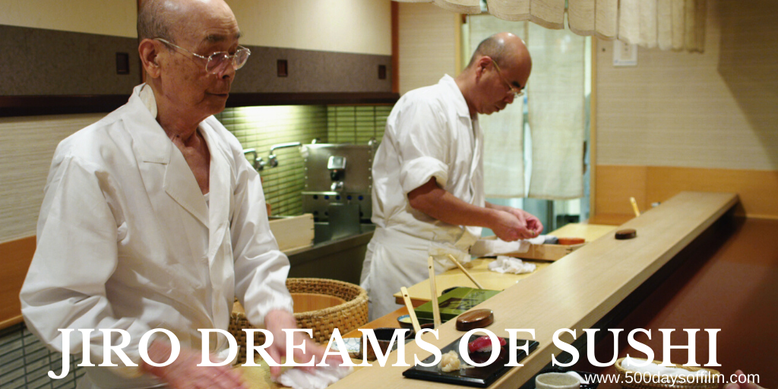 I have wanted to watch Jiro Dreams Of Sushi for ages. Often included in "top" documentary lists, I just knew that I was going to love David Gelb's film. I wasn't wrong. 
Jiro Dreams Of Sushi tells the story of 85-year-old Jiro Ono, considered by many to be the world's greatest sushi chef. Jiro's restaurant, Sukiyabashi Jiro, is located in a Tokyo subway station, has only ten seats and serves only sushi. 
Despite its humble appearance, Sukiyabashi Jiro was the first restaurant of its kind to be awarded a prestigious three-star Michelin Guide rating. Sushi lovers from around the world flock to Jiro's restaurant, making bookings months in advance and willing to pay any price to sample Jiro's masterful sushi collection.
Gelb's film starts by exploring just how Jiro achieved his sushi status. The quick answer is that he has a truly incredible work ethic. "Once you decide your occupation, you must immerse yourself in your work," Jiro explains. "You have to fall in love with your work. Never complain about your job. You must dedicate your life to mastering your skill. That's the secret of success and is the key to being regarded honourably."
Jiro's dedication to his profession is inspiring. However, it is also rather overwhelming. It is clear that Jiro sacrificed time with his family to master his craft - always striving for perfection. As the documentary's title suggests, he even dreams of sushi.
We see the impact of Jiro's choices on his two sons - Yoshikazu and Takashi. In his fifties, Yoshikazu works at Sukiyabashi Jiro. He is expected to take over from his father once he retires, but Jiro shows no signs of wanting to slow down. Meanwhile, Takashi manages his own prestigious sushi restaurant. 
A hard taskmaster, Jiro admits that he is especially tough on his sons - he wants them to be well prepared for a time when he might not be around. It is fascinating and poignant to watch how Yoshikazu and Takashi deal with living life in their father's shadow. Gelb's film is really just as much about Yoshikazu's journey as it is about Jiro. 
As well as a moving tale of fathers and sons, Jiro Dreams Of Sushi also explores the story of sushi. Our guide throughout the film is food critic, Yamamoto. He helps us with the context we need - explaining why Jiro's sushi is so well regarded. 
Accompanying his comments, in many beautifully shot sequences, we see different types of sushi being created and then delicately placed on a plate. Even if sushi is not your thing, it is wonderful to see such craftsmanship and meet the fascinating dealers that ensure Jiro receives only the best ingredients. 
Gelb gives us a real insight into this remarkable world. This is, however, a world under threat. Overfishing has meant that fish stocks are dwindling and, tragically in some cases, disappearing. Jiro calls for balance - balance between the desire for profit and the need to protect and preserve nature's resources. 
By the time the film considers this disturbing issue, we have fallen in love with Jiro, his sons and his wider community. As a result, we are invested in this world and understand their concerns. There are traditions, livelihoods and relationships here that could disappear if we do not respect the need for balance.
Gelb emphasises the sense of community in all these relationships. Jiro is relentless and demands perfection and yet there is also real affection between him, his sons, his apprentices and his suppliers. 
While he looks incredibly stern while making sushi (causing many patrons to feel rather nervous), away from the kitchen Jiro is often seen smiling and laughing. Jiro Dreams Of Sushi is full of warmth, humour and charm - a real joy to watch.
At the time of writing, you can rent Jiro Dreams Of Sushi on Amazon Prime and it is also included in a MUBI subscription.