500 Days Of Film Reviews Stop Motion Animation, Isle Of Dogs, Featuring The Vocal Talents Of Bryan Cranston, Greta Gerwig, Bill Murray, Edward Norton, Tilda Swinton, Jeff Goldblum, Scarlett Johansson And Liev Schreiber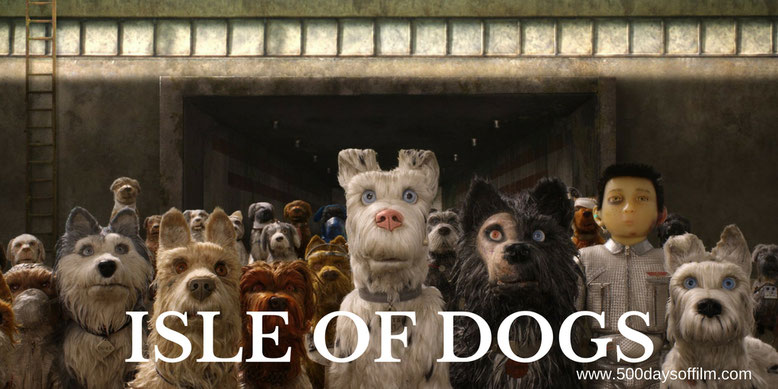 The Japanese Archipelago, twenty years in the future. Canine-Saturation has reached epidemic proportions. An outbreak of Snout-Fever rips through the city of Megasaki. Dog-Flu threatens to cross the species threshold and enter the human disease pool. Mayor Kobayashi of Uni Prefecture calls for a hasty quarantine: the expulsion and containment of all breeds, both stray and domesticated. 
By official decree, Trash Island becomes an exile colony. The Isle of Dogs.
Six months later, a tiny, single-engine, miniature airplane crash-lands onto the teeming waste-land. A pack of five starving but fierce abandoned dogs scrambles to the wreckage and discovers a twelve-year-old pilot staggering from the burning fuselage. Atari, orphan-ward to Mayor Kobayashi.
With the assistance of his new canine friends, Atari begins a search for his lost dog, Spots, and, in the process, exposes a conspiracy that threatens to destroy all the dogs of Megasaki City forever.
Isle Of Dogs is a visually stunning, endearingly funny and strangely melancholic animated tale. A story about discrimination, disenfranchisement and disease. About leadership, authority and animal cruelty. However, above all, this is a film about one boy's love for his lost dog.
Wes Anderson's stop motion adventure follows a pack of Trash Island alpha dogs - plucky Rex (Edward Norton), former baseball team mascot, Boss (Billy Murray), former Doggy Chop spokesdog, King (Bob Balaban), gossip hound, Duke (Jeff Goldblum) and a stray named Chief (Bryan Cranston) - as they try to help Atari (Koyu Rankin) find Spots (Liev Schreiber).
In terms of tone and design, this is unmistakably a Wes Anderson film. Few directors have such a distinct filmmaking and storytelling style. Add Isle Of Dog's incredible cast, exciting score (by Alexandre Desplat) and the film's eye for canine mannerisms and you have an animated movie gem that is a joy to watch. 
Alongside the brilliant comedy and gripping adventure, it is hard not to marvel at the film's incredible animation (see more below). The dogs speak English while the humans - bar Greta Gerwig's Tracy and Frances McDormand's interpreter - speak (often unsubtitled) Japanese. "You don't understand the words, but you understand the emotion," Anderson explains.
Of course, any animated film about a group of dogs is bound to attract a young audience. However, beware, Isle of Dogs has real bite and, as a result, may not be suitable for very young children.
For example, in one scene a dog's ear is bitten off. You also get wince-inducing sushi preparation (the film's most complicated single animated sequence) and a rather graphic organ transplant.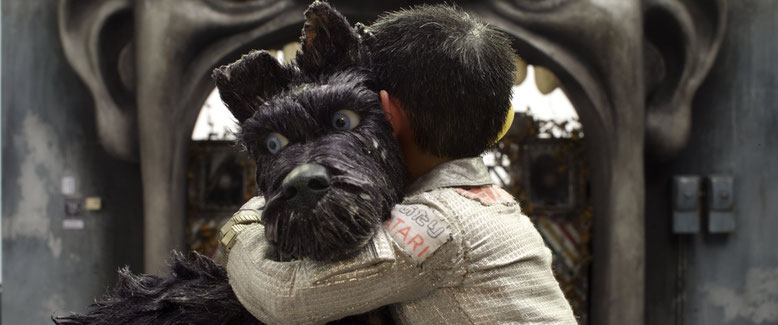 The idea behind Isle Of Dogs was simple - dogs, garbage and disease. Anderson's story (developed with Roman Coppola, Jason Schwartzman and Nomura Kunichi) then expanded thanks to the director's love of Japanese cinema (Akira Kurosawa and Hayao Miyazaki were key influences).
To assure authenticity in the Japanese language and all things Japanese, Anderson worked closely with Nomura, who also portrays the imposing voice of Mayor Kobayashi. "Kun, who we've all been friends with for some years, helped us keep a variety of details authentic and to make it feel more Japanese, because we were all writing from the point of view of non-Japanese people," explains Anderson. 
However, the film's use of a largely white voice cast has drawn criticism. Is Isle Of Dogs a homage to Japan or another case of cultural appropriation? Both arguments are valid and I feel unqualified to make a final judgement but I did sense that, at its heart, the story comes from a position of love for Japanese cinema. 
It is often the case that the making of a film (whether animated or live action) is as interesting as the movie itself. Isle Of Dogs, Anderson's second animated feature (after Fantastic Mr Fox), is no different. 
The feat of bringing all of the puppets to life is remarkable and endlessly fascinating. "We are trying to get a performance out of these lumps of metal and rubber and silicone," reveals Animation Director, Mark Waring. "They are inanimate objects but we have to bring life to them."
First, the animators watch video recordings of the cast delivering their lines - picking up the personalities of each actor. The lines are then broken down phonetically in order to achieve a perfect match with the puppets. 27 animators and ten assistants worked on Isle Of Dogs.
However, before the physical animation can take place, the puppets have to be created. The film features 1000 puppets. The human characters each have a number of different removable faces to replicate certain emotions, while the dogs feature intricate moveable faces.
According to Andy Gent, Head Of The Puppets Department at London's 3 Mills Studios, this is the largest number of puppets created by hand (not using 3D printing) for a stop motion film.  
The puppet artists start by sculpting with plasticine. When their design has been approved, they make a mould. The next step is to build the armatures - the moving parts of the puppet. These armatures are then cast in silicone, giving the puppet a "skin".
The silicone skin is then painted with all of the incredible character detail. For example, there are 320 freckles on each of Tracy's faces. The designers painted thousands and thousands of freckles on Tracy alone!
Once painted, the puppet's hair is meticulously added - carefully punched in with a needle strand by painstaking strand. Each hair design had to replicated exactly on every face and every head. Meanwhile, the designers used harvested alpaca and merino wool (usually used for teddy bear manufacture) for the dogs.
After the puppet body was completed, the next task involved designing the clothes. Wes Anderson has a real fascination for costumes and each design in Isle Of Dogs is wonderfully intricate.
However, not any old fabric will do - the puppet cloth has to stop for the camera to shoot and then move again. The clothes need to be easily controlled - hence the use of thin sheet lead and aluminum wire.
All in, each main puppet took an incredible 16 weeks to build.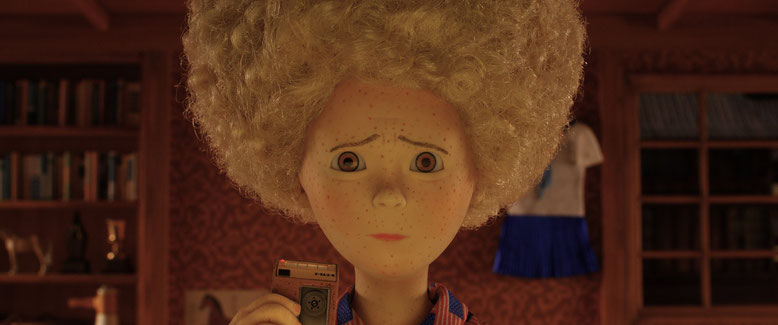 When the puppets were ready, the animators could get to work.
Stop-motion is, of course, among the most time-consuming and labour-intensive of all cinematic forms. The action of Isle Of Dogs had to be created from 130,000 stills. Each puppet has to be moved into 24 distinct postures per second for the action to be lifelike (called animating "on ones").
However, Wes Anderson has an affinity for animation "on twos," which gives the motion a slightly more uncanny, crunchy, imperfect feel. However, even animating on twos enables only a few seconds of animation to be shot per day. 
"Wes enjoys animation for what it is," explains animation producer Simon Quinn. "He's not trying to hide the fact that these are made objects. He's celebrating the art form. He's not trying to compete with CG. He's actually saying, 'Okay, this is a model set. So how can we play with that? What sort of visual gags can we use in that?' 
"You end up doing things like using cotton wadding for smoke or carving soap to
make candle flames. All of these things are joyous. They're the things that make the work exciting."
Random Observations
Have you seen Isle Of Dogs? 
If you have, what did you think of Wes Anderson's film? Let me know in the comments section below or over on Twitter (you can find me @500DaysOfFilm).