500 Days Of Film Reviews In The Fade Starring Diane Kruger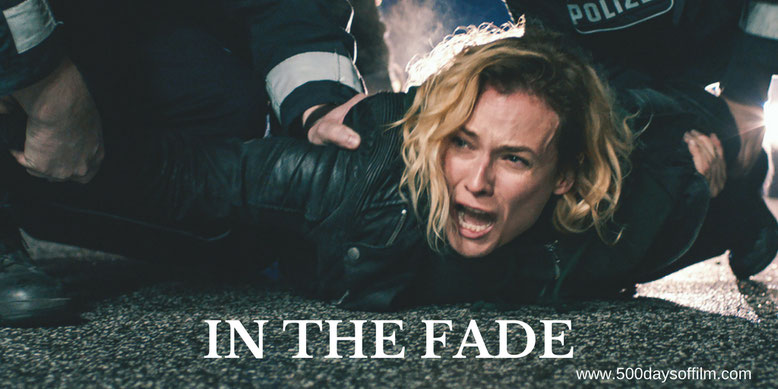 Out of nowhere, Katja's (Diane Kruger) life falls apart when her husband Nuri (Numan Acar) and little son Rocco (Rafael Santana) are killed in a bomb attack. Her friends and family try to give her the support she needs, and Katja somehow manages to make it through the funeral. 
However, the mind numbing search for the perpetrators and reasons behind the senseless killing complicate Katja's painful mourning, opening wounds and doubts. Danilo (Denis Moschitto), a lawyer and Nuri's best friend, represents Katja in the eventual trial against the two suspects: a young couple from the neo-Nazi scene.
The trial pushes Katja to the edge, but there's simply no alternative for her: she wants justice. 
Is It Any Good?
Describing In The Fade as a revenge thriller - as many critics have - does Fatih Akin's film no favours. This simplistic, two word description sets up a range of genre expectations that this 
movie is not interested in following.
Instead, In The Fade seeks to shed light on an extremely troubling issue - the rise of Neo-Nazi groups in Europe (and, of course, the world). "I was inspired by the NSU murders in 2011," Akin explains. "The German Neo-Nazi group National Socialist Underground (National- sozialistischer Untergrund) perpetrated a series of xenophobe murders between 2000 and 2007 throughout Germany. 
"It was shocking for me as I'm of Turkish background. My brother was acquainted with someone who was killed from Hamburg. The big scandal was that the police focused their investigation on people within the community of the victims, blaming drug or gambling connections. Police pressure was so intense that even the press and the community themselves began to have similar suspicions."
In the aftermath of such shocking events, Akin started to research the concept of revenge. Does it exist in the real world? Who would seek vengeance? Thus, Katja was born - enabling Akin to explore a mother's overwhelming grief in the face of devastating tragedy and the justice that she then seeks.
Refreshingly, Akin is not interested in the backstories of the perpetrators or their motives. His camera stays with Katja as she moves through In The Fade's three distinct sections - Family, Justice, Sea.
Such intensity requires an emotionally powerful performance and Diane Kruger is more than up to this challenge. While the film falters here and there, she is resolute. This is a stunning portrayal of a mother destroyed.
Kruger's performance is up there with the best and she more than deserved her Best Actress award at 2017's Cannes Film Festival (among many others). "What makes her such a great actress is that she's fearless and curious," says Akin "She will try anything. She's also very focused. She has such a high level of concentration. I truly believe she enjoys acting, even in the most painful scenes."
We join Katja on her journey of grief, watching helplessly as she struggles to cope (most heartbreakingly curled up in her young son's bed) before we explore the possibilities of justice among the ruins of her life.
While we might expect In The Fade to move from tragedy to revenge, the film instead chooses to portray the legal system at work. The court case scenes are tense, distressing and beautifully shot (by Rainer Klausmann). They also allow Denis Moschitto to give one of the movie's most powerful and passionate speeches.  
Throughout his film, Akin subverts our expectations. In the final act of In The Fade, he forces us to confront what justice and revenge truly mean. These thought provoking themes will linger long after the film ends.
Random Observations
Have you seen In The Fade?
If you have, what did you think of this film? Let me know in the comments section below or come find me over on Twitter @500DaysOfFilm.