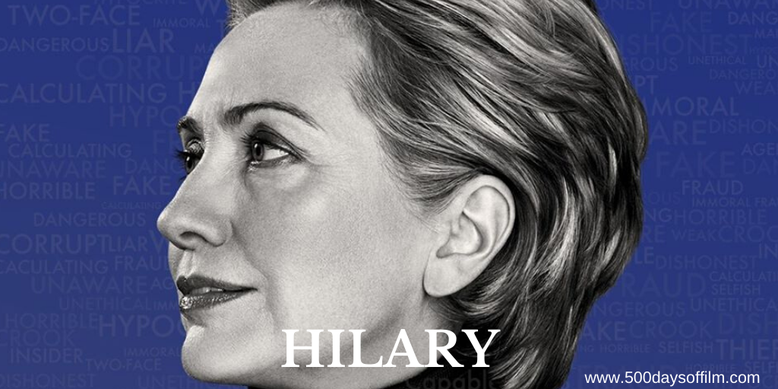 Hilary, the four part Hulu documentary series from director Nanette Burstein, explores the life, career and legacy of Hilary Clinton. 
Made with Clinton's cooperation and featuring fascinating interviews with her and many of the key players in her personal and professional life, Burstein's film puts Clinton's career into context - setting it against the backdrop of women's rights.
While often intimate and unafraid to explore Clinton's flaws and mistakes, Hilary does not offer any real surprises or 'gotcha' moments. The documentary is largely sympathetic - even when it is critical of Clinton's decisions. 
However, this is in no way a criticism of Burstein's series. Clinton has long, long since learned how to manage her narrative and, really, who could blame her? It is hard to think of a woman more closely scrutinised and, at times, more brutally vilified in the court of public opinion.
As a result, throughout the series, Burstein wrestles with the question of why Hilary Clinton is such a divisive character. Was she condemned for being a woman who dared to be different? Did she fail to understand what the people wanted from her? What exactly lies behind the distrust?
Hilary also examines the impact of Clinton's marriage, her role in Bill Clinton's political career and, of course, his well-publicised infidelity. While Clinton is unwilling to discuss the details of her marriage, she does talk frankly about her pain following her husband's affair with White House intern, Monica Lewinsky. 
In his 'to camera' interview, Bill Clinton expresses his regret and tries (largely in vain) to explain his behaviour. It would have been all too easy to become distracted by the affair and his account. Thankfully, Burstein maintains her focus - to show how after every scandal, after every investigation, Hilary Clinton came back fighting. 
However, regardless of how hard she fought or how innocent she was, Clinton explains that the cumulative effect of wave after wave of allegations was damaging. A fact, of course, that Donald Trump was happy to use to his advantage. 
As the documentary follows Clinton's 2016 presidential campaign, we see her staff struggle with Trump's vile statements, unbelievable stunts and hate-fuelled strategies. Never once did Clinton or her team underestimate his ability to win but, understandably, she was often blindsided by Trump's tactics. 
That she lost this race still feels devastating. Clinton's concession speech - a speech that she describes in the documentary as one of the hardest public moments in her life, is incredibly moving and inspiring to watch.
While this story ends with a loss, Hilary leaves us feeling remarkably positive. While President Hilary Clinton was not to be, she has created the space for others to carry the torch forward.