500 Days Of Film Reviews The Best Hidden Film Gems On Amazon Prime Video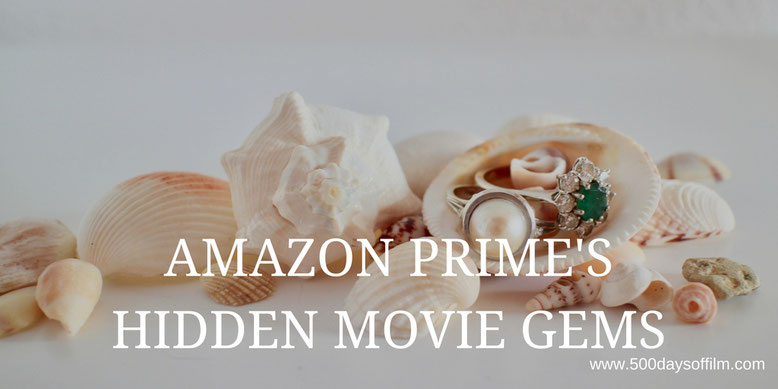 There are some films that you just can't escape. They arrive on our screens with a full on, in your face media and marketing fanfare.  
However, other (equally worthy) movies seem destined to live just below the radar. After a tiny theatrical release, they pop up on our streaming services with minimal fuss and, as a result, could easily be overlooked.
For instance, there are many hidden movie gems on Amazon Prime Video. Here are just ten examples... 
The Red Turtle
Michael Dudok de Wit's stunning animation tells the story of a man who finds himself shipwrecked on a tropical island inhabited by turtles, crabs and birds. Through his story of survival, The Red Turtle recounts the milestones in the life of a human being. It's a beautiful and emotional journey.
The Killing Of A Sacred Deer
Colin Farrell plays renowned cardiovascular surgeon, Dr Steven Murphy, in Yorgos Lanthimos's film. Steven's "perfect" world is shattered by the arrival of Martin (Barry Keoghan), a fatherless teen who he has covertly taken under his wing.
The Killing Of A Sacred Deer is a film that demands our patience and our participation. It offers few clues and forgoes exposition before taking us on a nightmarish journey full of psychological horror.  
Your enjoyment will very much depend on whether you are willing to embrace Lanthimos's unsettling story. Whether you view this bewildering conundrum of a movie as fascinating or frustrating - a work of genius or sheer madness.
20th Century Women
Dorothea Fields (Annette Bening) is a single mother raising her adolescent son, Jamie (Lucas Jade Zumann), in a time full of cultural change and rebellion. Worried that she will fail to teach Jamie how to be a good man, Dorothea enlists the help of two younger women: Abbie (Greta Gerwig), a free-spirited artist living as a boarder in the Fields' home, and Julie (Elle Fanning), a savvy and provocative teenage neighbour.
Watching director Mike Mills's film is like experiencing a poem - a funny and poignant poem with superb performances, brilliant music and evocative visuals. A poem that explores the struggles of growing up and finding your place in an ever-changing world.
Paterson
Paterson (Adam Driver) is a bus driver in the city of Paterson, New Jersey. Every day he follows the same, simple routine - all the while observing the city and overhearing the fragments of conversation that swirl around him. The comedy, sadness and beauty in each day inspires Paterson to write poetry about his life and experiences.
I love so much about Paterson it is difficult to know where to begin. Let's start, then, with Adam Driver - his performance is utterly hypnotic. In addition, the film's features a wonderful rhythmic structure. This is a movie about a poet that feels genuinely poetic.
I loved the way we follow Paterson's daily routine - getting up, going to work, coming home, walking the dog (the wonderful Marvin), having one beer at a local bar over the course of a week. Paterson takes the life of a seemingly ordinary man and makes it truly extraordinary.
Swiss Army Man
Stranded on a desert island, Hank (Paul Dano) has given up all hope of ever making it home again. However, one day everything changes when a corpse named Manny (Daniel Radcliffe) washes up on shore. Against all odds, the two become fast friends - embarking upon an epic adventure that will bring Hank back to the woman of his dreams.
On paper, Swiss Army Man sounds offensive - a bad joke no one wants to hear. A farting corpse with an outrageous inbuilt GPS? Surely this bizarre buddy movie was a suicidal career move for all involved.
However, while from the outset Swiss Army Man features lowest common denominator comedy (that continues to startle and surprise), the film rises from there to become a moving and inspiring story of loneliness and loss, friendship and the redeeming power of love.
Captain Fantastic
Living deep within the forests of the Pacific Northwest, Ben Cash (Viggo Mortensen) is devoted to raising his six children with rigorous physical and intellectual education. However, a family tragedy forces Ben to leave his paradise and enter the 'real' world, challenging his idea of what it means to be a parent.
On the surface, Captain Fantastic appears to be a familiar tale of off-grid family life. We've seen these movies before - we know their conflicts, we can predict their messages. However, director Matt Ross has a more meaningful goal in mind. As a result, his hugely entertaining film is also extremely thought-provoking with surprising comedy, depth and nuance. 
Krisha
When recovering addict, Krisha (Krisha Fairchild), returns to her family to celebrate Thanksgiving she is welcomed with open, if wary, arms. However, after an absence of over ten years, old wounds fester just beneath the surface - resentments that refuse to die. 
From its unflinching and deeply unsettling opening shot to its heartbreaking end, Krisha is an astounding debut from director Trey Edward Shultz (It Comes At Night). Part perfectly observed family drama, part horror thriller, this film holds you firmly in its grasp and, despite feeling certain that something terrible is about to happen, you cannot look away. 
Gleason
Weeks after being diagnosed with ALS, former New Orleans Saints star defensive back Steve Gleason learns that his wife Michel is pregnant with their first child. Determined to live his remaining years to their fullest, Steve goes on an expedition to Alaska, creates a foundation to help other ALS patients and embraces new technologies to help compensate for his deteriorating physical abilities.
All the while, Steve records his thoughts about life, parenthood and hopes for his child in a deeply moving video diary.
Gleason is an incredibly personal, brutally honest depiction of life with ALS. A documentary that does not shy away from the toughest aspects of this cruel neurological condition. However, Gleason is also an inspiring story of resilience, a story about living life with purpose.
Colossal
Gloria (Anne Hathaway) is an out-of-work party girl who, after the breakdown of her relationship with boyfriend, Tim (Dan Stevens), is forced to leave her life in New York and move back to her hometown. There, she reconnects with childhood friend Oscar (Jason Sudeikis), meets his drinking buddies and resumes her excessive drinking lifestyle.
Meanwhile, on the other side of the world, a giant monster begins attacking Seoul, South Korea - a monster with a strange and disturbing connection to Gloria.
The press notes for Colossal state that this is a film "in which a universally recognisable story is told through a collision of genres that, a priori, is impossible". You could say that again. On the one hand, you have Gloria's fairly familiar tale. On the other, a Pacific Rim-style monster attacks Seoul.
I love the ambition behind writer/director Nacho Vigalondo's movie. After all, he could have easily made a very watchable film about Gloria's alcoholism without any need for the appearance of Kaiju. However, let's face it, we have all seen that film before (and with Anne Hathaway in the central role). 
We haven't (or at least I haven't) seen a movie that blends this story with the tale of a rampaging monster. So, hats off to Vigalondo for attempting something different - something that really shouldn't work but, for a while, actually does.
Denial
In 1996, American historian Deborah Lipstadt (Rachel Weisz) was accused of libel by David Irving (Timothy Spall) after she declared him to be a Holocaust denier in her book, Denying The Holocaust. 
In England, the burden of proof falls upon the defendant in cases of libel. As a result, it was up to Lipstadt and her legal team - led by solicitor Anthony Julius (Andrew Scott) and barrister Richard Rampton (Tom Wilkinson) - to prove and honour the truth of the Holocaust. 
In our post-truth world, where facts come under fire on an almost daily basis, Denial is utterly essential viewing. For not only is Mick Jackson's film about the (truly terrifying) issue of Holocaust denial, it is also a rallying cry for historical truth. 
What's Your Favourite Hidden Movie Gem?
What hidden movie gems would you recommend (on Amazon or any other streaming service)?
Let me know in the comments section below or you can find me on Twitter @500DaysOfFilm.