500 Days Of Film Reviews Hearts Beat Loud Starring Nick Offerman and Kiersey Clemons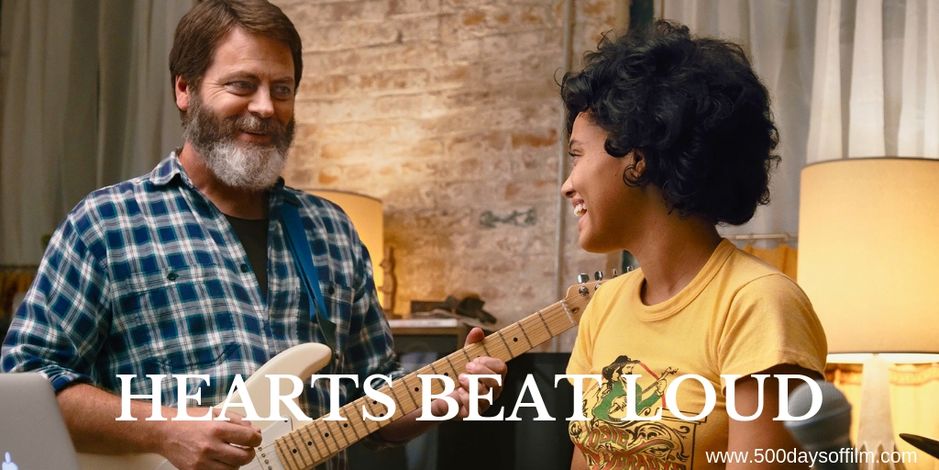 In the hip Brooklyn neighbourhood of Red Hook, single dad and record store owner Frank (Nick Offerman) is preparing to send his hard-working daughter Sam (Kiersey Clemons) off to college, while being forced to close his vintage shop. 
Hoping to stay connected through their shared musical passions, Frank urges Sam to turn their weekly "jam sesh" into a father-daughter live act. After their first song becomes an Internet breakout, the two embark on a journey of  love, growing up and musical discovery.
Is It Any Good?
Blink and you've missed it. 
Sadly, that was the UK theatrical release of Brett Haley's 2018 film, Hearts Beat Loud. However, this wonderful, musical movie gem really is too good to miss. It thoroughly deserves to build a word-of-mouth audience via streaming and DVD sales and is one of my favourite movies of that year.
I could, of course, watch and enjoy Nick Offerman in anything but it helps that here, as Frank Fisher, he is given a wonderful character to explore. Frank's past, uncertain future and the relationship he has with his daughter allow Offerman to explore life's funny, poignant and heartbreaking moments. 
Kiersey Clemons, meanwhile, proves just why she was named one of Variety's 10 Actors to Watch for 2017. She gives a powerful and emotionally complex coming of age performance as Sam. 
Music forms a key part of Sam and Frank's relationship - it holds them together through tragedy and heartbreak. It was crucial, therefore, for Hearts Beat Loud to feature some quality original music. I am delighted to report that this film features a host of brilliant foot-tapping tunes (and then some!).
Composer, Keegan DeWitt, has a long-standing working relationship with Brett Haley. He wrote the music for Haley's two previous features (and is writing the music for the director's forthcoming film, All The Bright Places). As a result, it made perfect sense for him to provide the key songs for Hearts Beat Loud.
In an interview with Cultured Vultures, DeWitt reveals that he brought a raw version of the song, Hearts Beat Loud, to the movie. "As soon as I had it and was kind of messing with it even in an intricate form, he [Brett] was excited about it. I think that's when the idea started to cede for him... So that and Shut Your Eyes - the song that Nick plays on acoustic - that was one that I had kind of hashed as a raw idea. The two that we really brought from total scratch on the project were Blink and Everything Must Go."
Brett Haley is fast becoming a director renowned for drawing special performances from his cast. He co-wrote, directed and edited I'll See You In My Dreams, which premiered at the 2015 Sundance Film Festival. Blythe Danner was nominated for a Gotham Award for Best Actress for her role in this film.
Then, in 2017, his third feature film, The Hero, won the Outstanding Achievement in Filmmaking-Acting award at the Newport Beach Film Festival for Sam Elliott's performance as Lee Hayden, an ailing movie star coming to terms with his past and his mortality. 
Hearts Beat Loud continues this theme. As already mentioned, both Nick Offerman and Kiersey Clemons are superb - delivering funny and charming performances. However, Haley also gives his supporting cast room to shine.
Toni Collette is (as always) wonderful as Leslie. She is not on screen for long but, nonetheless, gives us a compelling, fully rounded character. Meanwhile, Ted Danson is brilliant as bar owner (and Frank's confident), Dave. Blythe Danner - playing Frank's mother, Marianne - is another most welcome screen presence (I would have loved more from her character).
However, for me, Sasha Lane (so good in American Honey) steals the film. Again, she is not on screen for long but her performance is breathtaking. One scene shows her reaction to something that Sam is doing and the raw emotion in that single look moved me to tears.
Hearts Beat Loud may have been given a blink and you'll miss it UK theatrical release but this wonderful movie will stay with me far, far longer.
Random Observations
Have you seen Hearts Beat Loud?
If you have, what did you think of this film? Let me know in the comments section below or let's chat over on Twitter. You can find me @500DaysOfFilm.