500 Days Of Film Reviews Rom Com, Hampstead, Starring Diane Keaton And Brendan Gleeson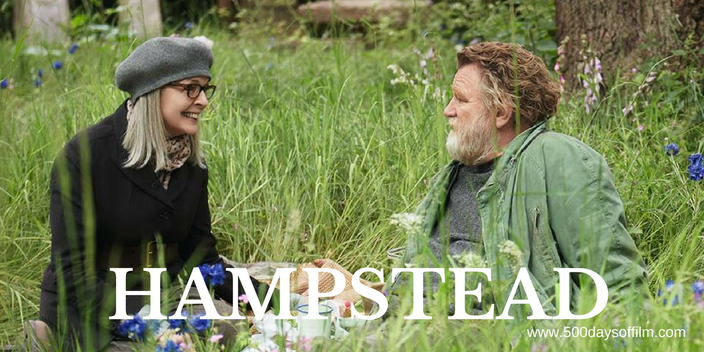 A year on from the death of her philandering husband, Emily Walters (Diane Keaton) knows that something has to change. Deeply in debt, she is drifting through life - increasingly at odds with her affluent Hampstead friends.
Change comes in the shape of Donald Horner (Brendan Gleeson), a recluse who lives in a shack on Hampstead Heath. As romance blooms between the couple, Emily feels inspired to look at life with fresh eyes.
As a result, when property developers threaten Donald with eviction, Emily stands ready to fight to defend the man who could hold the key to her future.
Is It Any Good?
There is a fascinating film to be made about the life of Harry Hallowes - the man who lived in a shack on London's Hampstead Heath for over 12 years and who, after property developers threatened to evict him, was declared the legal owner of land worth an estimated £2m. 
Sadly, Joel Hopkins' Hampstead isn't that film. Instead, this is a rather dull faux-mance that even the on screen charisma of Diane Keaton and Brendan Gleeson cannot save. 
Hampstead picks select parts of Harry Hallowes' life, sanitises them and adds a fictional, saccharine-soaked second chance love story. However, nothing works in this (Richard Curtis wannabe) film as it should. Hampstead (the location) is unbearably cleansed, the movie's central romance fails to engage and there is barely any tension (or payoff) in the courtroom scenes. 
Meanwhile, despite the undeniable charm of Gleeson and Keaton and the film's impressive supporting cast, Hopkins' aim for quirky Brit comedy falls flat. All of the best gags are in the trailer and, as a result, there are few (if any) laughs to be had.
There is nothing offensive here (more's the pity) just one note tedium. A shame as this film had potential. 
Random Observations
Have you seen Hampstead?
If you have, what did you think of this film? Let me know in the comments section below or via Twitter or Facebook!