500 Days Of Film Reviews The Career Of Director Guillermo del Toro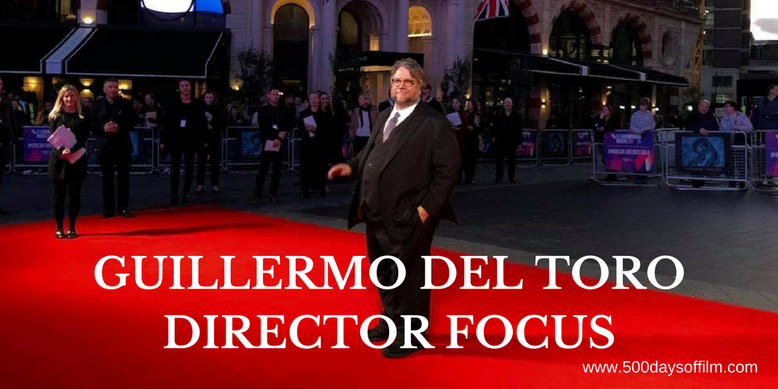 Guillermo del Toro was born in 1964 in Guadalajara, Mexico. He describes himself as "a strange and lonely child" prone to lucid nightmares that would leave him terrified to leave his bed - even if he needed to use the bathroom.
One day, desperate for the toilet, young Guillermo made a deal with the monsters that he imagined were lurking - if you let me go to the bathroom, I'll accept you. Having thus made peace, del Toro became fascinated with monsters and would spend hours drawing them.
This worried his parents deeply and they sent Guillermo to a therapist. The diagnosis? He was experiencing something akin to Stockholm Syndrome - his fear of monsters had turned to love.
This love became almost like a religious experience when Guillermo first saw Boris Karloff as Frankenstein's monster. Having also loved Mary Shelley's novel, he began to identify with the 'otherness' of monsters.
Meanwhile, always fascinated by design, del Toro devoured an encyclopedia of art (given to him by his parents) from cover to cover. He also started to experiment with film-making, using his father's Super 8 camera.  
In his late teens/early 20s, Guillermo became a film critic, wrote a book about Alfred Hitchcock and ran a cinema club. There were no film schools nearby and so this was his education in world cinema.
The club was so popular that it became a film school and Guillermo went from student to teacher. The school then became a film festival - one that has now been running for over 30 years.
Guillermo discovered that he had a talent for special effects and make-up and spent ten years in this field, having studied with legendary make-up effects artist, Dick Smith. He then moved into directing - learning and experimenting on Mexican horror/sci fi television series La hora marcada (alongside fellow filmmakers Alfonso Curon and Emmanuel Lebezki).
Soon a feature film idea began percolating in his mind - a Mexican vampire story and the movie we now know as Cronos (see trailer above). Guillermo drew on all his special effects knowledge for this project - he even created a special effects company just for the movie (he closed the company afterwards).
He also began to explore a colour coding technique that he has used in most of his films since. For example, the director deliberately withheld all shades of red in Cronos… until, that is, we see the blood.
However, no one would take a chance on this young director with his strange film idea. Indeed, it took ten years before Cronos was released (in 1993). Even then few involved with the movie thought that it would be seen let alone make any money.
How wrong they were. Cronos was very well received by audiences and critics alike. The film won numerous awards - including a prize at Cannes. 
Following his success with Cronos, Guillermo felt ready to embark upon his first American film, Mimic (1997). 
As he was making Mimic, Guillermo's father was kidnapped in Mexico. At the BFI London Film Festival, the director joked that, looking back, he is not sure what was worse - this terrible event or working with the Weinsteins (his father was released unharmed). In any event, Mimic was far from a happy film-making experience.
However, his time working on Mimic taught Guillermo two valuable lessons. First, he learned how to move his camera and, second, he learned how to fight for his film. In addition, the director met a young actor called Doug Jones on set - a meeting that would be the start of an extremely successful working relationship.
Exhausted after the difficulties making Mimic, del Toro went back to Mexico. Thankfully, he then met Spanish director, Pedro Almodovar (whom he had first met while working on Cronos). Guillermo credits Almodovar with resurrecting his directing career by supporting him and agreeing to produce his next film - The Devil's Backbone.
Indeed, Guillermo was so grateful to Almodovar that he decided to support new directors himself (and try to protect them from the studios). The director has produced such films as Jorge R. Gutierrez's The Book Of Life, Andy Muschietti's Mama and JA Bayona's The Orphanage.
Despite his wariness about returning to America, Guillermo also need to earn some money. As a result, in 2002 he directed Blade 2. Hellboy followed in 2004 - the success of which led to many offers of superhero movies.
However, Guillermo rejected all of these projects - he felt an overwhelming need to "make something strange". That something was the wonderful Pan's Labyrinth.
Once again, however, Guillermo struggled to get his film financed. Even when the money was secured, it was tough going - described by the director as "one of my most difficult shoots along with Mimic and The Shape Of Water".
No one seemed to get where Guillermo was going with his dark fantasy fairytale. Then they saw Doug Jones as The Pale Man. Suddenly everyone seemed to  understand just how powerful this film could be. 
Pan's Labyrinth was released in 2006 to wide audience and critical acclaim. The film went on to be nominated for six Oscars - winning three (cinematography, art direction and make-up). The movie now sits on many 'best films of all time' lists. 
After Pan's Labyrinth came Hellboy 2 (2008) and then, in 2013, Pacific Rim. Many see this film, with its widespread destruction of American cities, as a reaction to Guillermo's challenging experiences in the American film industry. 
While he doesn't exactly dismiss these suggestions, Guillermo does emphasise his fascination with the character of Mako Mori. The director was interested in her story - of how she has to confront her childhood trauma while fighting inside a gigantic kaiju smashing machine.
Sadly, Pacific Rim was Guillermo's first experience of the dangers of film mismarketing. Audiences were led to expect a Transformers-style popcorn blockbuster and got something they just didn't bank on - an action film with weight and intelligence.
The same fate was also to befall 2015's Crimson Peak. Guillermo ploughed his heart and soul into this gothic romance, only to have the film marketed as a Halloween jump fest. As a result, some left cinemas deeply disappointed in the film. 
However, if you watch Crimson Peak with the appropriate (gothic romance) genre in mind, you will find a truly stunning film full of audio and visual cues - a movie that showcases Guillermo's superb storytelling and attention to detail in cinematic design.
As with Mimic and Pan's Labyrinth, Guillermo learned from his experiences with Pacific Rim and Crimson Peak. The result of this process is The Shape Of Water - the first movie with which the director feels 100% happy.
After nine films exploring nostalgia and loss, he feels that he has finally exhaled and created a more life affirming story.
(Click Here To Read My Review Of The Shape Of Water).
Guillermo del Toro's film-making experiences have taught him that to be a director you need to have two sides. The first side is "tough as nails" - willing and able to fight ("I have never made a film that I wouldn't die for," he explains). The second side is sensitive and permeable - happy to collaborate with others and open to beautiful and emotionally affecting stories.
The director also admits that many of his films feature autobiographical elements. "All of my movies are cabinets of curiosities of who I am. I am that weird." In addition, far from being a dictator, Guillermo describes his role as director as "the art of orchestrating accidents". 
However, the remarkable cinematic career of Guillermo del Toro is no accident. It is the result of a burning passion to explore stories of 'otherness', an unparalleled visual eye and an endlessly impressive storytelling talent.