500 Days Of Film Reviews Gerald's Game Starring Carla Gugino And Bruce Greenwood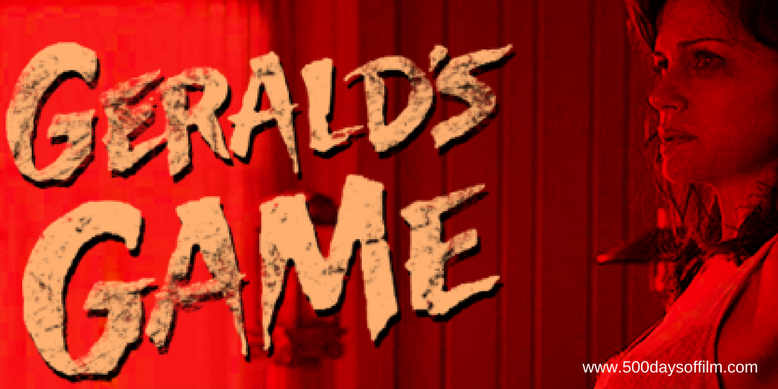 When a sex game between married couple Jessie and Gerald (Carla Gugino and Bruce Greenwood) goes horribly wrong, Jessie faces a harrowing fight for survival - a battle that will force her to confront the demons of her past and also those lurking in the shadows of her seemingly empty house.
Is It Any Good?
Stephen King adaptations have come thick and fast this year - with greater and (sadly) lesser degrees of success. However, director Mike Flanagan has not simply jumped on this crowded bandwagon. He has wanted to make a film based on King's novel, Gerald's Game, since he was 19 years old.
The project presented Flanagan with a significant challenge. How could he translate what has been labelled an unfilmable book (set as it is almost entirely within the mind of a woman handcuffed to a bed) into a tense and entertaining horror movie? So much could so easily go wrong. 
Thankfully, Flanagan's Gerald's Game is both utterly gripping and deeply unsettling - just what you want from a Stephen King adaptation. 
Three key elements ensure that Gerald's Game can take its place alongside the more successful King-inspired movies. First, of course, the source material is rich and thematically rewarding.
In addition to the marital drama between Jessie and Gerald (and the small matter of survival), there is the spectre of Jessie's past. Flanagan brings all these elements together via flashbacks and hallucinations - and is not afraid to get a little nasty along the way.
Second, we are never bored by the film's central location (the room where Jessie is trapped) thanks to Flanagan and director of photography Michael Fimognari's ever changing camera angles. Flanagan's impressive editing is also crucial in maintaining the movie's palpable tension and suspense.
Finally, the movie is perfectly cast. Bruce Greenwood is brilliant as both the real Gerald (a real narcissistic piece of work) and also as the Gerald from Jessie's mind (an equally unpleasant screen presence).
Of course, this story belongs to Jessie and Carla Gugino is utterly superb in this extremely challenging role. It is thanks to her powerful emotional and physical performance that Gerald's Game works as well as it indeed does. 
While Gerald's Game suffers from a weaker third act, Flanagan's film is a dark, unsettling and ultimately satisfying adaptation of Stephen King's book. 
Random Observations
Have you seen Gerald's Game? 
If you have, what did you think of Mike Flanagan's film? Let me know in the comments section below or via Facebook or Twitter (@500DaysOfFilm).