500 Days Of Film Reviews Comedy, Game Night, Starring Jason Bateman, Rachel McAdams And Kyle Chandler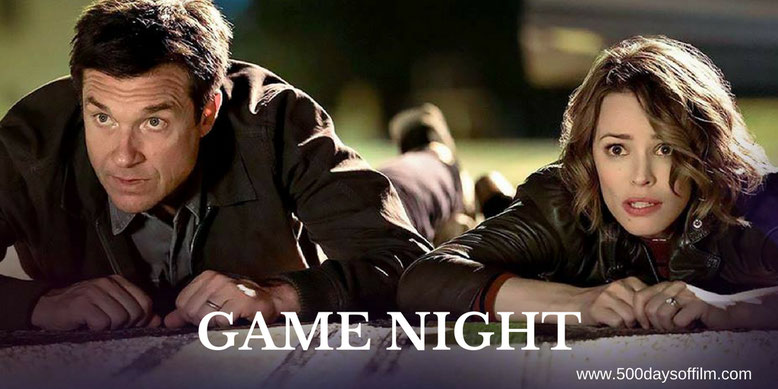 Competitive couple, Max (Jason Bateman) and Annie (Rachel McAdams), host a regular game night with their friends. However, this weekly event gets kicked up a notch when Max's charismatic brother, Brooks (Kyle Chandler), arranges a murder mystery party, complete with fake thugs and faux federal agents. 
As a result, when Brooks gets kidnapped, the friends think that it is all part of the game. However, as they set out to solve the case and win, they begin to fear that nothing is what it seems.
Is It Any Good?
Game Night is silly.
Utterly ridiculous.
However, it is a whole boat load of fun. I had such a good time watching John Francis Daley and Jonathan Goldstein's film (their second as co-directors, following the comedy Vacation). The gags come thick and fast and I laughed all the way through.
Jason Bateman and Rachel McAdams are key to the success of Game Night. Max and Annie are an engaging and likeable couple and both actors are on top form - displaying wonderful physical comedy and timing. 
Bateman and McAdams are joined by a great supporting cast. It is lovely to see Kyle Chandler in a comedic role and Kylie Bunbury and Lamorne Morris are hilarious as childhood sweethearts Kevin and Michelle.
However, Billy Magnussen and Sharon Horgan really steal the show as Ryan and Sarah. They are endearingly hilarious all the way through Game Night. Again, the humour is extremely silly but I loved every minute of their banter.
Meanwhile, Jesse Plemons plays Max and Annie's creepy neighbour, Gary. Plemmons is, of course, an incredibly versatile actor. He is fantastic in this excruciatingly awkward and unsettling role. Seriously, seriously creepy.  
Game Night is far from perfect. I'm not sure that all the narrative twists and turns really add up in the end. In addition, the film may not linger long in the memory. No matter. Game Night is an enjoyable blast of pure entertainment and I look forward to watching it again.
Random Observations
Have you seen Game Night? 
If you have, what did you think of this film? Let me know in the comments section below or via Facebook or Twitter (@500DaysOfFilm).