500 Days Of Film Reviews Documentary, Free Solo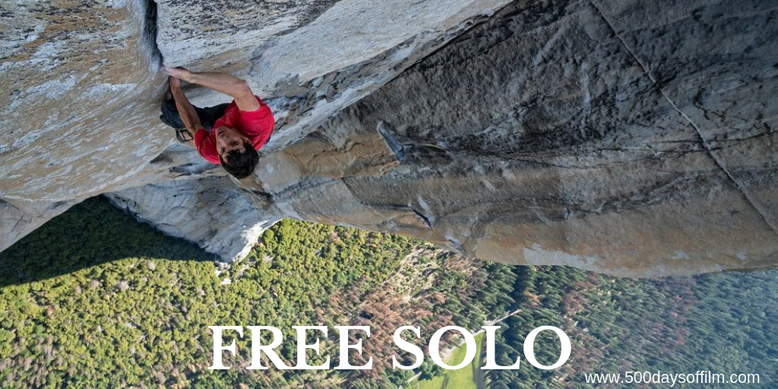 Free Solo is a stunning, intimate and unflinching portrait of free soloist climber, Alex Honnold, as he prepares to achieve his lifelong dream: climbing the face of the world's most famous rock... the 3,200-foot El Capitan in Yosemite National Park… without a rope.
Is It Any Good?
One of the key questions for any documentary filmmaker is just how close should you get to your subject? This was a particular challenge - both physically and emotionally - for Elizabeth Chai Vasarhelyi and Jimmy Chin when making their Oscar-winning film, Free Solo. 
Not only were they following the remarkable life of their friend, Alex Honnold, they were following him in his attempt to climb El Capitan's foreboding 900-metre vertical rock face at Yosemite National Park. Getting too close while filming his ascent could well lead to Honnold's death. 
The stakes don't get much higher and, within minutes, you find yourself questioning not how Honnold is going to achieve his goal, but why. The impact of his life choice is just as interesting as the climb itself.
Honnold is a fascinating character. Startlingly direct, he struggles in many social situations. In trying to understand why he lives to climb mountains without ropes, the documentary explores his lifestyle, his childhood and his friendships - Honnold even undergoes a MRI to see if his brain is wired differently (to the rest of us) with regards his fear response.
I certainly didn't need the results of the MRI to confirm that Honnold's fear response is different to mine. I could barely stomach the heights he was scaling from the comfort of my chair, let alone consider climbing them. Indeed, I haven't felt so uncomfortable since watching James Marsh's documentary, Man On Wire, about Philippe Petit's 1974 wire walk between the Twin Towers of New York's World Trade Center
Reminding myself to breathe, I was captivated by the incredible camerawork on display in Free Solo. There are some truly stunning scenes (captured by drones and experienced camera-toting climbers) that, amid the dizzying heights, convey nature's spectacular beauty.
However, the risk is never forgotten. While Honnold seems relatively unfazed (and certainly undeterred) the danger takes its toll on his loved ones - his mother, friends and Sanni McCandless with whom, during the filming of Free Solo, Honnold begins an increasingly serious relationship. 
As Elizabeth Chai Vasarhelyi accepted Free Solo's Oscar for Best Documentary Feature, she thanked Sanni before she even mentioned Honnold. "You climbed your own mountain that day," she said and no truer words have been uttered. 
It is incredibly moving to see Sanni struggle with Honnold's decisions. She wants to support him, she knows that this is who he is, but she also fears the brutal reality of the endeavour. The tiniest of wrong moves and Honnold will die.
Perhaps fellow climber, Tommy Caldwell explains it best: "There's no margin for error. Imagine an Olympic gold medal level athletic achievement that, if you don't get that gold medal, you are going to die. That is pretty much what soloing El Cap is like. You have to do it perfectly."
Free Solo is a remarkable and completely gripping film. The scenes of Honnold climbing El Cap are stunning - both during the beautiful, wide landscape shots and also in the close up moments when we see the precariousness inherent in every step.  
Both exhilarating and anxiety inducing, Free Solo is equally fascinating in its exploration of the moral and ethical responsibilities of documentary filmmakers. They all climbed a mountain that day.
Random Observations
Have you seen Free Solo? If you have, what did you think of this documentary?
Let me know in the comments section below or over on Twitter. You can find me @500DaysOfFilm.