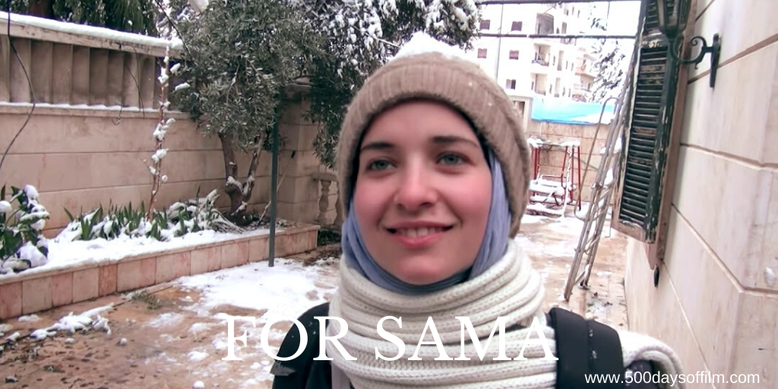 For Sama isn't the first documentary that I have watched about the devastating conflict in Syria. Over the last few years, there has been a steady influx of films - including The White Helmets, City Of Ghosts and Last Men in Aleppo - depicting the war and the battle for Aleppo. 
However, Waad al-Kateab's documentary is the one I feel will stay with me the most. 
It is For Sama's mix of powerful journalism and intimate storytelling that makes this film an unforgettable experience. The documentary offers both an uncompromising and important account of life in Aleppo between 2012 and 2016 and immersive access to a family under siege.
For Sama's depiction of family life is deeply affecting - this is a mother's heartfelt message to her baby daughter. Waad narrates her own story, explaining to Sama why she and Sama's father decided to stay in such a dangerous place, what it was really like and why, in the end, they had to leave.
Waad al-Kateab and Edward Watts's documentary does not shy away from the chaos, carnage and death caused by the bombing of Aleppo. For Sama contains many incredibly upsetting and heartbreaking scenes. 
It is far from easy to watch but so important. We need to see this extremely distressing footage to understand. What happened in this place at this time was not just a series of startling headlines but the very real everyday existence for the men, women and children of Aleppo. 
Waad al-Kateab was 18 years old and about to start her studies at Aleppo University when peaceful student protests against Syria's President Bashar Al-Assad began. Even then she felt the need to film the events. Thanks to her footage we see a city full of hope, we see the desire for positive change.
Horrifically, hope soon turns to despair as anti-regime activism is met with brutal violence and mass murder. It is hard to process the destruction that happens next. For many, life in Aleppo becomes unbearable. Many choose to leave… if leaving or dying can really be called a choice.
However, for reasons that I admire and yet still find hard to fathom, Waad and some of her friends and colleagues choose to stay. Hamzar - a young doctor who runs a hospital in  Aleppo - is Waad's close friend. He later becomes her husband and Sama's father.
United by their passion for the city, Hamzar and Waad fight for what they believe is right against an unrelenting regime determined to destroy them. They fight by staying while others leave, they fight by treating the city's wounded citizens and they fight by recording events - an incredibly brave act of resistance and remembrance.
Waad begins by filming events on her phone. She then uses a camera and a drone enables her to capture some truly stunning images of Aleppo. These scenes are breathtaking. They allow us a glimpse of what an impressive city this once was - emphasising the shocking devastation.
As the situation in Aleppo deteriorates, death becomes a part of day to day life. Waad and Hamzar suffer personally and witness the loss of others. Waad records a woman in turmoil following the death of her child. The woman turns angrily to the camera but, instead of asking for privacy, she demands that her grief is recorded. 
She believes that people need to see what is happening in Aleppo - for who could watch this footage and do nothing?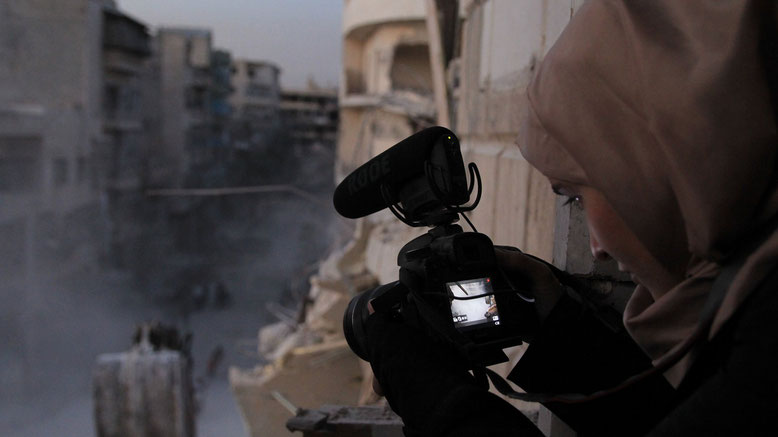 Waad's camera inspires a feeling of resistance and hope throughout For Sama. We see the violent impact of the bombing, how vulnerable human bodies are in the face of such an onslaught. However, we also watch as people try to maintain a normal life. 
It is those moments that prove the most heartbreaking. You steel yourself for the violence, you are caught off guard by the hope, the laughter, the love. The situation is so dire that a miracle in a hospital room just about broke my heart.
For Sama is a family's story. Waad and Hamzar's hopes for Sama are what any parent wishes for their child, while living in an environment that no one wishes for their child. It's impossible not to become emotionally invested in their journey. Watching as they scan the skies for planes or run for cover during a bombing raid, the tension in For Sama is palpable. Please keep them safe. Please keep them safe. Please keep them safe.
Meanwhile, the intimacy of Waad's footage makes it impossible for anyone to dehumanise the conflict or its lasting impact. I defy anyone to watch For Sama and then complain about Syrian refugees and immigration. 
One of the questions that Waad is asked the most after a screening of For Sama is what can we do to help. In addition to a campaign to stop the bombing of hospitals, the director hopes that her film will inspire a greater understanding of what happened in Aleppo.
This is the power of For Sama. The documentary wants and earns our understanding as it records a terrible event in history - recent history - an event that needs to be faced and acknowledged.